Feelin' TV is back for 2018! Before we get too far in to the television of the new year, I wanted to take my first week to look back at my favorite five shows from 2017.
5) The Crown
If there is one thing that I hate more than British costume drama, it's the obsession that a large portion of American society has with the comings and goings in the British Royal Family. The fact that The Crown manages to be both while also being one of my favorite shows that I watched last year is absolutely astounding to me. It succeeds because of its performances (John Lithgow as Winston Churchill is astounding) and the way the writers include significant historical intrigue into their telling of the story of the longest serving British monarch. My favorite episodes thus far have been "Assasins" (S1E9) in which Churchill befriends an artist painting his portrait and "Vergangenheit" (S2E6) that sees the Queen consult a young Billy Graham as she weighs her personal desire to forgive against her positional responsibility to the appearance of justice. The first two seasons of The Crown can be streamed on Netflix.
 4) Better Call Saul
I've said it before and I'll say it again, Better Call Saul could have easily and lazily coasted to several seasons of solid ratings based solely on the success of Breaking Bad and it's built in fan base. That Vince Gilligan and his crew have instead created a show with rich, fully realized characters, intricate stories and a lived-in setting is a remarkable achievement. Bob Odenkirk anchors the show as the sad sack Jimmy McGill who really did just want to go straight. Michael McKean steals every scene as his arrogant and cold older brother Chuck. My favorite episode from season three was "Chicanery" (S3E5) which managed to be satisfying and heartbreaking at the exact same time. The first two seasons of Better Call Saul can be streamed on Netflix.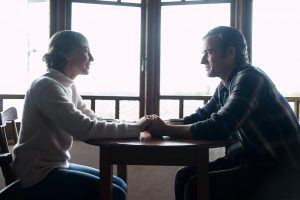 3) The Leftovers
One gets the impression that with The Leftovers, Damon Lindelof explores all of the things he wanted to with LOST without the restrictions put on storytelling in a network show. The Leftovers, much like LOST, provided many more questions than it did answers. Unlike LOST though, viewers of The Leftovers were never led to believe the answers were there to be had. The Leftovers is a show about moving on when there are no easy answers. It's about coping with grief when the answers are unknowable. The Leftovers ended its run with one of the greatest series finales ever as characters resolved to love each other even in the mess. The Leftovers can be streamed with your HBO subscription.
2) Big Little Lies
There's not much I can say about Big Little Lies that hasn't been said elsewhere. It is deservedly one of the most awarded and critically acclaimed shows of 2017. The cast is fantastic. Reese Witherspoon is as good as she's ever been. More than any show I've ever watched, the relational conflicts feel real because they're rooted in actual, real-world issues. The central murder mystery, which not only leaves the viewer guessing about the perpetrator but also the victim, is never less than edge-of-your-seat tense. In a year that saw so many strong women stand up to inequality, harassment and abuse, Big Little Lies was the perfect show of 2017. Big Little Lies can be streamed with your HBO subscription. 
1) The Good Place
If I had been writing about TV in 2016, this would've been my #1 show back then as well. Here's the thing, I'm an unashamed Michael Schur fanboy. Parks and Recreation and The Office are my two favorite sit-coms of all time. I've watched Brooklyn Nine-Nine from day one. I listen to his podcast about baseball every week. Shur's work just speaks to me. I was predestined to love The Good Place no matter what. But I'm going to go out on a limb and say that The Good Place is the best sit-com on TV whether you're a Michael Schur fan or you've never heard of the guy (I'll bet you have, in addition to being a writer and one time show runner on The Office, he also played the role of Dwight Schrute's cousin/roommate Mose). The Good Place arrived with a completely realized setting in a way that you don't see often. Most shows take a bit of time to figure out what they are or what they want to be, but you get the feeling that the writers of The Good Place knew everything about the world they built from the word "go" and anything we don't yet know is because they don't want us to know it, not because they haven't figured it out yet.  On top of the setting The Good Place boasts two solid main characters in Kristen Bell and Ted Danson who are every bit as great as you'd expect them to be. And then you get to add the four other members of the main cast (William Jackson Harper, Jameela Jamil, D'Arcy Carden and Manny Jacinto), each of whom have emerged from relative obscurity to breakout character status, as the cherry on top. Season one ended with a twist that I thought the show could never top. Season two has shaken up the status quo every week to the point that I have no idea what is going to come next. It's my favorite show of the year, and it's number one on my list of shows you should be watching if you're not already. Season one of The Good Place is currently streaming on Netflix and season two episodes can be found on Hulu.
Channel Surfing:
Runaways has been renewed by Hulu for a second season after a solid freshman debut. In my opinion, it fizzled a bit at the end, but there's still quite a bit of promise for some good stories to be told in the future. I think later episodes showed some of the limitations of the young cast members, but the older members of the cast and the intriguing source material make it a show to continue to keep an eye on while the younger actors find their footing. Season one of Runaways can be viewed on Hulu.
Black Lightning premiered on The CW this week and it was a hell of a debut. The major theme of this superhero drama is racial injustice and it doesn't appear to be interested in easy answers and mustache twirling villains. With plot lines ripped straight from the front pages of 2017 news, it's a show that's always going to be in danger of being soapbox-y, but the premiere managed to sidestep that pitfall. And even if it does slide to the preachy side of the pendulum from time to time, Black Lightning's point of view is one that we can always use more of. Give it a shot. Black Lightning airs on Tuesday nights on The CW
That's all for this week! As always, if there's anything you'd like me to check out that we haven't covered, let me know in the comments or in the Facebook group. 
---
Jeremy Calcara is a contributing member of the Feelin' Film team. In addition watching as many movies as he can and writing reviews for Feelin' Film, Jeremy consumes an unhealthy amount of television and writes about it weekly in his Feelin' TV column.   Follow him on Facebook and Twitter  to be notified when new content is posted.