It all comes to this. As usual, I don't believe in weak movie years. There may be genres that have weaker output some years, but overall there will always exist a plethora of amazing films to discover. Sometimes you just have to look a little harder and seek them out. I hope that my work throughout the year in reviewing new releases has helped you do just that at some point and will continue in the future, too.
This year I did a lot of video gaming (favorites: Elden Ring, Triangle Strategy, Vampire Survivors) and co-hosted The Games We Love Podcast for a few months. I also watched quite a bit of TV and other serial content (favorites: Andor, The Terminal List, Tokyo Vice). These other hobbies impacted my overall film viewing total but I still saw 185 new releases in the 2022 SFCS Awards Cycle. It's important for me to mention that to get ahead of any "where is ???? movie on your list" questions. I've seen A LOT. Just because a movie doesn't show up in my lists here doesn't mean I don't think it's worthy of attention. Last year, I decided not to limit myself to a Top Ten or to rank that final list, but rather to share about my favorites no matter how many there were and to only call-out my overall #1. Even when releasing my podcast episode about my favorites last week, I had intended to do the same again. But after some reflection, I really just don't feel good about not ranking my list. The thing is – none of this matters. Are some of these choices incredibly difficult? Sure. Does it mean that I don't love my #3 movie as much as my #2 movie? No. All of this is just a subjective exercise in showcasing ten of the best I saw in a given year, so back to ranking them we go. This collection reflects my taste, what I appreciate in filmmaking for any number of reasons, and is full of movies that I believe are worth seeing and likely enjoying yourself. I've also shared some of my favorites in certain award categories as a little bonus. Hopefully you find some new films to check out by reading this article, that give a very happy start to 2023.
---
HONORABLE MENTIONS
* Streaming service is noted in parentheses next to each film where applicable. 
BARBARIAN (HBO Max) – surprisingly hilarious, twisty, and sometimes campy horror thriller
DECISION TO LEAVE (Mubi) – swoon-worthy cinematic murder mystery that morphs into an unexpected, challenging love story
EMERGENCY (Amazon Prime Video) – atypical buddy comedy that is an increasingly tense and serious look at being a minority in America
ESCAPE FROM KABUL (HBO Max) – riveting and shocking documentary that recounts the harrowing 2021 evacuation of Afghan citizens & U.S. troops from Kabul
EVERYTHING EVERYWHERE ALL AT ONCE (Showtime) – creative original alternate universe story with touching family relationships
THE FALLOUT (HBO Max) – tackles the traumatic aftermath of a school shooting from the students' perspective with careful restraint
GOOD NIGHT OPPY (Amazon Prime Video) – inspiring documentary about the incredible human inventiveness, determination, passion, and love that goes into space exploration
HUSTLE (Netflix) – underdog sports story about a struggling NBA agent finding the next big phenom overseas
MARRY ME (Amazon Prime Video) – a modern rom-com that is charming and endearing with subtle humor that feels completely unforced and tender chemistry between mismatched leads
NAVALNY (HBO Max) – documentary that turns into a real-life spy thriller when its subject faces an assassination attempt by poisoning while filming it
PREY (Hulu) – propulsive, action-packed, and bloody sequel that pits a Predator against a Comanche heroine
PUSS IN BOOTS: THE LAST WISH – vibrantly animated, clever and exciting fantastical blending of nursery rhymes and fairy tales that smartly handles themes of companionship, fear of trusting others, mortality, childhood trauma, and more while also having slick action
RRR (Netflix) – energetic, electric, and utterly engaging tale that is pure action spectacle of tremendous production value with a beautiful bromance, some historical epic drama, and a few wildly entertaining musical numbers
THE SEA BEAST (Netflix) – gorgeously animated, epic work of high seas adventure where human and monster form a bond that challenges societal norms
SHE SAID – critical dramatization of the amazing journalism work by Megan Twohey and Jodi Kantor that exposed decades of abuse by Harvey Weinstein
SOMETHING IN THE DIRT – faux found footage documentary of mysterious investigation that feels like PRIMER meets PARANORMAL ACTIVITY meets X-FILES
STRANGE WORLD (Disney Plus) – exciting original adventure story with super creative creatures and world design, beautifully animated environments, hilarious fun of exploring a new place with a diverse group of people, and a heartfelt story about legacies and fatherhood
THE TERRITORY (Disney Plus) – gripping, educational documentary about an indigenous people in danger of genocide who are fighting to retain their land and way of life as the world literally closes in around them
TÁR – fascinating, expertly crafted character piece about a fictional abuser in position of high power due to her artistic genius
WILDCAT (Amazon Prime Video) – powerful documentary about wildlife rescue of a baby ocelot, forest conservation, and mental health
THE WOMAN KING – roaring, powerful, emotional, and somewhat revisionist historical action-drama with an incredible ensemble cast and brutally entertaining fight choreography that is reminiscent of classic Hollywood epics
---
AWARD LISTS
The below lists are an example of how I may have voted in this year's Seattle Film Critics Society awards. There are always way more worthy contenders than can be captured in a few nomination slots, but these are some of my favorites this year in a handful of the biggest categories. Perhaps this will serve as some extra encouragement to seek out these particular films.
Best Director
Joseph Kosinski (TOP GUN: MAVERICK)
S. S. Rajamouli (RRR)

Park Chan-wook (DECISION TO LEAVE)

Charlotte Wells (AFTERSUN)
James Cameron (AVATAR: THE WAY OF WATER)
Best Actor
Tom Cruise (TOP GUN: MAVERICK)
Paul Mescal (AFTERSUN)
Brendan Fraser (THE WHALE)
Austin Butler (ELVIS)
Park Hae-il (DECISION TO LEAVE)
Best Actress
Cate Blanchett (TÁR)
Ana de Armas (BLONDE)

Tang Wei (DECISION TO LEAVE)

Park Ji-min (RETURN TO SEOUL)

Michelle Yeoh (

EVERYTHING EVERYWHERE ALL AT ONCE)
Best Supporting Actor
Ke Huy Quan (EVERYTHING EVERYWHERE ALL AT ONCE)

Daryl McCormack (GOOD LUCK TO YOU, LEO GRANDE)

Colin Farrell (THE BATMAN)
Jake Gyllenhaal (AMBULANCE)
Ralph Fiennes (THE MENU)
Best Supporting Actress
Stephanie Hsu (EVERYTHING EVERYWHERE ALL AT ONCE)

Dakota Johnson (CHA CHA REAL SMOOTH)
Lashana Lynch (THE WOMAN KING)
Janelle Monáe (GLASS ONION: A KNIVES OUT MYSTERY)
Angela Bassett (BLACK PANTHER: WAKANDA FOREVER)
Best Cinematography
TOP GUN: MAVERICK (Claudio Miranda)
DECISION TO LEAVE (Kim Ji-yong)
THE BATMAN (Greig Fraser)
AVATAR: THE WAY OF WATER (Russell Carpenter)
RRR (K. K. Senthil Kumar)
Best Original Score
THE BATMAN (Michael Giacchino)
GOOD NIGHT OPPY (Blake Neely)
BABYLON (Justin Hurwitz)
TOP GUN: MAVERICK (Lorne Balfe, Harold Faltermeyer, Lady Gaga, and Hans Zimmer)
AVATAR: THE WAY OF WATER (Simon Franglen)
Best Animated
MARCEL THE SHELL WITH SHOES ON
PUSS IN BOOTS: THE LAST WISH
THE SEA BEAST
STRANGE WORLD
LIGHTYEAR
Best Documentary
GOOD NIGHT OPPY
FIRE OF LOVE
WILDCAT
ESCAPE FROM KABUL
THE TERRITORY
Best International
DECISION TO LEAVE
RRR
THE INNOCENTS
ATHENA
RETURN TO SEOUL
---
THE TOP 10
* Streaming service is noted in parentheses next to each film where applicable. 
#10 GLASS ONION: A KNIVES OUT MYSTERY (Netflix) – As much as I enjoyed the structure and ensemble in KNIVES OUT, it was a bit slow and stuffy for me, and the mystery wasn't all that interesting. GLASS ONION improves upon it substantially and provided me with one of the most start-to-finish entertaining theater experiences of the year. Rian Johnson's follow-up case for Beoit Blanc to solve is a riotous, twisty good time that has a high energy, brightness, and modernity about it that I loved. Each performance is so great that it's genuinely hard to pick a favorite. Its mystery is a layered puzzle box of a tale that keeps you guessing as new details are revealed and Johnson's script strikes a brilliant balance between clever, smart, and outright hilarious, and I enjoyed the roasting of several extreme personality types. I didn't even mind some old genre tropes that help make the surprises possible because I enjoyed seeing the way the story was structured so much. It's a film that would make Agatha Christie proud and like the best the genre has to offer It is exceptionally fun to watch a second time when you know what is happening. I hope that Johnson just keeps making more of these. (Hear our discussion about GLASS ONION: A KNIVES OUT MYSTERY in Episode 352 here.)
#9 BLONDE (Netflix) – I am one of the film's few but strong supporters and have no reservations about that whatsoever. I fully understand why many did not enjoy watching it, and I can't blame them for reacting that way because I've had my fair share of that this year as well (TRIANGLE OF SADNESS and BABYLON come to mind as movies that I can see strong work in but hated watching). That being said, I find BLONDE to be masterful, mesmerizing, heavy, and deeply challenging filmmaking by Andrew Dominik with a bravura performance from Ana de Armas as the famous icon. It's unlike any biopic I've ever seen; part fantasy and part biography. It's an intimate and at times poetic portrait of a fatherless, abused, and broken woman that isn't at all about celebration of its subject matter's achievements but rather a flat-out tragedy that should make you examine how you (and the world) view the idea of a Hollywood sex symbol and celebrity in general. I think if you're viewing this through any other lens or letting yourself get angry because you think the movie is ruining Marilyn's legacy then you are entirely missing the point. I can't say it's an easy watch and there are ton of trigger warnings that apply, but sometimes the most divisive films are the best ones because they provoke actual conversation and force self-reflection. Dominik has definitely done something unique here that I respect overall even if I don't think it's quite perfect.
#8 AMBULANCE (Amazon Prime Video) – What a rush! I've always loved Bayhem and seeing him execute this adrenaline-fueled heist and chase epic on a budget of "only" $40 million was like watching an exceptional athlete learn a new skill and be just as dominant. This is pure action cinema pornography to me, full of classic swirling 360 degree hero shots, super low angles, and plenty of vehicular carnage. The way that Bay also incorporates drone footage into his filming repertoire makes for some of the sickest camera shots in the film. The characters and plot are deeper than you might expect for a movie that is 90% vehicle chase and the performances are all excellent with Yahya Abdul-Mateen II and Eiza Gonzalez managing to achieve some heavy emotional nuance and Jake Gyllenhaal being batshit insane in the best way possible. The movie is pure energy with one of the best musical scores of the year just rattling your body with its powerful base. It feels like an EMT shocking you constantly with defibrillator paddles. Even re-watching it at home multiple times, I caught myself not even breathing because the intensity level is kept so high for so long. In a good way, of course. I love that Bay cuts out much of the silly comedy in favor of keeping this situation deadly serious and it's a formula that results in one of my favorite action films in years. (Hear our discussion about AMBULANCE in Episode 317 here.)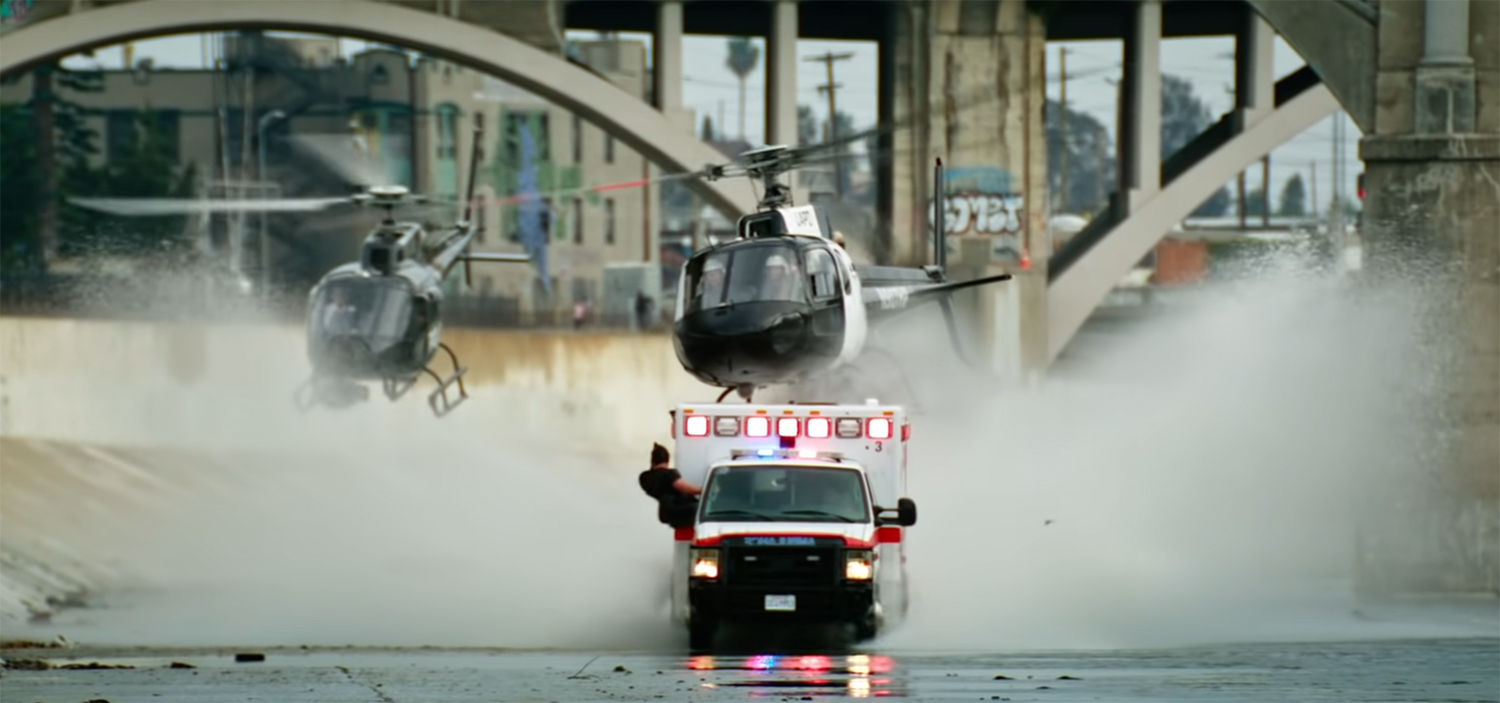 #7 FIRE OF LOVE (Disney Plus) – Much like Sundance, it seems every year that National Geographic puts out one or more of my favorite films of the year. FIRE OF LOVE is the first of two documentaries in this list and the best among a super strong group overall. Artistry, reverence, and an abundance of astonishing archival footage come together brilliantly in this captivating documentary that tells a one-of-a-kind love story. It's a beautiful, poetic, and passionate relationship that volcanologists Katia and Maurice Krafft together share – both for each other and collectively for the destructive but incredible natural wonders that they spent their lives dedicated to studying. Narrated softly by Miranda July, this is an expertly edited piece that is presented in a manner which captures the love and quirkiness of their relationship as well as the awe-inspiring work they did. It is also quite educational along the way, and what makes a documentary stand out most to me is when it can both provide me new information while also making me feel something emotionally.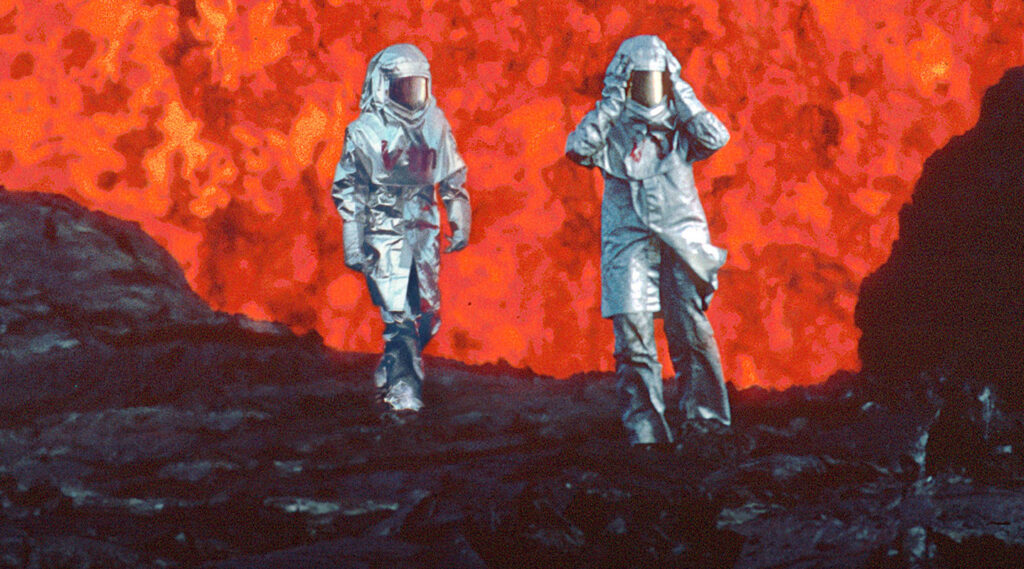 #6 AFTERSUN – I watch so many movies. Plenty of them are entertaining and plenty of them are full of technical strengths. But every once in a while you get one of those special experiences. The kind that impacts you in a way you never saw coming. Charlotte Wells feature film directorial debut lets us spend one memorable summer vacation with young teen Sophie and her father Calum. He's clearly depressed and trying to hide it; she's coming of age. It's eventually known that this is a sort of reflection for Sophie of what this time in her life was like and what she might have missed. The story is melancholic but filled with so much love. As a girl-Dad myself, I was walloped by the presentation of their relationship. This is one of the movies that I have thought about the most after it ended.
#5 CHA CHA REAL SMOOTH (Apple TV+) – There always seems to be some indie picture out of Sundance that makes me swoon. Last year it was CODA and this year it's CHA CHA REAL SMOOTH. I really adore Cooper Raiff's whole awkwardly charming, tender, incredibly earnest filmmaking style. This has some modern rom-com/coming-of-age vibes to it with its aimless depiction of finding your way through young adulthood with all the yearning and bitterness in relationships that come with that, and it has a wonderfully sincere depiction of an unexpected and wholesome friendship. I'll admit that having a crush on Dakota Johnson is super relatable, as well, but the fact that this movie doesn't lean into any sort of vulgarity and still respects the importance of commitment meant a lot to me. It also has a fantastic soundtrack and all-around tremendous performances by the primary trio of Raiff, Johnson, and Burghardt. It's a movie that, also like CODA, left me feeling warm inside. (Hear our discussion about CHA CHA REAL SMOOTH in Episode 329 here.)
#4 AVATAR: THE WAY OF WATER – Everything in the story feels authentic, with multiple interesting characters who have their own arc of emotional growth, and yet its staggeringly, technically marvelous and has plenty of spectacular action. There's something masterful about what James Cameron can do and it is so incredibly refreshing to have this storytelling taking place outside of a long-lived IP where everything that happens is on its third or fourth recycling of the same plotlines. THE WAY OF WATER was worth every bit of the wait and has me seeing a bland and boring world which makes me yearn to be back in Pandora. It is no surprise, but this is astonishing work by Cameron once again, who proves that he is in a league of his own when it comes to original blockbuster storytelling. (Hear our discussion about AVATAR: THE WAY OF WATER in Episode 351 here.)
#3 THE BATMAN (HBO Max) – I'm a Batman guy. He's my favorite DC superhero by a longshot and has been since as long as I can remember. Even being a fan of every casting choice and Matt Reeves, I had my doubts that we were ready for yet another iteration on the character, and it took me two viewings to really appreciate fully. But I'm there now and think this is just a masterful depiction of a moody young Batman in a dark and gritty Gotham City dealing with a truly nefarious, unhinged villain that Paul Dano scarily brings to life. The chemistry between Pattinson and Kravitz works for me, Farrell is astonishing as Penguin, Giacchino's ominous score is one of the best of the year, and I particularly love that the combat and focus on detective work feel straight out of the Arkham series of video games. It all comes together for me in an exquisite marriage of storytelling and production that continues the trend of outstanding different takes on the caped crusader. I'm so glad that I don't have to choose a favorite version of Batman and can just enjoy them all for their strengths. (Hear our discussion about THE BATMAN in Episode 313 here.)
#2 MARCEL THE SHELL WITH SHOES ON -This is the purest distillation of charming, wholesome storytelling that I've seen in some time and my favorite animated film of the year by a large margin. The character of Marcel's boundless curiosity and creativity, and his infectious love of life and community, result in a beautiful, exceptionally tender and hilarious journey told via outstanding stop-motion animation. It's truly incredible what they were able to accomplish over the many years it took to bring this mix of live-action and stop-motion animation to life, and when I learned about some of their processes in behind the scenes featurettes, I was so impressed. Jenny Slate's vocal performance as the titular shell is one of the best I've ever heard – a wonderful marriage to the endearing on-screen animation of little Marcel and a pitch-perfect mockumentary script. This film (and GLASS ONION) made me laugh more than I have any other time in a theater this year, and cry several times over. He is a character that inspires so many of the best qualities in us. He warms the heart and he will not soon be forgotten. (Hear our discussion about MARCL THE SHELL WITH SHOES ON in Episode 343 here.)
#1 TOP GUN: MAVERICK (Paramount Plus) – Legacy sequels are a scary thing. I'm of the belief that many are made for no other reason than to capitalize on a bankable IP, and not because there is a burning continuation of a story to be told. For me, this was a sequel to one of my Top 5 favorite movies of all-time, so I'll freely admit that despite my faith in Tom Cruise and my general love for Kosinski's filmmaking – I was very, very nervous. But it didn't take long for that worry to disappear and thankfully what replaced it was pure joy. MAVERICK just works. Every single bit of it. Because of attention to detail and the actors actually flying, the aerial action is unmatched, and the character progression for Pete Mitchell makes perfect sense. Cruise performs the role of an aging aviator with a sensational balance of his youthful arrogance with a veteran's seasoned maturity. The entire supporting cast is on top of their game and Kosinski doles out scenes of tension and excitement with emotional relationship beats and brief comedic moments of levity with perfect pacing. The high that I felt when leaving the theater is unrivaled and I've felt it every time since when watching the movie at home, too. I felt so many things in this movie, which is what I love most about this medium of storytelling in the first place, and I'm just so grateful to be given a new chapter in this series that I didn't even know I needed until it was here. (Hear our discussion about TOP GUN: MAVERICK in Episode 324 here.)
---

Aaron White is a Seattle-based film critic and co-creator/co-host of the Feelin' Film Podcast. He is also a member of the Seattle Film Critics Society. He reviews with a focus on the emotional experience he has with a film. Follow him on Facebook and Twitter to be notified when new content is posted, and follow along with his daily film thoughts on Letterboxd.