Don Shanahan
Don Shanahan is the creator/founder/writer of Every Movie Has a Lesson. Don is a middle school social studies teacher by day and press-credentialed and Rotten Tomatoes-approved film critic after hours.  With his background in education, Don writes with the goal of teaching life lessons, from the serious to the farcical, found within every film. On Feelin' Film, he contributes "What We Learned This Week," a weekly blog putting life lessons to current releases and movie trends and occasionally guests on podcasts.  Don's movie reviews are also published on the pop culture analysis site 25YL, the social medium platform Medium, and the Southland Voice community newspaper.  He is one of the founders and directors of the Chicago Independent Film Critics Circle.  He happily resides in Forest Park, Illinois with his tremendous wife Thanh and their two children, Molly and Sam.
---
Erynne Hundley
Erynne is a Seattle-based writer and freelance film critic, currently writing and editing articles for her blog Essentially Erynne. She prides herself on crafting spoiler-free film reviews that balance franchise history, stylistic approach, script interpretation, and the emotional turmoil the final piece creates. She loves media art in all forms, whether it be comics, novels, tv, or film and prides herself on being able to binge watch a series at an unbelievable pace. Even though she currently calls Seattle her home, you can find her in a TARDIS constantly traveling between the worlds of Middle Earth, Hogwarts, or Pawnee, Indiana. Feel free to follow along through Twitter or Instagram for article updates.
---
Jacob Neff
"All truth is God's truth." This oft quoted saying defines Jacob's satisfaction and enjoyment of the world of film. Sure, he likes mindless fun as much as the next guy, but he also believes in universal truth, and he loves to explore how it resonates in major and minor ways through the diverse creations of filmmakers. It doesn't matter whether it's their exploring of the human condition or using their God-given skill and technical mastery to make truly beautiful art. Across the genres, from drama to romance to comedy to horror, from the silent film era to modern day blockbusters, when truth is told creatively, he celebrates.
When Jacob isn't catching up with some film or the occasional TV show, old or new, or extensively managing his watchlist, you'll often find him working at his day job as an Android developer, hanging out at home with his family, or involved with his church and Bible study. He is active in the Letterboxd community, is an avid podcast and music listener, loves Chicago professional sports teams, and even finds time for the occasional book. He lives with his incredibly talented, creative, and motivated wife Heather and their three children, Iona, Gabriel, and Toby. Jacob can be found around the clock on Facebook or Twitter.
---

Jeremy Calcara
For most people, having the fear of missing out means that they run themselves ragged attempting to make it to every gathering and event so that they never miss anything. For Jeremy it means compulsively watching each and every movie or TV show that he's ever heard someone talk about. Has he watched everything? Of course not. That would be ridiculous. But that fact drives him crazy, so the quest never stops. When he's not at work or viewing something, he likes to say that it's because he's playing with his kids. In reality, if he's not watching TV or a movie it's probably because he's watching baseball. Jeremy and his wife Erin live in Lincoln, NE with their five children; Jonah, Olivia, James, Joel, and Jack. You can find him on Facebook or look him up on Twitter, but be forewarned, he mostly tweets about the Kansas City Royals.
---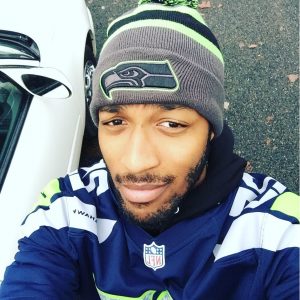 Caless Davis
Ever since I laid eyes on a television screen, cinema has been a constant presence in my life. Films are the images in which dreams are fleshed out and played to the audience of the world. From Disney VHS tapes to now constant days inside the AMC theater, I live and breathe cinema. I'm a very cordial, laid back, and easy going person to get to know; I respect others opinions and am willing to see the other side of disagreements. I love all genres and I still have a long watch list to catch up on when it comes to the classics. When I'm not watching films, I am probably watching basketball, soccer, or football because I'm also a major sports fanatic. I love any discussion of film, and meeting new people to engage in film discussions on any subject. Sometimes my takes can be out of the ordinary, so expect some wackiness from my end, but it comes from a place of respect for the art form of cinema. I am currently an accredited film critic and member of the Seattle Film Critics Society You can find me on Twitter, Instagram, and Letterboxd, and around the Seattle area if you want to see me in the flesh.
---
Adam Rackoff
Adam is a former Apple marketing executive, podcaster, and two-time Webby Award-winning filmmaker with over 30 credits to his name, including Bill Plympton's CHEATIN', the New York Times web series, TRUMP BITES, and the political documentary, THE BRAINWASHING OF MY DAD. His latest project, AGAINST THE CURRENT, documents South African endurance swimmer, Sarah Ferguson, as she attempts to become the first human ever to swim nonstop around Easter Island. Rackoff is the co-founder Cinco Dedos Peliculas with actor Matthew Modine. You can find him on Twitter any time to chat!