2021 – we got back into the theater, y'all! For me, this year was a strong rebound from the roller coaster ride that was 2020. There were still some film delays to endure, but also a return of blockbusters to the big screen, and several studios experimented with a same day theater plus streaming release strategy which was fascinating to see play out. As was the case last year, Netflix, Disney Plus, Apple TV Plus, HBO Max, Amazon Prime Video, and more continue to battle for our subscription, and also like last year, something from each of them can be found in my list of favorites.
This year I watched more TV content than I have in a long time, including all of "Yellowstone" through Season 4 (a new all-time favorite show for me), five seasons (!?) of Marvel content, and a handful of limited or miniseries (the best of which in 2021 was probably "Midnight Mass" and my favorite overall was "Looking For Alaska"). As of this writing, I've still managed to see 200 new releases in this SFCS awards cycle (February-December), 24 of which are documentaries and 27 that are animated. I've seen so many amazing films and since it is always difficult for me to settle on a top ten, twenty, etc., I've decided to go against the norm and do things a little differently.
For this year, I am going to list my Top 12 because that is the group of films I feel strongest about. I am not going to rank them, but I will share which is my #1 film of the year. They instead will be presented in alphabetical order, as will my additional picks in the honorable mention section. Where possible, the film titles will all be linked to a corresponding Letterboxd entry and I will note where a film can be viewed if available on a streaming service. Honestly, I've had a love/hate relationship with the struggle of ranking and making lists for years now. It can be fun to do and argue about, but the reality is that picking just ten movies to highlight gives me anxiety sometimes and comes down to nitpicking and debating minor flaws in pieces of art that I absolutely love. I think all lists are about personal resonance, and in keeping it on brand, mine is a group of movies that made me feel the most and debating what is "better or worse" than something else on the list doesn't bring me joy. This collection reflects my taste, what I appreciate in filmmaking for any number of reasons, and is full of movies that I think are worth seeing and probably enjoying yourself.
Oh, and I've also decided not to separate documentaries and feature films as I have in past years. So let's get to it, shall we?
---
HONORABLE MENTIONS
(Film titles linked to Letterboxd entry where one exists)
---
THE TOP 12
CODA (Apple TV Plus) – The big winner at 2021's Sundance Film Festival, the grand jury and audience got this right. I'm admittedly a mark for a great family-focused heartwarming high school coming-of-age story. Throw in a little romance, music, and a very genuinely depicted and unique conflict due to deafness – I WAS HOOKED. The film's relationships are beautiful and every performance feels authentic. It may follow a predictable formula but that doesn't detract one bit from how powerful and special its message is. And the final 10 minutes, where I'm just overwhelmed with emotion and happy tears, comes as a result of incredible storytelling and character work up to that point. It's my favorite single part of a film in 2021. You're either moved by it, or dead inside. No in-between.  ❤️ (Hear our discussion about "CODA" in Episode 290 here.)
DEAR EVAN HANSEN – This musical means a lot to me. The stage production has long been a favorite of mine and this adaptation does it justice. The casting of Ben Platt, who is clearly older than his character now, doesn't bother me at all. Evan is Ben, and Ben is Evan. He understands this character in such a deep way that no one else really ever could. I've seen much criticism over the way his social anxiety and depression are depicted, yet multiple HS teacher friends have expressed just how realistic this portrayal is. Kids do act this way and things become stereotypes because they are common. Platt may look awkward when mumbling and fidgeting his way throughout the perfromance, but it perfectly captures the way so many people just don't feel comfortable with themselves, especially around others. When it comes to emoting and singing, he absolutely cannot be beat and delivers the exceptional vocals as only he can.
I adore the fact that this story tackles teenage anxiety, depression, the need to be seen and feel like your voice matters. Is it a morally challenging tale? Absolutely! Evan's actions aren't something to be endorsed, but how the film handles this is beautiful. There are consequences for his actions and his positive impact on others cannot be denied and should not be dismissed. The film differs a bit from the musical and shows us that Evan, who made some huge mistakes, is worthy of forgiveness, redemption, happiness, and love. Most people in this world don't live life in only black or white, and for an extremely sad and struggling character like Evan to go through this and come out on the other side better for it is a triumph. The additions to the end of the story and Connor's beautiful new song are perfect.
The film also treats suicide realistically, with not everyone instantly being torn to pieces but sometimes wondering why they should be sad about losing someone who was terrible to them. We usually only see overwhelming sadness, but the tragedy of suicide can evoke a lot more varied reactions from people close to a lost one. And then there's Evan's relationship with his Mom and the underlying effects of his absent Dad that weigh heavy on his decision-making, too. All of these things are presented together so well, in my opinion, to make an entertaining yet touching movie that isn't so morose it loses the audience completely and ruins its opportunity to provoke empathy (for everyone).
The music is simply amazing and a big part of why the original production is so beloved. Pasek and Paul write simple lyrics that are so relatable and their melodies are either poppy and catchy or just incredibly soulful and beautiful. With an excellent supporting cast and wonderful direction, I was swept away by Stephen Chbosky's lovely adaptation that is every bit as good as I'd hoped for. (Hear our discussion about "Dear Evan Hansen" in Episode 293 here.)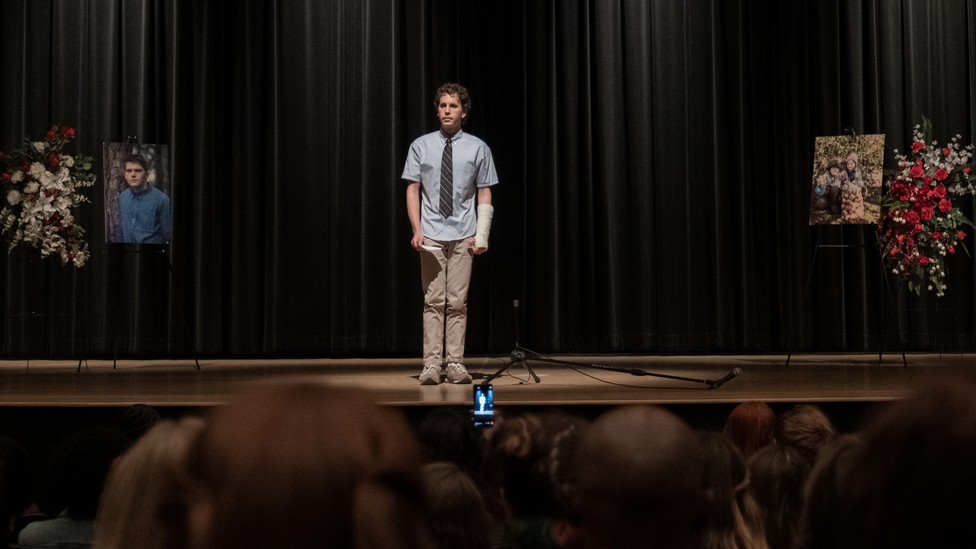 DUNE – "The mystery of life is not a problem to be solved, but a reality to be experienced." Every bit the epic feeling and faithful adaptation that I was hoping for from this. "Dune" is a story that may have its focus mostly hitched onto the character of Paul but it is universal in nature. Its scope is so large, dealing with politics and religion and mysticism and economics all within a fascinating futuristic setting. Denis Villeneuve understands this and tells the story the only way that can work in such a short runtime, with incredible visual design and a perfectly accenting Zimmer score helping to drive the emotion and support a lack of character exposition. The film only adapts half of the book but still has to cover a whole lot of ground and it does this with expertly refined character development and a quickened pace. The awe-inducing nature of the production was awesome as we moved from one major event to another, with just the right amount of detail given to always provide context, depth, and hints at what may be to come. The cast is made up of A-listers and it absolutely shows. Even smaller parts are elevated by considerable talent and I loved every single performance so much. There's action, heart, intrigue, and a whole lot of mystery. I was breathless when it ended and dying to see the culminating part two immediately! This is the kind of science fiction that I deeply love and an example of why we go to the movies, to be transported and fully immersed into worlds that are not our own. "Dune" went above my already lofty expectations and is one of the most satisfying blockbusters of the past few years. (Hear our discussion about "Dune" in Episode 296 here.)
FLEE – "Flee" is a staggering, harrowing, one-of-a-kind work. When you break it down, it's a rather simple retelling of one man's life as an Afghan refugee fleeing his war-torn country while simultaneously coming to terms with his own homosexuality, all relayed through personal interviews. But the unique presentation of this material is unlike anything I've seen before. Using a blend of powerful archival footage and absolutely beautiful mixture of animation styles which visualize Amin's life events and feelings, this documentary is able to emotionally convey his terrifying, tragic, and oh so difficult experiences as he fully opens himself up for the first time and comes to terms with his own history and present. It never feels sensationalized either and yet really hammers home the horrors that so many people must endure simply because of where and/or how they're born. I couldn't help but immediately begin to reflect on my own blessings, something I think myself and many others do not think of nearly enough. I'm so grateful for the incredible filmmaking team who used their gifts to shine a light on this story in such a respectful, tender, and masterfully cinematic way. And I'm especially thankful to Amin, for bearing his soul and sharing himself with all of us, so that we may better understand and perhaps even influence the world for the better because of it.
THE MAP OF TINY PERFECT THINGS (Amazon Prime Video) – Time loops and young adult romance. It's basically "you had me at hello". This is full of intelligent, witty, snappy dialogue, tropes I love, and extremely enjoyable and authentic chemistry between two leads who aren't quite stars yet and thus can disappear into these roles easily. I had a blast watching the characters try to figure out what makes the perfect day, explore the math and science of their situation, and then make the best of it by forming a connection with another person that helps break them out of a feeling of isolation. The filmmaking doesn't get in its own way, keeping it simple with no special effects to speak of and strong focus on Mark and Margaret instead of trying to introduce side characters and subplots. The titular map ends up being sickly sweet, and I am 100% moved by emotional gestures like it and love the reminder message for us to enjoy the little things and moments of our lives that we tend to pass over without giving a thought. This is the kind of rom-com that I'm always hoping to find and I'll be championing it for years to come so that people don't let it slip under the radar and miss out.
THE MITCHELLS VS. THE MACHINES (Netflix) – This movie is the passion project of first-time director Mike Rianda and it shows. The film, following in the footsteps of producers Lord & Miller's own previous animated work, is a visual blast and has grown on me with each subsequent viewing throughout the year. It's a joyful watch full of action and hilarity. I fell for its short film within a film sections, the lively, vibrant, colorful animation and art style, and most importantly how the emotional core of the story (the family's relationship and how they fix what's broken) affected me. Having my own daughter who has just left the home for college as Katie is doing in the movie definitely made this hit a little bit harder, too. The story isn't overly complicated, features some fun pop culture references, and serves as a commentary on our culture's obsession with technology and gadgets. This one is fun for the entire family and my favorite Western animated film of the year, beating out numerous strong competitors from Disney and Pixar. (Hear our discussion about "The Mitchells vs. the Machines" in Episode 299 here.)
NINE DAYS – This is the kind of movie that leaves you at a loss for words. There is something so transcendent about this high-concept fantasy drama that is very much like the live-action companion piece to Pixar's "Soul" (my #1 film from 2020). I was moved in a way that I have not often felt and challenged to appreciate the awe-inspiring reality of life more deeply on a moment to moment basis than most of us ever do. Slow down. Stop aiming for perfection. Let go of a need to have all the answers. Find the value in everyone and every point of view. Life isn't this or that. Life is everything.
Edson Oda has crafted such a profound and imaginative debut feature film full of detail that begs exploration of during future viewings. It announces his talent to the world and instantly cements any future projects he does with "must-watch" status. Winston Duke gives a magical, mysterious, spiritual, and utterly transformative performance as a "formerly alive person" who now tests young souls and decides which will have the opportunity to be born and which will not. He is extraordinary and an immaculate recital of a Walt Whitman poem near the end of the film is a career-defining moment for him. The entire cast – Zazie Beetz, Benedict Wong, Tony Hale, and more are every bit his equal, all of them capturing the important essence of their character personalities perfectly. And all of this is presented to us in gorgeous minimalistic nature backed by a beautiful, emotional score by composer Antonio Pinto. Stunning is an understatement for the kind of experience that "Nine Days" is. It's truly the type of film that I watch hundreds of new movies every year just hoping to discover. The kind that leaves you with nothing to do but just shake your head in wonder and admiration and say "Wow".
THE RESCUE (Disney Plus) – It's truly incredible what the human race can do when people come together with optimism and relentless determination to put the well-being of others above their own. "The Rescue" tells a story that is every bit as thrilling as the most suspenseful natural disaster movie, but is in fact one that is ripped straight from the 2018 headlines. I certainly thought that I knew what happened going into this completely enthralling doc, but it turns out that I had no idea at all.
The amount of obstacles faced by a collection of Thai Navy SEALS, their government, American military advisors, deep cave divers, medical specialists, thousands of volunteers, and more is staggering. But once again, filmmaking duo Elizabeth Chai Vasarhelyi and Jimmy Chin capture the events that unfolded in gripping fashion, while never losing touch of the humanity of it all and the poignant nature of the mental and emotional struggles faced along the way in addition to the physical and environmental ones. This doc is a mix of archival cave diving footage brilliantly merged with recreations to the point that you often don't even know the difference, plenty of on-location planning footage, and interviews with divers and others involved in the rescue. Make no mistake about it, though, this is a "popcorn documentary" that is more about evoking a sense of wonder at the accomplishment than anything else. The film lacks interviews from the boys or their parents and is fully approached from the perspective of the rescue diving team. That didn't bother me one bit because the rescue itself is just so cinematic and unbelievable. I was all in on this intense journey from start to finish and a complete wreck throughout. Despite knowing the eventual outcome, I found myself near tears, gnawing my fingernails, and even yelling "Are you effing kidding me!?" at various times. Real life heroism will always have my full attention and seeing such a captivating story shared, complete with the positive outcome and heartwarming sacrifices made to achieve it, was a special experience.
SCHUMACHER (Netflix) – I was floored by this stunning documentary about one of the greatest racing drivers of all-time. Being a newer fan of F1, I sadly missed the Michael Shumacher era of dominance and only knew about him in context of all the records he holds and how Lewis Hamilton has been breaking them.The filmmakers who are telling Michael's story here truly love and respect him, as clearly everyone that ever came into his life does, and it makes walking through his career a true joy. Packed with the best thing any sports documentary can have, archival footage, we get to see Michael racing as a child, a ton of F1 racing content, old interviews, and even a wealth of family photos and videos that show a fuller picture of Michael. He wasn't just a great F1 driver, he was a great son, brother, husband, father, and friend, too.
I'd always just assumed that Michael won his 7 championships all in a row and with one team, but learning about how he burst onto the scene with Benetton, won twice, and then willingly stepped into a worse car and situation because he desired the challenge of bringing Ferrari back to glory made my respect for him grow immensely. This was a man who grew up doing everything the hard way and who was never afraid. He also was hard-headed sometimes to a fault and found it impossible to see and admit any wrongdoing for much of his career (I see so many shades of Max Verstappen in young Schumi). But most of the athletic greats have similar traits. They are driven and focused in a way their peers often are not, and it's what makes them special, or to use a modern term "built different". What Michael accomplished in the sport is simply amazing and thanks to this thorough documentary I now can say that having seen how with my own eyes.
SPIDER-MAN: NO WAY HOME – Tom Holland is back as Spider-Man to wrap-up his (first?) trilogy and this time Marvel really swings for the fences in how it introduces the multiverse into the MCU while telling a personal story with big stakes and emotional outcomes. The integration of Spidey's old villains from previous universes was handled brilliantly, with most of them being given the opportunity for character growth, and even redemption There is a lot to balance in this film but I was so impressed by the way it handled exciting action, the humor we expect and love from the MCU, painfully serious tragedy, and inspiring heroic actions and heart. Seeing this in a crowded theater full of fans on opening night was one of the best experiences I have had… ever. The room was electric and full of oohs and ahs and squealing at the film's many surprises. Peter's journey in this film is deeply affecting and memorable, anchored by Holland's best performance as the character yet. And I loved how this end of MCU Spider-Man's arc sets up the future of Peter Parker in this universe. Sure, it's packed with nostalgia, but nothing here was done without careful thought and it is so much more than just fan service. Spidey finally has another film worthy of his superhero status as a fan favorite and I imagine this will be one the films I re-watch the most from 2021. (Hear our discussion about "Spider-Man: No Way Home" in Episode 303 here.)
THE SUMMIT OF THE GODS (Netflix) – "The Summit of the Gods" is a French anime style adaptation of a Japanese manga that itself is an adaptation of Baku Yumemakura's 1998 historical adventure novel. The plot is fictitious, following a reporter/photojournalist named Fukamachi Makoto who comes in contact with a mysterious climber named Habu Jôji who claims to have the lost camera of George Mallory and Andrew Irvine, a real pair of climbers who actually perished on Mount Everest in the 1920's. Sir Edmund Hillary is famous for being the first to officially summit Everest in 1953, but there have always been questions as to whether Mallory and Irvine maybe did it first. In this tale, the camera in question may have proof that this is the case, and after losing his trace early on Fukamachi spends much of the film trying to piece together Habu's past and gain access to the camera.
Fukamachi reminds me a lot of Jon Krakauer in that he's clearly interested in understanding what drives people to risk everything trying to achieve these great heights. His story is partially like solving a mystery but includes loss and personal growth along the way. It was very moving. Ultimately, he ends up going on an ascent of Everest himself and it is one of the most non-stop breathtakingly spectacular pieces of animation I've ever seen. The filmmakers took great care to make this very realistic and capture the detail, danger, and beauty in alpine mountaineering. This is also a fairly patient and quiet film. I appreciated how poetic it feels and how focused it is on only a few characters. The score is marvelous, too, setting a melancholy or thrilling tone at different times in the story.
I personally can't get enough of climbing documentaries and though this is a work of fiction, its ties to reality make it almost feel like a documentary at times. It is full of splendor and depicts views we rarely will ever see in such a magnificent way. Sometimes a movie just feels made for you. This is one of those times I get to experience that, and I wish so badly that I could have seen this in a movie theater.
#1 THE GREEN KNIGHT – "Why greatness? Why is goodness not enough?" David Lowery has already proven himself to be one of the best working directors, but this wholly personal interpretation of the famous Arthurian poem is his most incredible film yet. This captivating journey of medieval not-a-knight Gawain plays out like a slow-burning dark fantasy video game, complete with side quests to test the mettle of the flawed character, teaching lessons along the way before putting in his path an end boss of immeasurable challenge that will require a life-altering choice. The story is told differently than you may know, but like the poem itself this adaptation revels in ambiguity, leaning into visually delightful mystical symbolism to get its point across enough that the tale can be followed while also encouraging its audience to question the very nature (heh) of the chivalric code that its character claims to value so dearly.
Understanding all of the film's references may take several viewings and a healthy dose of director commentary, but I was beguiled by every frame and after a pulse-raising knockout of an ending, I was left wanting nothing more than to read/watch others interpretations, think deeply on it, and quickly go as fast I could to see it again. This is genuinely the work of a master craftsman, each and every technical element and performances working flawlessly to create a story that begs to live inside your head. I often don't connect with surreal storytelling methods but something about this (as with "A Ghost Story") proves Lowery is able to weave that dreamlike quality into a mostly grounded overall structure to a stunning result. (Hear our discussion about "The Green Knight" in Episode 304 here.)
---

Aaron White is a Seattle-based film critic and co-creator/co-host of the Feelin' Film Podcast. He is also a member of the Seattle Film Critics Society. He reviews with a focus on the emotional experience he has with a film. Follow him on Facebook and Twitter to be notified when new content is posted, and follow along with his daily film thoughts on Letterboxd.