Roma, If Beale Street Could Talk, Black Panther, Upgrade, Burning, A Quiet Place, First Reformed, Widows, Ralph Breaks the Internet, and Won't You Be My Neighbor? These are just some of the wonderful movies released this year (out of 171 new films seen, up from 155 last year) which I couldn't find room for in my Top 20, much less my Top 10, but still heartily recommend you seek out and see. The process of narrowing down my favorites to the top ten films of the year was a painful experience that required a lot of reflection and time. Just know that I harbor deep affection for many of the films you see listed earlier in this introduction and also below in the #11-20 special mention spots.
With regards to my criteria, when it comes to ranking films critically, I do that as part of my membership in the Seattle Film Critics Society (see our awards here). But here at Feelin' Film we focus on matters of the heart, so my chosen films are often ones that I found the most affecting in 2018 – those movies that provided me an incredible emotional experience of some sort. Other things that factor strongly into my ranking are how likely I am to remember a film months down the road and rewatchability, so think of this list as leaning more favorite than best.
In order to make this a tad easier on myself, and also because they truly are a unique medium unto themselves, I have listed my Top 5 Documentaries separately. This was an incredible year for non-fiction filmmaking and more than one of these below would be featured in my Top 10 of the year if these lists were combined.
---
THE DOCUMENTARIES
5. SCIENCE FAIR – An entertaining, encouraging, and essential spotlight on some of the bright young minds that will be responsible for innovations and research that dictate the future of humanity. This inspirational, feel-good documentary follows a handful of brilliant multi-ethnic teenagers from around the world as they compete at the annual International Science and Engineering Fair (ISEF), the "Olympics of science fair", and is a heartfelt celebration of both their drive to learn and the parents and teachers who support their ambition.
4. WON'T YOU BE MY NEIGHBOR? – I knew very little about Fred Rogers, the iconic and innovative television personality, before seeing this story about his life. His heart for children and unwavering hope to see every person loved and respected for who they are, as well as his sense of ministry and passion for child development, led to an incredible career of service that the world sorely needed. It was a joy to learn about his life through those who knew him and a reminder that the world could sure use a solid dose of Mister Rogers again today.
3. MINDING THE GAP – Incredibly personal story of three skateboarding friends, one of which is documenting their lives over the course of many years Boyhood-style. The film takes unexpected turns in dealing with the realities of absentee fathers, the challenges of parenting, and domestic abuse, but the honesty and courage of director Bing Liu and his friends throughout the process creates an experience that is extremely important and potentially life-changing for viewers.
2. THEY SHALL NOT GROW OLD – An immersive documentary experience like nothing that has ever been made before. What Peter Jackson has done with previously unseen archival footage from the Imperial War Museum, restoring and colorizing it, then combining it with recorded interviews of the very soldiers who lived through World War I, is truly stunning and deeply intimate. The film is nothing less than a triumphant tribute to those who served and an impressive technical marvel that sets a new standard for the kind of storytelling that can be achieved in 2018 and beyond.
1. FREE SOLO – Real, raw, and intense as it gets. This story of Alex Honnold's attempt to become the first person to ever free solo climb (that means with no ropes, y'all) Yosemite National Park's 3,200 foot high El Capitan wall is stripped of Hollywood special effects, stuntmen, and safety measures, creating a truly unique voyeuristic experience. World-class photographer Jimmy Chin's camerawork is amazing but it's the intimacy of getting to know Alex, his girlfriend, and fellow climbers that makes this documentary truly special. This deeper connection with Alex as a person also makes watching his final ascent one of the most truly nail-bitingly stressful things I have ever witnessed. This film additionally inspired me to get back outdoors and commune with nature, so it impacted me in a potentially long-lasting way. (Hear my interview with 2018 National Geographic Adventurer of the Year & subject of Free Solo Alex Honnold in Minisode 53 here.)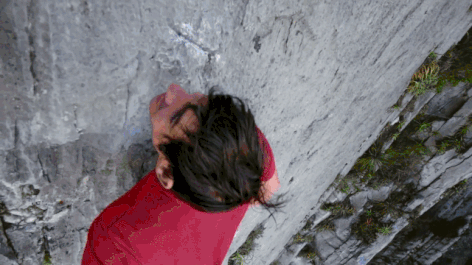 ---
THE FEATURE FILMS
20. GREEN BOOK – (Hear our discussion about Green Book in Episode 138 here.)
19. SPIDER-MAN: INTO THE SPIDER-VERSE – (Hear our discussion about Spider-Man: Into the Spider-Verse in Episode 140 here.)
18. ISLE OF DOGS 
17. SEARCHING – (Hear our discussion about Searching in Minisode 51 here.)
16. INCREDIBLES 2 – (Hear our discussion about Incredibles 2 in Episode 114 here.)
15. SHOPLIFTERS
14. ANNIHILATION – (Hear our discussion about Annihilation in Episode 099 here.)
13. CREED II – (Hear our discussion about Creed II in Episode 137 here.)
12. MISSION: IMPOSSIBLE – FALLOUT – (Hear our discussion about Mission: Impossible – Fallout in Episode 120 here.)
11. EIGHTH GRADE – (Hear our discussion about Eighth Grade in Minisode 48 here.)
---
10. THE HATE U GIVE – I was a complete wreck watching this film from start to finish. It provides perspectives on police violence and race that you just can't get without intimately knowing people who've lived through the kind of experiences these characters do, and does so through expert filmmaking, performances, score, and script. It's eye-opening, heartbreaking, and evocative. It is also entertaining in stretches, but engaging with the complex thematic material is challenging. The emotional experience I had watching The Hate U Give was likely the most powerful one I had all year, and if there is one film that I find vitally important enough to suggest families see it with their teenagers, this is the one.
9. AVENGERS: INFINITY WAR – We waited 10 years for this and the historic puzzle that the Russo Brothers have put together is nothing short of amazing, lending itself to multiple viewings and deeper analysis. Despite being 2.5 hours long, I never once felt that length, as the film hurtled me along toward an inevitable tragedy. I was shocked that Infinity War managed to live up to its incredible hype. It was as entertaining and emotional as a superhero film has ever been and sucked me back into MCU fandom right as I was starting to fall away from it from fatigue. (Hear our discussion about Avengers: Infinity War in Episode 107 here.)
8. THE RIDER – This Western slice-of-life story about real-life cowboy Brady Jandreau wrestling with what he wants versus what is best for him plays out in ways that are both painful and touching. Director Chloé Zhao's choice to have the film acted by the actual Jandreau family added a layer of realism and created a level of personal connection to the characters that may not have been reachable otherwise. The film features a beautiful score and my favorite cinematography of the year. It is both a moving piece of storytelling and cinematic achievement that I won't soon forget. (Hear me discuss The Rider with J.D. on InSession Film Podcast here.)
7. FIRST MAN – From the pulse-pounding opening scene, seeing this film in IMAX was an extraordinary, unique, and stunningly immersive cinematic experience. Damien Chazelle's manner of storytelling, keeping the focus centered on one man and letting us experience Neil's journey through both the intimacy of his personal life and the exhilarating flight challenges that give him purpose, was incredibly impactful. The performances and production design are phenomenal, but the technical mastery of this picture's flight sequences is unlike anything I'd ever seen. Likewise, the sound design was so intense and score so awe-inspiring that you could feel them in your bones and soul. Chazelle's film is breathtaking, while also being a fantastic history lesson, and is definitely both the best biopic of 2018 and one of the best films ever made about the space program. (Hear our discussion about First Man in Episode 131 here.)
6. HEARTS BEAT LOUD – Hearts Beat Loud is not just the witty title of this third feature film from Brett Haley, but also a prophetic description of the physiological response it evokes when I watch it. Nick Offerman and Kiersey Clemons are stellar as a father and daughter bonding over a shared love of music, dealing with his mid-life crisis of sorts and her impending departure for college. The catchy tunes they create bring out the feels but it's the thoughtful, realistic story about coping with the challenges that life brings us that keeps me emotionally invested throughout this charming, heartwarming exploration of parenthood, love, and facing the future. (Hear our discussion about Hearts Beat Loud in Episode 129 here.)
5. A STAR IS BORN – The first act of this film is a mesmerizing display of immersive, emotional storytelling and song, and one of the top five or so sections of any film in 2018. What Bradley Cooper and Lady Gaga have created here in this 4th retelling of the classic Hollywood tale is not only the best version but also one of the most entertaining, memorable films of the year. Its songs and performances, its triumphs and tragedy, have grown on me with every viewing thus far, and the deeper my emotional connection gets the more closely I hold this film in my heart. (Hear our episode about A Star is Born in Episode 130 here.)
4. READY PLAYER ONE – My expectations for this film adaptation of a favorite book were sky high, and somehow the master of the adventure movie himself, Steven Spielberg, delivered. Seeing the OASIS come to life before my eyes had me in awe. I love the visual effects, the constant references that gamers and pop culture addicts like myself eat up, and the new version of a beloved story that stands on its own as equally (if not more) impressive than its source material. This film, like the book it is based on, was created with a very specific geeky target audience in mind. I am that audience and this film is a new favorite, bound to be joyfully revisited year after year. (Hear our discussion about Ready Player One in Episode 103 here.)
3. AQUAMAN – Do you remember the moment when you became a fan of something? My favorite superhero of all-time is Batman, and seeing Michael Keaton on the big screen is what kicked off a nearly 30-year love affair with the caped crusader. I also cannot forget the feeling inside me when I first witnessed Middle-earth in Peter Jackson's The Lord of the Rings trilogy. I enjoyed the books before that, but seeing them realized in a cinematic way is what cemented my extreme fandom. Well, this year that happened again, and came from a completely unexpected place. Aquaman is a combination of things that I love. It is an underwater Star Wars, with the visual world-building of Tron: Legacy and Avatar, plus an adventurous quest for a relic a la an Uncharted video game, and topped off with epic Lord of the Rings-like battles. I had little to no knowledge of the character prior to this film, but I fell hard for the origin story of this king torn between two natures, wrestling with guilt, familial conflict, and mercy. The visuals, the score, the performances, the costumes, the amazing action, and the campy way in which this epic tale is constructed fit together perfectly for me. Thanks to this film, I am now an Aquaman fan and riding this rare wave of pure bliss as far as it will take me.
2. BLINDSPOTTING –  Rarely have I ever been been so floored by a film. This movie gave me one of the most emotionally visceral cinematic experiences that I've had this year, leaving me thoroughly exhausted and in need of both a hug and a nap. The performances by Diggs and Casal are phenomenal. The script, which the two friends/stars spent years developing, is the best of the year and brings absolute fire in every scene. There is so much heart in this funny, thought-provoking, entertaining picture that perfectly expresses a relevant rage about such topics as police violence, gentrification, post-traumatic stress, and more. The battle between #1 and #2 was very, very close, and I suspect that Blindspotting is the type of film whose genius ability to address these topics in an honest but healthy way will only be appreciated more as time passes.
1. PADDINGTON 2 – "If we are kind and polite, the world will be right." Little did I know walking into a theater in early January that I would be seeing my #1 film of the year. The aforementioned quote is the most memorable line of dialogue from any movie in 2018. It, and many other wonderful pieces of Aunt Lucy's advice, have stuck with me all year long. Technically the film is marvelous. Its flawless blending of live-action and CGI is special. The colorful, symmetrical cinematography is so vibrant and alive that it bursts off of the screen. No other film was quite as perfect a blend of artistic excellence in filmmaking, lovely performances, and emotional significance for me. In a world that often gives us plenty of reason to frown, Paddington brings kindness, hopefulness and pure delight. (Hear our discussion about Paddington 2 in Episode 112 here.)
---
Aaron White is a Seattle-based film critic and co-creator/co-host of the Feelin' Film Podcast. He is also a member of the Seattle Film Critics Society. He writes reviews with a focus on the emotional experience he has with a film. Follow him on Facebook and Twitter to be notified when new content is posted.