Feelin' Film is excited to be covering the iconic Sundance Film Festival for the first time! This page will serve as a running journal of sorts, where you can read my thoughts on the many films I see both on the ground in Park City and online once back at home as the festival progresses. These reviews will later be accompanied by more robust podcast conversations to be had with several guests who also attended the fest. For now, enjoy following along with my journey, see if anything sparks your interest, and be sure to let me know if it does. Thanks for reading. – Aaron White
---
RADICAL
(dir. Christopher Zella)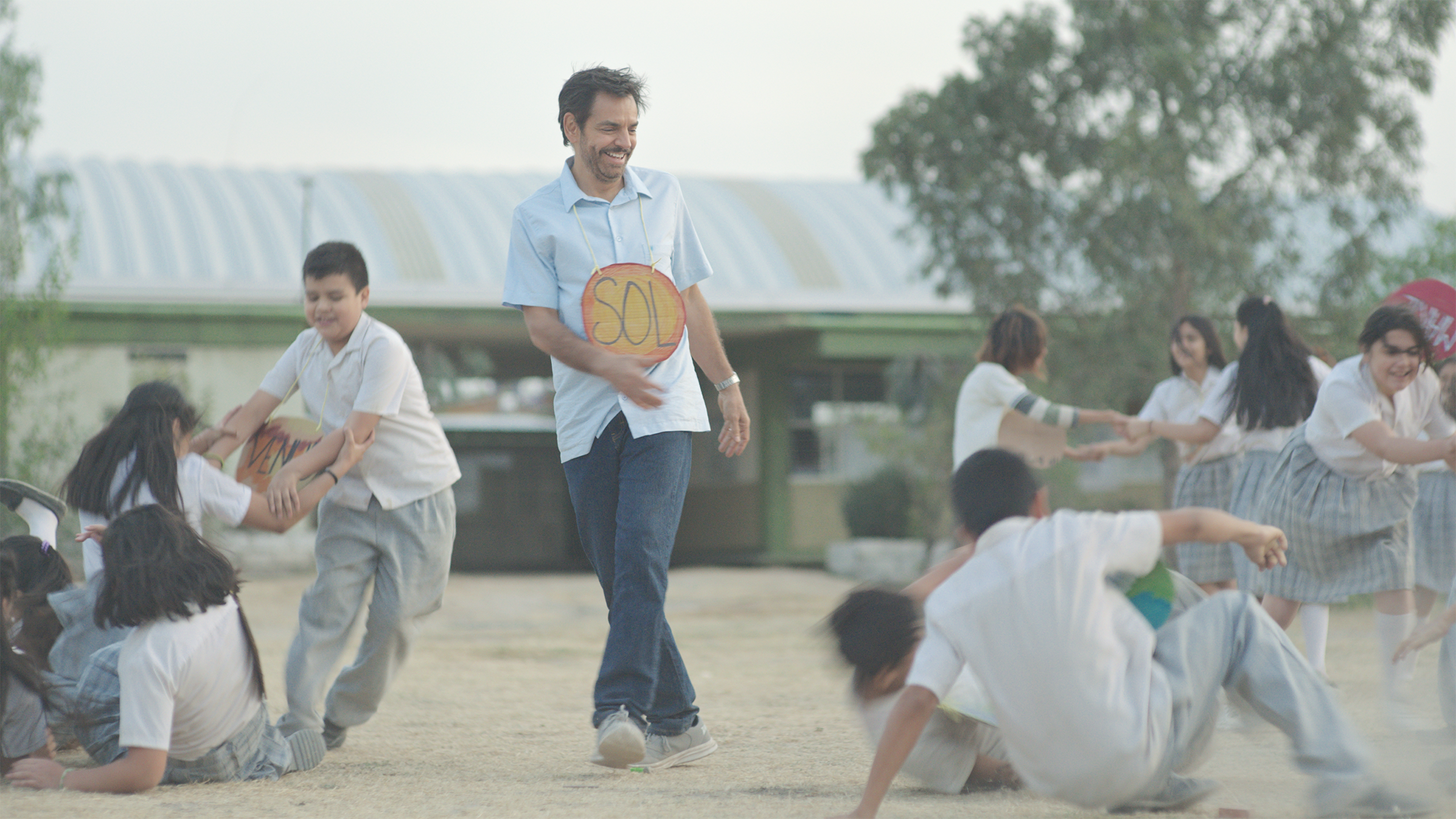 Rating:
RADICAL tells the true story of Sergio Juarez and his unorthodox but effective teaching methods to a failing 6th grade class in the poor Mexican border town of Matamoros. What Juarez brings instead is a student-centered approach that is built around finding out what the kids are interested in learning and building a curriculum around that. The kids almost all face some kind of challenge to their learning environment, though, and the script is devastatingly honest about how poverty, family obligations, and local crime can derail a young person's life. The film also shows how corruption, archaic educational systems, and self-centered teaching techniques based on heavy discipline and a questionable focus on standardized testing can prevent students from ever reaching their potential. While the story is set in Mexico, it is very relatable to what many American families face, as well.
Euginio Derbez, known mostly for his comic persona, gives a powerfully affecting performance, full of humor and grace, that beautifully captures Juarez's idealistic beliefs about education. Three child actors who play characters at the heart of the story – a young budding scientific genius named Paloma who works with her father selling junk, a girl who takes an interest in philosophy that is forced to take care of multiple younger siblings named Lupita, and the brother of a street gang member named Nico who is also a bit of a class clown with a romantic interest in Paloma – all deliver impactful performances that deeply tug on the heart strings, as well. Though the story is earnest and often full of fun, it is not without tragedy. But the reality of the situation simply needed to be shown and it makes the hopeful tone all the more moving in the end. It's an easy mark to compare this to CODA (and they do share the wonderful Derbez), but fans of that film will most likely find themselves swept up in this story, too. For my first ever in-person film at a Sundance Film Festival – I really hit the jackpot. (Watched at Holiday Village Cinema in Park City – January 19, 2023)
---
---
THE POD GENERATION
(dir. Sophie Barthes)
Rating:
Plenty of science fiction stories have taken aim at the human race's growing reliance on and obsession with technologies, but THE POD GENERATION does so through satire to mixed results. At the center of the tale is Rachel (Emilia Clarke), an AI developer who is climbing the corporate ladder and bringing home the majority of the family's income while her nature-loving botanist and technology averse husband Alvy (Chiwetel Ejiofor) maintains an in-home greenery and tries to convince his Biology class students that real things still matter. Rachel and Alvy ultimately end up deciding to have a baby through this future world's new pod system, where large sums of money are paid in order to have conception and gestation of a child take place inside of an artificial womb and everything from feeding the baby to playing it music takes place via an app. Director/writer Sophie Barthes said that some of the film came from her own crazy nightmares during pregnancy and her script is extremely thorough in showing as many different potential experiences that a couple can have as possible.
The film tries to balance comedic and dramatic tones but doesn't always manage to do so well. There are stretches where the story begins to feel repetitive and even drawn out. While there's a lot to laugh at – like how this world uses AI eyeball devices to do everything from pick out the clothes they wear each day to serving as therapists – the commentary felt very surface-level, as if it was just pointing things out without trying to examine them on a deeper level that might result in revelations of some kind. The ending, which sees Rachel and Alvy making some choices that feel like they would've had a lot more serious consequences than they do, is also a bit of an abrupt letdown. The highlight for me, however, was by far Ejiofor's performance. His initial reluctance to the idea and eventual change of heart was played with great dramatic nuance and also incredible comedic timing. He really stole the show along with some striking world-design and solid sound work. There's definitely some interesting ideas and depictions here of what it might be like if we lived in a world consumed by artificial convenience, but nothing hard enough to make you think too much beyond the theater parking lot. (Watched at Eccles Theatre in Park City – January 19, 2023)
---
---
FAIRYLAND (dir. Andrew Durham)

Rating:
Based on her own memoir, FAIRYLAND dramatizes the childhood experiences of Alysia Abbott (Nessa Dougherty/Emilia Jones) as she grew up with her single gay widowed father in San Francisco throughout the 1970s and 1980s. While father/daughter stories have been told before, it is the unusual situation of Alysia being exposed to a free love, LGBTQ-inclusive, and heavy drug usage community at a very young age which offers a perspective worth examining. Though her Dad, Steve Abbott (Scoot McNairy), is well-intended, his parenting choices over the years include some questionable decisions, often leading Alysia's maternal grandmother Munca (Geena Davis) to try and coax the girl back to the east coast to live with her mother's extended family. I appreciated the screenplay not being entirely critical of this, but rather showing that there were multiple people in the child's life who wanted the best for her, despite having a difference of opinion on how to achieve it. Over the course of her life, the support from both father and grandparents contribute to the young woman Alysia becomes.
The picture is beautifully shot by Greta Zozula and uses a different film style to distinguish each decade – grainy for the 70s and much more crisp and bright when Alysia enters her High School and college years. The other biggest highlight is the emotionally evocative performances by both Scoot McNairy and Emilia Jones. McNairy is heartbreaking as a man coming to terms with his sexuality and passion for poetry while Jones is easily relatable as someone wrestling with how his choices affected her upbringing. I found the script to go in directions that left me frustrated because of the parenting methods it defends and also much too drawn out in its third act, but the moving characters did keep me invested and appreciative of this rarely depicted family makeup and the unique ways they make the best of such a tragic loss. (Watched at Holiday Village Cinema in Park City – January 20, 2023)
---
---
STILL: A MICHAEL J. FOX MOVIE
(dir. Davis Guggenheim)
Rating:
"I'm a tough sonofabitch," Fox says at one point in an interview segment with director Davis Guggenheim, and as we learn throughout this personal journey across the beloved actor's childhood, career, family life, and battle with Parkinson's, that attitude never wavers. Fox's willingness to be our guide, be that via answering direct questions or reading sections from his memoir to serve as narration for a vast amount of wonderful archival footage, creates a very connected experience for the audience – one where we feel personally closer to him the longer it goes. It is clear that despite the challenges of his physical condition, like his fighting spirit, Fox's charismatic goofball persona and desire to make people smile and laugh has never changed. Also quite apparent is Fox's admiration for his wife, Tracy. He dotes on her and expresses his gratitude for her frequently, and the love and support he has from his entire family is beautiful to see.
Guggenheim's visual presentation for the documentary is an engaging blend of multimedia content that is a perfect match for Michael J. Fox's infectious energy. We don't just learn about his crazy experience of getting a role in Family Ties but actually hear his auditions and later as he is discussing work performed once diagnosed with Parkinson's, Guggenheim overlays clips where you can see Fox struggling with shaking before anyone even knew he had the disease. While any documentary told from the subject's point of view must acknowledge a measure of bias is present, Fox presents himself as a staunch believer in telling the truth and it does not feel like he has anything to hide. His story is an inspirational one, of a man who had it all, lost it, and has remained a beacon of light to anyone he comes in contact with regardless of his circumstances. Bring the tissues, though, because the tears are sure to flow. (Watched at The Park Avenue Theatre in Park City – January 20, 2023)
---
---
BLUEBACK (dir. Robert Connolly)
Rating:
A coming-of-age story about protecting our oceans, BLUEBACK unfolds in alternating time periods where in the present an adult marine biologist Abby is rushing to her childhood home to see her ailing elderly mother Dora who has just had a stroke. In the past, a young Abby, first shown as a child and then for most of the film as a teenager, is growing up in a cozy coastal Australian fishing community learning from her passionate activist Mom (played excellently with strength and determination by Radha Mitchell) all about how much the waters and bay need to be protected. The story is told in a very slow manner, gently moving through some of Abby's most memorable and formative experiences, most of which reflect back on the time spent with her mother. The environmental messages are forefront and inform every aspect of the story. They come bluntly and often, though there are brief times when characters take a moment to just enjoy one another's company and the lovely bond of their community is highlighted. These were among my favorite scenes and included every precious second of Eric Bana's screen time, where his fully gray-bearded pearl diver/fisherman infuses the monotony of the picture with a glowing smile and boisterous charisma.


The film, based on a novel of the same name by author Tim Winton, takes its title from the beautiful large reef-dwelling blue groper that Abby meets, befriends, and names as a child. She then interacts with the fish a few times at different points in her life and it becomes a critical part of the family's attempt to stave off greedy land developers. Though the occasional scenes of the two together are clearly meant to inspire a sense of awe and oceanic beauty through the young girl's connection to nature, which the musical score works overtime to ensure the audience is feeling, I found them to be quite silly looking and hard to take seriously. Also, what time is spent underwater is merely serviceable from a photography standpoint and no match for the wealth of high-definition documentary footage that has been readily accessible for years. BLUEBACK is a wholesome story with an important message and watchable for patient viewers, no doubt, but it's so quiet, meandering, simple, and devoid of any memorable drama that it is unlikely to leave much of a lasting impact. (Watched Online – January 21, 2023)
---
---
THE EIGHT MOUNTAINS (dir. Felix van Groeningen and Charlotte Vandermeersch)

Rating:
Pietro and Bruno, two 12 year-old boys who meet merely by chance. Bruno lives in the Alpine village of Grana and is the only child left after most of its inhabitants (including Bruno's father) abandoned the mountain life for more lucrative work near larger towns. Pietro is on a summer getaway with his mother from their usual lives in the bustling city. Perhaps out of necessity, perhaps because they are truly two souls meant to discover one another, the two young boys instantly connect and set off on adventures together. They grow closer and closer as summer visits pass, but eventually things change.
Over the course of 2.5 hours, directors Felix van Groeningen and Charlotte Vandermeersch, accompanied by one of the most perfectly fitting soundtracks that I've ever heard from Daniel Norgren, tell us the moving story of these two men. Of their individual struggles with their fathers and legacy, of their romantic relationships, of their dreams, of their success and failures, of the bigness and smallness of their lives, and most of all of how their worlds remain inseparable ever since that initial summer meeting. Being set in the mountains makes this instantly a visually stunning feature, too, with some of the most beautiful photography you'll ever see in a narrative film. The valleys, the lakes, the waterfalls, and of course the snowy peaks – the immensity of it all mixed with the simplicity and peace it can bring are explored to both heartbreaking and heartwarming effect.
It's rare that I watch such a lengthy drama and come away feeling like I could have spent longer in its world, but such was the case with THE EIGHT MOUNTAINS. The characters are so rich, the environments so soothing and awe-inspiring… I didn't want it to end. I'm not sure if those without a love for the outdoors will come away quite as spellbound as those of us mesmerized by what some of the earth's highest places have to offer, but I find it difficult to think that anyone could get to know Bruno and Pietro as deeply as we do and not find themselves responding emotionally to this tender yet painful true story of a loving male friendship. (Watched at Holiday Village Cinema in Park City – January 20, 2023)
---
---
FAIR PLAY (dir. Chloe Domont)

Rating:
It's all hot sex in the bathroom until your lover/co-worker gets that promotion you wanted. Phoebe Dyenvor is spellbinding as Emily, one half of an increasingly toxic financial industry couple, in Chloe Domont's thrilling feature debut. Emily's partner Luke (Alden Ehrenreich) initially seems supportive and even proud of her, but as her status rises and his begins to come into question, a fragile male ego emerges. Ehrenreich is a wonderful match for Dynevor's powerful screen presence, using his charming smile as a mask for the seething jealousy that grows within. What begins as the subtle signs of someone merely frustrated with being passed over, slowly boils into the depiction of a completely unhinged animal who simply cannot accept not getting what he wants. This is a slickly shot piece of cinema that has strong tension throughout, and its biting examination of power and gender dynamics in the workplace and relationships sheds a bright light on the kind of abusive behavior that making large sums of money tends to excuse. It's also more psychosexual than erotic, and full of sharply comedic moments. Laughing at assholes who deserve to get their comeuppance never gets old. (Watched at The Park Avenue Theatre in Park City – January 21, 2023)
---
---
MAGAZINE DREAMS (dir. Elijah Bynum)

Rating:
Jonathan Majors gives a titanic performance as Killian Maddox and completely transforms into a shy, obsessive bodybuilder, full of rage from a lifetime of trauma. He takes us on a dark and intense journey that can weigh heavy on the soul, but it's also one that evokes empathy and offers hope. The film is not an easy one to watch, putting the viewer in a near-constant state of anxiety. As each new event in Maddox's life takes place, we feel him teeter on the edge, the beast within seeming right on the verge of exploding in a way that devastates Maddox (and possibly others) forever. The impressive filmmaking includes a couple of incredible one-take shots, immersive sound design, plenty of great needle drops, and a visual style that utilizes lens flare and strobe lighting to great effect at times. Make no mistake about it, though, the character study here is not easy to sit through, but similarities to the characters and tone of such films as TAXI DRIVER and Aronofsky's BLACK SWAN and THE WRESTLER will at least help set your expectations accordingly. Challenging films fascinate me and I haven't stopped thinking about this one for hours now. What it may lack due to occasional editing issues and an embarrassingly wasted Taylor Paige scene is far overshadowed by the gutsy, thoroughly engrossing storytelling. And again, if you didn't believe it before, you cannot see this film and not come away *knowing* that Jonathan Majors is an absolute star. (Watched at The Park Avenue Theatre in Park City – January 21, 2023)
---
---
CAT PERSON (dir. Susanna Fogel)

Rating:
What starts out as a meet cute eventually turns intensely complicated in this adaptation of the famous short story by Kristen Roupenian that was posted in The New Yorker. Emilia Jones as Margot and Nicholas Braun as Robert have perfect, awkwardly adorable chemistry as a couple who meet at a movie theater and start up a new relationship via text message. Since the story is between two movie lovers, the script is full of fun film references, including a brilliant deconstructing look at Harrison Ford as a romantic idol. Also enjoyable is the way in which the film balances multiple tones. At times it feels like a traditional rom-com, at others a psychological horror when we see Margot's constant fear of death being visualized, and eventually a terrifying confrontation puts you on the edge of your seat. Through their relationship the story examines how we handle honesty in dating and the ramifications of how we create a persona to present to others. It also does an outstanding job of capturing the female worry that is always present when meeting someone unknown, and of highlighting the dangers of presuming things about others. There are definitely moments when I was completely stressed out and worried for both of them and that is because there are layers to the characterizations that should reward multiple viewings. I can't say how well this adapts the short story since I haven't read it, and I'm pretty certain that the entire third act is a new addition, but it all worked very well for me and I hope it's a film that can push the conversation about how we engage in modern dating forward. (Watched at Eccles Theatre in Park City – January 21, 2023)
---
---
IRON BUTTERFLIES (dir. Roman Liubyi)
Rating:
On July 17, 2014, Malaysia Airlines Flight 17 from Amsterdam to Kuala Lumpur was shot down over eastern Ukraine, tragically killing all 298 people on board. This attack by a Russian-made Buk surface-to-air missile system, which those involved frequently denied while evidence and worldwide support mounted to prove otherwise, is explored in Liubyi's documentary. The title of the film refers to the shape taken by pieces of shrapnel found in the pilot's bodies, which only come from the aforementioned rockets. From setting up for the viewer the ongoing war in Donbas to providing history on the creation of the Buk to the attack on MH17 and ultimately to interviews with surviving family members of those who died, the film traces the story of how and why this awful incident occurred, as well as the aftermath of it.

Liubyi chooses not to have his story narrated, but instead presents a collection of vignettes from various multimedia sources that unfortunately make following this as a connective narrative difficult at times. It is not very friendly to audiences who aren't super familiar with the geopolitical state of the area and I was often confused about who was speaking or responsible for what was being shown. It also has an artistic style to it, but the frequent jumping between interviews, cell phone camera footage, radio reports during the time of the attack, artistically presented dramatizations, and news coverage without any informative story to connect each section together can be jarring. I found some of the parts incredibly powerful and even hunting such as when soldiers are shown taking gleeful selfies amid the flight's wreckage on the ground, but others were just noisy or confusing and stunted my emotional investment rather than helping it grow. Exploring the reasons behind such an atrocity as this is worthy of admiration, and those responsible for the murder of everyone MH17 should be held to justice, but as a film Liubyi's well-meaning documentary comes up short, and is far less impactful than it could have been due to his chosen style for delivering the wealth of information and sources at his disposal. (Watched Online – January 22, 2023)
---
---
EILEEN (dir. William Oldroyd)
Rating:
Whatever EILEEN is trying to be – it does not succeed. The story revolves around a young secretary at a boys' prison named Eileen (Thomasin McKenzie). The only real details of her personality that we are presented with are that she suppresses her sexual desires, eats too much candy, is painfully shy, and has a retired Police Chief and alcoholic for a father. In other words, her life is unfulfilling and unexciting. Then new psychologist Rebecca Saint John (Anne Hathaway) comes onboard and begins to show an interest in her. From there the two end up out on the town one evening and things pretty quickly progress to blend the potential budding relationship of these two women with Saint John's desire to understand why a local boy committed a particularly heinous crime. The film wants to evoke romance, even eroticism, and mystery, but it isn't shocking enough to make its twists feel earned or interesting nor sultry enough to really show the two women's supposed attraction go anywhere. I can't knock the wonderful performances from two of my favorite actresses, though; they're still delightful. It's just unfortunate that it barely has a story, what does exist is devoid of proper motivation, and then the whole thing just ends abruptly and is massively underwhelming. (Watched at Holiday Village Cinema in Park City – January 22, 2023)
---
---
PAST LIVES (dir. Celine Song)
Rating:
This is an achingly emotional Korean relationship drama about fate, pursuing dreams, regrets, and finding happiness where you are. The story follows Na Young (Greta Lee) who we meet as a young girl on the verge of immigrating with her parents to America in support of her father's career in filmmaking. She has a crush on local boy Hae Sung (Yoo Teo) and they manage to spend some meaningful time together before she's gone. From there, the story jumps forward two different times – once 12 years later where Na, now using the name Nora Moon, and Hae Sung reconnect via Skype and social media, and the other another 12 years down the road when Nora is now married to fellow artist Arthur (John Magero). The delicate handling of Nora's relationships with (and feelings for) the two men, as well as theirs towards hers and Arthur's toward Hae Sung, allows for the audience to really sink into this challenging dynamic. It's a stunning debut from director/writer Celine Song that may be slow and quiet but is deeply complex, with three exceptionally patient and nuanced performances from Lee, Teo, and Magaro. (Watched at Holiday Village Cinema in Park City – January 22, 2023)
---
---
FLORA AND SON (dir. John Carney)
Rating:
John Carney has made a living off of crafting emotionally resonant, comedic, and romantic pictures that revolve around the characters' love of music. FLORA AND SON is no different, but it is the first time that he has centered a story around a family and set things in modern Dublin. Flora (Eve Hewson) is a single mother of teenage delinquent Max (Orén Kinlan) and is trying to move on from ex-husband Ian (Jack Reynor). She works small jobs like doing babysitting and isn't above stealing a few bucks or dumpster diving to find the right birthday present. She genuinely wants to be a good parent, but Max makes it hard by constantly getting himself arrested for theft and lashing out her disrespectfully. Eventually, she decides to learn the guitar and meets Jeff (Joseph Gordon-Levitt), an L.A,-based virtual teacher, and begins to form a relationship that slowly brightens her life in more ways than one. The film has quite a few wonderful songs, but they're more the kind that fit perfectly in a film for story than they are ones that I expect would be playing on repeat while I'm driving down the road. They're all enjoyable, moving and/or fun, though, especially the finale which really takes you out on a major high. Ultimately Carney's latest feels like a celebration of messy mothers and it offers an optimistic view on how we can still genuinely connect through screens. Eve Hewson is a revelation. JGL oozes charm. Reynor is a hoot, and Kinlan holds his own playing against the veteran adults. All in all, it's a total crowd-pleaser! (Watched at The Ray Theatre in Park City – January 22, 2023)
---
---
YOU HURT MY FEELINGS (dir. Nicole Holofcener)
Rating:
Nicole Holofcener's latest is a slight family dramedy without much of a plot. In fact, it actually takes almost half of the runtime before the main event listed in the movie's synopsis occurs, and it doesn't really change the commentary too much because it's already been happening since the very start. This big turning point occurs when Beth (Julia Louis-Dreyfus) secretly overhears her husband Don (Tobias Menzies) confiding to her brother-in-law that he does not actually enjoy the new fiction book she is currently finalizing, despite showing her support and always telling her he thinks that it's great. This is the primary conflict that takes us through the film to the end, but each character and different combinations of them have unique challenges with the same specific issue. Holofcener's script is bitingly funny and it wonderfully pokes at the reasons we lie to spare the feelings of others while also encouraging reflection. The entire cast is so excellent that more depth wasn't even really needed. I laughed out loud non-stop and find this to be a very charming film that I can eagerly recommend to most everyone that I know. (Watched at Eccles Theatre in Park City – January 22, 2023)
---
---
SOMETIMES I THINK ABOUT DYING (dir. Robert Connolly)

Rating:
SOMETIMES I THINK ABOUT DYING depicts life working in a mundane office environment and the introvert struggle to connect with others well. Trust me, I'm a lifelong admin professional and largely head down when at work, so I speak from experience. Daisy Ridley gives a very patient and controlled performance that effectively shows us a person unable to find joy in her day to day life and those around her. Dave Merheje plays a new co-worker who she strikes up a sweet friendship with. He shares his love of movies with her and attempts to break her out of her shell. Unfortunately, this is a short film concept with maybe 45 minutes of strong story that is stretched to double that. I enjoyed its artful presentation of the titular visions, where it could have leaned into silly and camp but instead made them feel more like framed paintings, and the characters do have some moments of sweetness that I enjoyed; it's just way too dull to widely recommend. (Watched Online – January 23, 2023)
---
---
THEATER CAMP (dir. Molly Gordon and Nick Lieberman)

Rating:
I am 100% certain that THEATER CAMP is the Sundance film I will re-watch the most. Experiencing something made by people in a specific industry, with so much joy for its subject matter, especially when it is something you share, is wonderful. The film is a mockumentary love letter to theater performers and musical fans with almost pitch-perfect comedy and plenty of famous songs to briefly sing-along with. The story kicks off when beloved low-cost theater camp owner Joan (Amy Sedaris) falls into a coma during a rousing performance of "Honestly Sincere" from BYE BYE BIRDIE, and I was instantly hooked. From there, her very much *not* a theater kid son Troy (Jimmy Tatro) must run the camp over the summer and stave off a hostile takeover from a neighboring rich kids' camp while Amos (Ben Platt) and Rebecca-Diane (Molly Gordon) write and compose a musical to teach the diverse group of talented kids. The pacing is breezy and it touches on (a.k.a. makes fun of) most elements of production and the array of personality types you typically find among artists. It's also an easy Best Ensemble contender with Molly Gordon's hilariously touching performance being a standout and Noah Galvin absolutely knocking my socks off. The finale performance is INCREDIBLE and had my happy-crying throughout. I already cannot wait to see it again. Musicals rule! (Watched Online – January 23, 2023)
---
---
THE AMAZING MAURICE (dir. Toby Genkel and Florian Westermann)
Rating:
Based on the children's fantasy novel written by beloved author Sir Terry Pratchett, THE AMAZING MAURICE is a twist on the classic Brothers Grimm fairy tale of The Pied Piper. It mostly follows Maurice, a ginger cat of questionable morals voiced by Hugh Laurie, as he hooks up with a crew of rats and young piper named Keith to swindle villages out of money by having the rats fake a plague and then Keith miraculously save them. Eventually they run into Malicia Grimm (voiced with plenty of sass by Emilia Clarke), sister of Eviscera Grimm (an obvious play on the famous Brothers), who alternatively narrates the story and teams up with Keith to help the rats when they run into a hairy situation in one of the towns they visit.
The adventure is fun at times, but leans into some darker material that may not be appropriate for the audience this seems to be marketed at. Death looms large over the story (both figuratively and literally) and there is one very difficult sequence with a dog and group of rats that might terrify those of a younger age. Luckily the film doesn't show anything too nasty, but much is implied. The voice cast is impressive, additionally including David Thewlis as The Rat King, Himesh Patel as the aforementioned Keith, and Gemma Arterton as one of the rats named Peaches. The animation isn't particularly striking but is pleasant enough to look at and does have some stand out moments like the formation of The Rat King.
As re-imaginings of well-known stories go, THE AMAZING MAURICE is… fine. Its characters and story are unmemorable and the film pales in comparison to the recent release of PUSS IN BOOTS: THE LAST WISH, which uses a similar conceit to much greater emotional effect. Its biggest fault is the narration choice which has Malicia being extremely self-aware and making frequent fourth-wall breaks that are completely unnecessary and frustratingly unfunny. But for adults and older kids who might enjoy a bleaker take on this old tale, the spirited voicework, a couple of exciting action sequences, and sweet animal friendships are just enough to hold the attention throughout its brisk 90-minute runtime. (Watched Online – January 23, 2023)
---
---
RYE LANE (dir. Raine Allen-Miller)
Rating:
This directorial debut from director Raine Allen-Miller is a delightful British rom-com for modern times. Our story follows Dom (David Jonssen), who we first see crying in a bathroom stall over a still painful breakup, and Yas (Vivian Oparah), a mysterious but clever and snappy young woman who is intrigued by Dom's apparent distress. After some witty banter and further mingling at their friends art show, the two set out on what is mostly a one-crazy-night style experience. Over the course of a day and night, Yas tries to help Dom move on and the two grow increasingly close, while hijinks ensue. Both performances are very charming and the London setting makes this really fresh (for American audiences at least). The energy and style of the film, along with its constantly clever writing, make it an easy watch. It may stay a little surface level with its characterizations, but it still works because Dom and Yas are such an easy couple to root for and it's just so much damn fun. Also has a big awesome cameo that fits perfectly! (Watched Online – January 23, 2023)
---
---
STEPHEN CURRY: UNDERRATED
(dir. Peter Nicks)
Rating:
It had to be awfully tempting for director Peter Nicks to just go the traditional sports biography route of making an extended highlight reel, cutting frequently to well-known basketball talent who would wax poetic about Steph's incredible skill, backed by montages of endless difficult three-pointers and layups. His subject is arguably the greatest shooter in the history of the sport, after all. But Nicks wisely avoids that route, and with some brilliant editing choices by J.D. Marlow, he and his filmmaking team crafted a heartfelt, honest journey beginning with Steph's unlikely rise despite his physical attributes and going through his playing career (thus far) and his decision to fulfill a promise he made to his mother about finishing his college degree, pointing out the triumphs and challenges of all three.
Of course, it is full of outstanding archival footage that shows his immense talent, but there's quite a bit of unflattering plays shown as well, reminding us that you don't achieve the level of success that Curry has without a lot of work, support, and determination. Two things that have always mattered most to Steph, family and team, are centered, and we see frequently how important they are in making him the man and player he is today. It's not just about him, though – he truly believes in showering those around him with the credit, too.
In what is probably one of the best aspects of the documentary, the final act parallels the amazing Curry-led Elite Eight run by Davidson in 2008 and Curry's fourth world title with the Golden State Warriors in 2022. It's exceptionally well-crafted and riveting, even when you know the results already, and it further shows how much Steph has overcome being overlooked and doubted for his entire life. This is an earnest, energetic, crisply shot, expertly edited, scored, and directed character piece that is one of the better sports documentaries I've ever seen. (Watched at Eccles Theatre in Park City – January 23, 2023)