Welcome to You Should Be Watching, my weekly opportunity to introduce you to a variety of great films, gems of the past and present, available for you to stream from Netflix, Amazon Prime, FilmStruck, and anywhere else streams are found.
---
STREAMING PICKS OF THE WEEK
---
Ben-Hur
 — Expires Sept. 28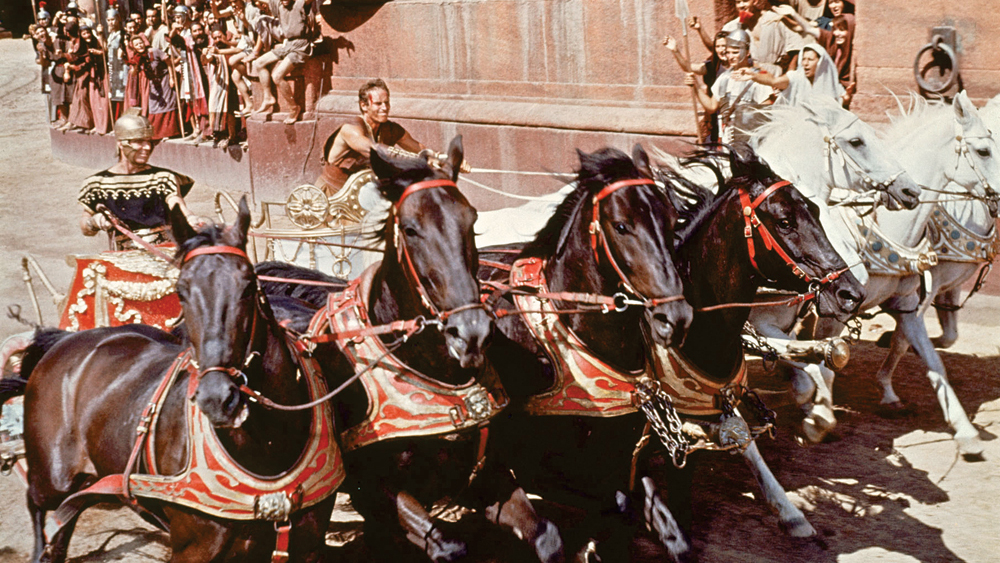 Year: 1959
Director: William Wyler
Genre: Adventure, Drama, History
Cast: Charlton Heston, Jack Hawkins, Haya Harareet, Stephen Boyd, Hugh Griffith, Martha Scott, Cathy O'Donnell, Frank Thring, Sam Jaffe, Ady Berber, Finlay Currie, André Morell, Terence Longdon, Lando Buzzanca, Giuliano Gemma, Marina Berti, Robert Brown, Liana Del Balzo, Enzo Fiermonte
With 11 Academy Awards won–a record yet to be surpassed–, a career-defining performance by the dynamic, self-assured Charlton Heston as the titular Judah Ben-Hur, and the largest budget and most elaborate sets of its time, William Wyler's Ben-Hur is a monumental achievement and the very definition of Hollywood epic. Everything about it is huge, from the 10,000 extras to the centerpiece chariot race, to the 3 1/2-hour runtime to Miklós Rózsa's majestic score. Adapted from the 1880 Lew Wallace novel and a remake of the 1925 silent film, Ben-Hur is in the vein of the classic BIble epics, even interacts with events in the Biblical narrative, but remains its own story.
Judah is an early first century Jewish nobleman living in Jerusalem who is knowingly and wrongfully accused of attempted murder by his once childhood friend Messala (Stephen Boyd). Now a Roman commander, Messala shows himself willing to destroy the life of a family he once held dear all for the sake of Rome's glory. The betrayed Judah will have to endure intense undeserved hardship and face his desire for revenge as he struggles to get back what he lost and encounters one who was more deserving of revenge than anyone who has ever lived.
---
We Need to Talk About Kevin
Year: 2011
Director: Lynne Ramsay
Genre: Drama, Mystery, Thriller
Cast: Tilda Swinton, John C. Reilly, Ezra Miller, Jasper Newell, Rock Duer, Ashley Gerasimovich, Siobhan Fallon Hogan, Alex Manette, Kenneth Franklin, Leslie Lyles, Paul Diomede, Michael Campbell, J. Mallory McCree, Mark Elliot, Wilson, James Chen, Lauren Fox, Blake DeLong, Andy Gershenzon
This is a dismal but important film by a director who has made a career of such films, Lynne Ramsay (You Were Never Really Here). The story centers on the lives of Franklin and Eva Khatchadourian (John C. Reilly and Tilda Swinton) and their troubled son Kevin. All three actors who play Kevin at his different ages–Rock Duer, Jasper Newell, and Ezra Miller–display such smug, manipulative attitudes it is downright scary. Franklin acts as a cautionary figure. He is easily manipulated by Kevin, receiving all of his love and affection, and refuses to listen to his wife and look deeper, causing his relationship with Eva to fracture. Eva falls into misery and isolation because her child has a clear predilection towards rebellion, manipulation, and downright evil from the time he was born.
The narrative jumps around the timeline of their lives, but a painful sense of dread hangs throughout as Kevin's true nature becomes increasingly difficult to ignore as well as the knowledge that there are many Kevins in the real world. But by God's grace, any one of us could be a Kevin or have a child like him.
---
The Third Man
Year: 1949
Director: Carol Reed
Genre: Film-noir, Mystery, Thriller
Cast: Joseph Cotten, Alida Valli, Orson Welles, Trevor Howard, Bernard Lee, Paul Hörbiger, Ernst Deutsch, Siegfried Breuer, Erich Ponto, Wilfrid Hyde-White, Hedwig Bleibtreu, Alexis Chesnakov, Thomas Gallagher, Herbert Halbik, Hannah Norbert, Eric Pohlmann, Carol Reed, Annie Rosar, Frederick Schrecker, Hugo Schuster, Karel Stepanek, Brother Theodore, Jenny Werner
Voted the greatest British film of all time by the British Film Institute in 1999, the Third Man is a film-noir like no other. It starts out as a merely an intriguing murder mystery where a writer named Holly Martins (Joseph Cotten) has arrived in Vienna at the invitation of his childhood friend Harry Lime only to find out he has died, but it becomes something else entirely as the story, written by Graham Greene, develops.
With the genre already being rooted in German expressionism, director Carol Reed takes the idea and runs with it, creating one of the most distinctive combinations of sight and sound on film. From the outset, the energy and tension of the film is established through Anton Karas' musical score, consisting of a single instrument, the zither. Reed uses Dutch angles galore that perfectly enhance the off-kilter tone of mystery and the post war environment itself without ever coming across as pretentious. And Robert Krasker's Academy Award winning stark black and white cinematography sets a deep contrast between shadow and light to further accent the mood. Not only is the film set in post WWII Vienna, which becomes a character itself, but many of the Austrians speak German, which is often left unsubtitled, putting the audience in the same state of confusion as Holly as he tries to work out the mystery of Harry Lime.
---
COMING AND GOING
---
LAST CHANCE
(last date to watch)
NETFLIX
September 22
Trollhunter (2010)
September 25
The Assassin (2015)
September 27
The Imitation Game (2014)
September 29
The Commitments (1991)
September 30
The Departed (2006)
Full Metal Jacket (1987)
Life Is Beautiful (1997)
Eyes Wide Shut (1999)
Rust and Bone (2012)
Fear and Loathing in Las Vegas (1998)
Menace II Society (1993)
Cinderella Man (2005)
Inside Man (2006)
The Lost Boys (1987)
AMAZON PRIME
September 23
Shutter Island (2010)
September 29
Carrie (1976)
Drugstore Cowboy (1989)
Invasion of the Body Snatchers (1978)
Miami Blues (1990)
Spaceballs (1987)
Stargate (1994)

September 30
American Psycho (2000)
Angel Heart (1987)
Babel (2006)
The Brothers Bloom (2008)
The Crow (1994)
Gone with the Wind (1939)
The Graduate (1967)
Hoosiers (1986)
Insomnia (2002)
Mulholland Drive (2001)
Pee-wee's Big Adventure (1985)
Rabbit Hole (2010)
V for Vendetta (2005)
Witness (1985)
The Wizard of Oz (1939)
October 1
Raging Bull (1980)
October 3
The Curious Case of Benjamin Button (2008)
FILMSTRUCK
September 21
Alice Doesn't Live Here Anymore (1974)
The Death of Mr. Lazarescu (2005)
Mean Streets (1973)
Night Moves (1975)
September 28
Accattone (1961)
Being There (1979)
Ben-Hur: A Tale of the Christ (1925)
Ben-Hur (1959)
The Breaking Point (1950)
A Clockwork Orange (1971)
East of Eden (1955)
The Gospel According to Matthew (1964)
JFK (1991)
Kes (1969)
Local Hero (1983)
The Man Who Would Be King (1975)
The Pianist (2002)
Rain Man (1988)
The Right Stuff (1983)
The Roaring Twenties (1939)
Teorema (1968)
Winter Soldier (1972)
October 5
White Heat (1949)
Infernal Affairs (2002)
The Narrow Margin (1952)
The Thing from Another World (1951)
Gigi (1958)
October 12
The Hunchback of Notre Dame (1939)
Mutiny on the Bounty (1935)
HULU
September 30
American Psycho (2000)
Angel Heart (1987)
Babel (2006)
Bill & Ted's Excellent Adventure (1989)
Bound (1996)
The Brothers Bloom (2008)
Drugstore Cowboy (1989)
Field of Dreams (1989)
Hoosiers (1986)
The Ladies Man (1961)
Miami Blues (1990)
Rabbit Hole (2010)
The Rock (1996)
Sleepers (1996)
Spaceballs (1987)
This Is Spinal Tap (1984)
Witness (1985)
---
JUST ARRIVED
NETFLIX
The Endless (2017)
Role Models (2008)
Scott Pilgrim vs. the World (2010)
The Third Man (1949)
The Witch (2015)
AMAZON PRIME
Angels Wear White (2017)
The Big Combo (1955)
Blow Out (1981)
Charade (1963)
The Conformist (1970)
Don't Torture a Duckling (1972)
It's a Mad, Mad, Mad, Mad World (1963)
Kansas City Confidential (1952)
Locke (2013)
One-Eyed Jacks (1961)
Sophie Scholl: The Final Days (2005)
Western (2017)
Wild Bill (2011)
Woman on the Run (1950)
Zombie (1979)
FILMSTRUCK
Ball of Fire (1941)
The Best Years of Our Lives (1946)
Citizen Kane (1941)
Clouds of Sils Maria (2014)
Full Moon in Paris (1984)
Wuthering Heights (1939)
HULU
Moonrise Kingdom (2012)
The Queen (2006)
---
COMING THIS WEEK
NETFLIX
September 21
Nappily Ever After–NETFLIX FILM (2018)
September 25
Pirates of the Caribbean: The Curse of the Black Pearl (2003)
A Wrinkle in Time (2018)
AMAZON PRIME
September 21
My Little Pony: The Movie (2017)
HULU
September 21
My Little Pony: The Movie (2017)
September 24
Iris (2001)
---
Jacob Neff is a film enthusiast living east of Sacramento. In addition to his contributions as an admin of the Feelin' Film Facebook group and website, he is an active participant in the Letterboxd community, where his film reviews can be found. Follow him on Facebook and Twitter to keep up with his latest thoughts and shared content.