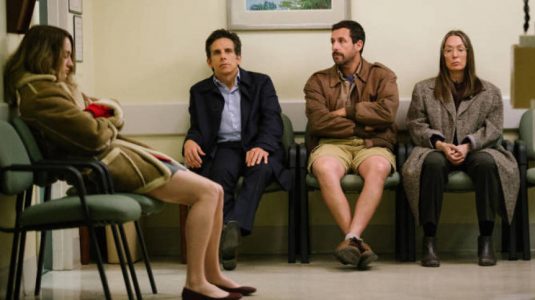 Bringing the members of an estranged family together for a series of dysfunctional hijinx is nothing new in film, and writer/director Noah Baumbach (Mistress America, Frances Ha) has built himself quite a filmography while dealing from this particular creative deck. He feels like a throwback to early Woody Allen, creating characters with quick wit and sharp tongues; riffing off each other's eccentricities in ways both comical and sincere. Also akin to Allen, the majority of Baumbach's stories utilize understated New York City locales as backdrop, eschewing grandiose settings for simple brownstones and corner eateries that lend authenticity to his ensemble.
In his latest work, The Meyerowitz Stories, Baumbach explores similar themes to his exceptional 2005 film, The Squid and the Whale. Family dynamics as related to divorce, bitterness, and regret swirl throughout Baumbach's tight script; his characters learning and growing as each suppressed resentment is gradually exposed.
The patriarch of the Meyerowitz family is Harold (Dustin Hoffman), a man who leads life with equal parts cynicism and narcissism, both traits having an adverse effect on his relationships with his three grown children. From behind a grizzled old man beard, Hoffman plays Harold with a wry sense of entitlement. A once semi-successful artist, he is continuously drawn to the allure of unearned accolades and notoriety. Hoffman is doing his best work in years, and this role is tailor made for his matter of fact style.
Harold's three children, Danny (Adam Sandler), Jean (Elizabeth Marvel), and Matthew (Ben Stiller), have journeyed to New York to celebrate Harold's upcoming show at a local college. Clearly the first time the siblings have been together in some time, and exacerbated by Harold's quirky sensibilities, it's only a matter of time before the animosities each child carries from their upbringing bubble up like a spring loaded, therapist's couch confessional.  Sibling rivalry and a strong sense of being unfairly judged for their decisions in life by their father has led all three kids to a place of resentment, in varying parts towards Harold and each other.
Elizabeth Marvel is given the least to do amongst the three kids, but her sour, frumpy Jean manages to steal every scene she's in. It's unfortunate Baumbach doesn't do a lot with Jean, and her point of view suffers as a result. She comes off as someone who just accepts her lot in life, with little control over her destiny nor motivation to challenge it. Ben Stiller is also up to task, but his Matthew doesn't feel like a stretch for him as an actor. There are stark similarities between this role and his turn as Chas Tenenbaum in Wes Anderson's The Royal Tenenbaums. Matthew is driven by unreasonable expectations for success, but his insecurities dictate that he will alienate those around him with an incessant need to prove his worth.
The true standout here is Adam Sandler. Every once in a while, Sandler will dabble in a dramatic turn and remind us that there is some talent to be found there. I really wish he would stick with roles such as this and stop with the lazy "vacation with my bros" comedy crap that has devalued his stock as an actor over the years. Sandler's Danny is a nuanced, three dimensional character filled with hurt and resentment, and Sandler digs deep in a lot of scenes to bring forth those emotions. He even gets to champion the daddy/daughter dynamic missing between Harold/Jean, in scenes with his daughter Eliza (Grace Van Patten), who is starting her freshman year in college. There is a particular scene between the two which involves a piano riff and a made up song about how they need each other and how they will always be there. It's a moving moment, and a testament to how Danny is determined not to become his own father.
Baumbach adds a few bit characters as window dressing, most notably Maureen (Emma Thompson) as Harold's current wife; a frazzled, inebriated eccentric with colored glasses and frumpy smocks who looks like she spent a lot of time getting into the 60's.
One of the best things about Baumbach is how he manages to infuse drama with hilarious, natural comedy. Whenever the story takes a serious tone, there is always a sharp line such as, "Maureen, get your granddaughter more shark." It reminds us that real life is going on around these people, and their struggles in life are balanced by moments that are meant to be laughed at. Even though we know there are no people in this world that hold conversations quite as naturally as those in the film, it's that balance that gives Baumbach's work authenticity.
One gripe I have with Baumbach is that his film's aren't very diverse. I'm not that guy that gets caught up in checking boxes, but if New York City is your muse, it would be nice to occasionally see a person of color do something more than serve your food at a cafe. A lot of his films feel culled from the world of HBO's Girls (a show I adored, for the record); a show that was also criticized for its lack of diversity.
If you find yourself drawn to Baumbach's other work, specifically The Squid and the Whale, Frances Ha, and Mistress America, I think you'll find a lot to like in The Meyerowitz Stories.  This is a film that aligns neatly within the filmmaker's wheelhouse, with the same biting wit and interpersonal drama that drives most of his narratives. The calculated risk of allowing Adam Sandler to carry the torch pays off in a big way. Baumbach typically won't leave his characters in a bad place at the end of his films, and nothing changes here. If you tend to like satisfying resolutions, not to insinuate that all of the past damage is undone, but each character finding themselves no worse for the wear, you can rest assured the Meyerowitz's will find themselves in a similar spot in the end. – By Steve Clifton
Rating: