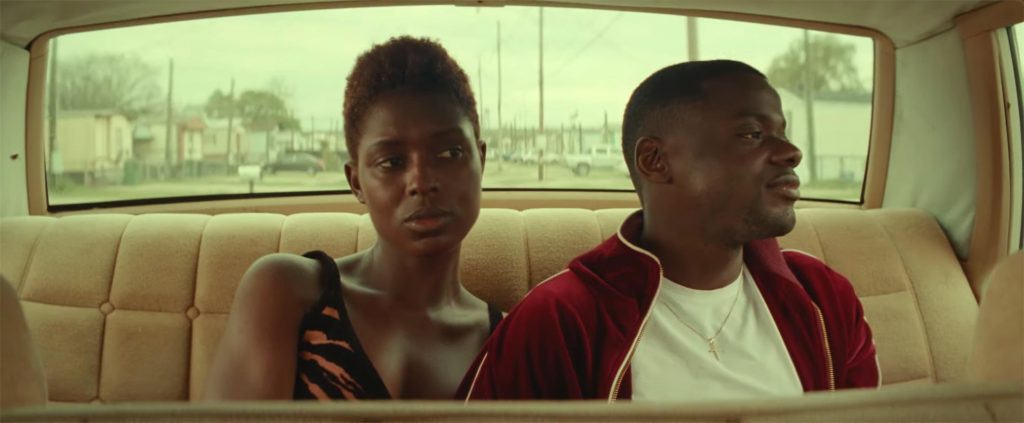 Imagine having to live every day with fear and paranoia just for existing in the environment, taking a walk down the street, driving in your car, or playing in a park with your kids. But this isn't just something faced by people in a third world country or a location ruled by a government running on the fumes of dictatorship; the sad reality is that I'm talking about the United States of America which inhabits a group of people who are gripped in this nightmare: African Americans. We have seen over the last decade countless videos of African Americans gunned down, beaten, handled aggressively, and having their mere presence treated as a crime by not all (but a substantial amount of) police officers. This unjust treatment has sparked the Black Lives Matter movement and a large group of non-African Americans finally coming to understand just how much police brutality has been an ongoing disease in our communities. Melina Matsoukas's "Queen and Slim" is not the first film to tackle this issue head-on cinematically, but instead of making it a central focus, the film emphasizes the humanity and pride that is in abundance among the black population.
Slim (Daniel Kaluuya) and Queen (played by newcomer Jodie Turner-Smith) are enjoying themselves in a restaurant on a first date made possible by Tinder. You can see the spark being born and the normal awkwardness present on first encounters is slowly replaced by conversations on black-owned businesses and film, like "Love Jones". The good times are abruptly ended by a traffic stop based on the pretense of a missing turn signal and a minor swerve. The cop comes out aggressive and is not willing to answer the questions that Slim poses as to why he was pulled over; eventually, tensions between Queen and the police officer reach a terrifying climax. Queen is shot, and as Slim wrestles with the police officer, another bullet takes the cop's life – leaving the newly acquainted couple likely sentenced to death, never to see their once-peaceful existence again. Labeled as fugitives, their story is one of running from the law while seeking elusive asylum and unlikely freedom.
Matsoukas has been a prominent figure in the last few years, working on music videos with artists such as Beyonce, Rihanna, and Jennifer Lopez. She has also directed episodes of award-winning shows such as "Master of None" and "Insecure". For this film, she brings over the high-energy aesthetic of her music videos and combines it with a seasoned approach to create spellbinding cinema of riveting relevance. Plenty of wide shots display the gorgeous down-home vibe of the American South; cities such as New Orleans and Savannah are treated with the respect they deserve, highlighting their historical architecture, lush trees, winding roads, and summertime flavor. Vignettes of everyday black people fill up this world in a respectful manner, far from harmful and limiting stereotypes. The film flows with the speed of the Nile River. Sequences don't overstay their welcome nor drag to the next flashing plot diversion. Everything moves smoothly, keeping the viewing experience a pleasant one. Tat Radcliffe's cinematography supports the direction like a dedicated best friend with the use of beautiful color contrast that is reminiscent of a stylish late 70's film. The lighting complements the skin of black characters phenomenally and daytime scenes shine bright as though we are in the same environment as these characters.
Daniel Kaluuya is officially a bonafide superstar. Some thought that "Get Out" would be the pinnacle of his acting prowess, but this performance blows it out of the water. He displays the fearful and scared demeanor that comes with making a mistake that ruins your life, as well as sensitive but very manly energy that compels you to walk in his traumatic shoes and feel the pain radiating from his soul. He shines in comedic and dramatic moments alike, with a spark of brilliance. Jodie Turner-Smith is electric in a breakout performance that will have many in the industry talking. She plays Slim as strong and fierce, a woman who doesn't panic, and who is intelligent, ambitious, and dedicated. These two leads share a firecracker chemistry that feels unique and is a beautiful representation of natural black love. It truly felt like a couple that was willing to risk it all for one another unconditionally.
Lena Waithe is going to have a long and illustrious career if she continues to write at the amazing pace she is exhibiting. Already in the history books for being the first black woman to win an Outstanding Writing Emmy Award in 2017 for her work on "Master of None", she has gone to be the creator of a television series ("The Chi") and starred in Steven Spielberg's "Ready Player One". Her screenplay is one of the best of the year in the way it handles the beauty and darkness that surround the lives of black Americans. There are times where she creates moments for these characters to get away from being in constant stressful escape mode and let their hair down, which allows viewers to connect with them. Character development is a strong component of what made me fall in love with this film. The film also features great supporting characters that have a place and purpose to the ongoing narrative and are part of setpieces that show immense humanity. "Queen and Slim" is rife with tension and central parallels that callback to the injustices African Americans face in everyday society. It is told in an engaging manner full of showmanship, not as a Dateline NBC special. It would have been easy for this film to fall into preachy territory, but it's much smarter and more creative than that; all shades of the best qualities of storytelling are present and alive. It would also be very unfair to try and subject this film to a "cop-killing fantasy' piece when it does not glorify or celebrate violence of any kind. There is a horror that lies underneath the surface of every scene showing how divided the relationship is between African Americans and members of the police community. There is a disconnect that has not been mended and painfully looks to not be getting any better. Waithe knows that and wants the audience to be confronted with police brutality, systemic racism, and how the divide between police and African Americans will continue to fester without intentional action to make change by both sides coming together.
Tragic, beautiful, compelling, and exhilarating, "Queen and Slim" is one of the finest films of 2019, and a masterclass of a cinematic narrative told entirely from the African American perspective.
Rating:
---
Caless Davis is a Seattle-based film critic and contributor to the Feelin' Film Podcast. He loves any discussion of film and meeting new people to engage in film discussions on any subject. You can follow him on Twitter and Instagram.