ANT-MAN AND THE WASP (2018)
2 Hours and 5 Minutes (PG-13)
Riding the summer movie coattails of Avengers: Infinity War, the latest addition to the Marvel Cinematic Universe is Ant-Man And The Wasp. Our lovable insect-sized hero is back in the clutches of the law, struggling to learn how to balance being a father, a business owner and a superhero.
Paul Rudd is back as Scott Lang, the Robin Hood-esque burglar, 2 years after his Civil War appearance in Germany. Having stolen his suit to take part in the battle, Scott landed himself on house arrest; his actions also alienated both Hope van Dyne (Evangeline Lilly) and her father Dr. Hank Pym (Michael Douglas), unintentionally making them criminal conspirators. Having been the only person to go "sub-atomic" and survive, emotions are put aside when Dr. Pym and Hope insert themselves back into Scott's life to extract any subconscious memories he has of his time in the Quantum Realm. Hope and Hank need Scott's connection to the Quantum Realm in the hopes of saving Janet van Dyne, the original Wasp, who disappeared there decades ago. Hope suits up as "The Wasp" and this duo is back together just in time to face an enemy more powerful than they've ever faced. Ghost (Hannah John-Kaman) is an accidental science experiment who molecular instability allows her to phase through objects, coming in handy when she steals Pym technology for her own means.
Peyton Reed returns to the director's chair for this sequel, bringing with him the same comedic wit and pure joy that was present in the first film. My favorite thing about the Ant-Man films is that the stakes are relatively high, but they're not nearly as dire as they are in most MCU movies, where it seems like the fate of the entire universe is always at stake. Scott's adorably dense yet somehow qualified ex-con friends are back,  played by Michael Peña, T.I. and David Dastmalchian, providing off-beat humor without drawing too much attention from the plot. Character growth was present in Hope and Scott, while we got a small glimpse into the past mistakes Dr. Pym made. At times the script felt like it was lacking in some stylistic ways, which could easily be explained by Edgar Wright not joining the team for this film; some of Rudd's jokes seemed forced and unnatural, a few scenes seemed rushed without being able to fully play out their potential, etc. However, the fight/stunt scenes were well choreographed, the visual effects were blended seamlessly, and I'm still eager to see what Ant-Man and the Wasp get into next.
Once again, Reed has managed to somehow create a comic heist film but on a much larger scale, blending in elements of science fiction and physics, all while still adhering to the rules within the Marvel Cinematic Universe.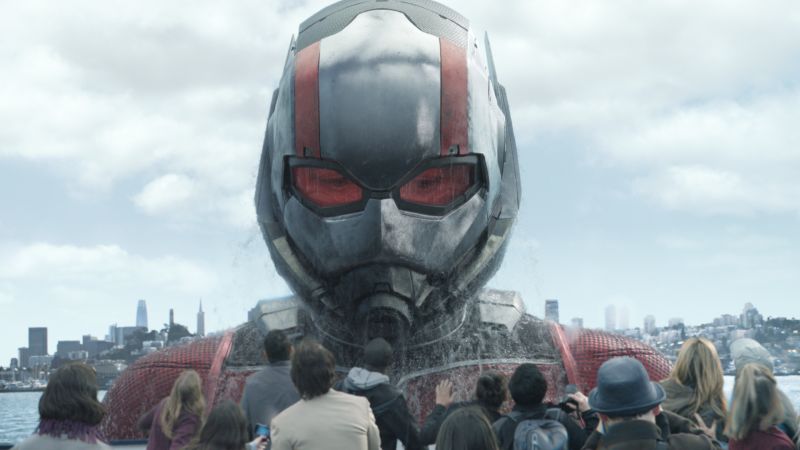 PS: There are 2 post-credit scenes: the first, I was definitely not ready for but the second is completely useless and there's no point in waiting for it.
Rating:
---
Erynne Hundley is Seattle-based writer and freelance film critic, currently writing and editing articles for Essentially Erynne. She prides herself on crafting spoiler-free film reviews that balance franchise history, stylistic approach, script interpretation, and the emotional turmoil the final piece creates. You can find her on Twitter and Instagram for article updates.