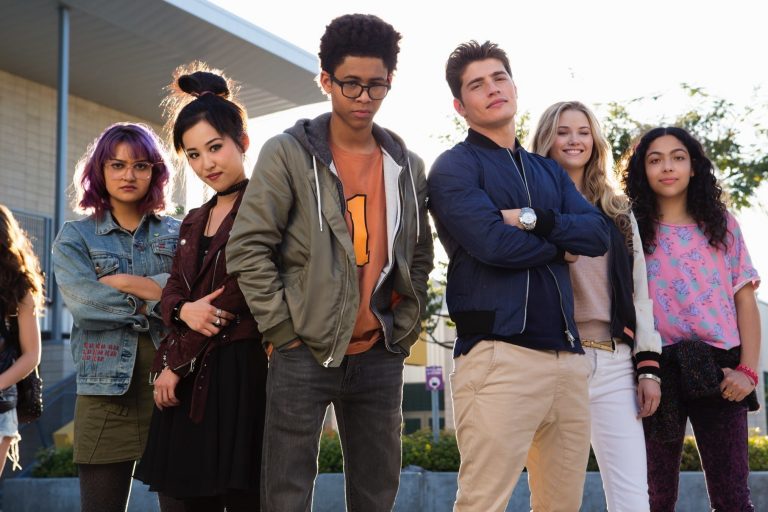 Whenever a new movie/TV show is released based on a comic book property, the conversation about super hero fatigue begins. It gets louder every time, especially in months like this where the discussion around Thor: Ragnarok had barely died down before Justice League arrived in theaters. It's completely understandable. A lot of people are burned out on the genre.
I do not suffer from that affliction. Give me more. I love the oversaturation. There is enough room in my heart for all of it. When I hear of something new, I'm all over it like white on rice in a glass of milk on a paper plate in a snow storm. I may not keep watching (Inhumans), I may quit watching and go back later because I have nothing else to do (Gotham), I may even hate watch (The Walking Dead) but more often than not, I watch and enjoy and put it securely in my regular rotation. It should be no surprise then, that I took the opportunity this week to check out (and fall in love with) Hulu's new comic book series, Runaways.
Runaways is based on the Marvel comic of the same name. It's set in the MCU along with the popular films and shows like Agents of S.H.I.E.L.D., Inhumans, Daredevil, etc. It's about six teenagers who find out that their parents are super villains who make up a team called Pride and begin to work together to thwart their plans. Along this journey of discovery, they also begin to develop powers of their own. I haven't read the comic, so if you have, you probably have a better handle on what's going on than I do at this point. From what I've read, fans of the print version have been pleased with the way the show has remained faithful to the source material. In the three episodes that have been released, creators Joshua Schwartz and Stephanie Savage have succeeded in crafting solid characters, both in the teens and their parents, not sacrificing the development of the villains in favor of the heroes. They've done so by taking their time to introduce characters and the world that they live in.
Hulu has been putting out some solid programming over the last few years. They seem to be a bit more concerned with quality over quantity in contrast to fellow streaming service Netflix. Thus far, Runaways continues that trend. It feels like more than an attempt to capitalize on the superhero craze. They're laying the groundwork for a pretty intriguing story that I'm excited to add to the queue moving forward. Runaways is available on Hulu.
Channel Surfing:
The Arrowverse has a pretty big week coming up with their annual week of crossover episodes, so I had assumed that this week would mostly be table setting for that event. I was wrong. Supergirl saw the bittersweet return of Mon-El, The Flash came face to face with this season's big bad The Thinker, Legends of 

Tomorrow

 had maybe the best Mick centered episode of the series and Oliver got arrested and vigilantes were made illegal in Star City on Arrow. But all of that will be on hold this week when all of the gang gets together for Barry and Iris' wedding. Will everything run smoothly? Given that the whole ordeal is called Crisis on Earth-X, I'm guessing it won't. It's a tough thing to balance 4 shows into one storyline, but last season it was the best week of the year. Hopefully they can keep it up. Arrowverse shows can be seen on The CW.
This Is Us made me cry again this week. Chrissy Metz and Mandy Moore (Kate and Rebecca, respectively) play the two characters that get under my skin the most on that show (in a good way, like how members of your own family get under your skin). This week though, the story gave them both a chance to absolutely shine and they knocked it out of the park. I've heard people say that maybe the show leans a bit too heavy into sadness territory, and I think that's a valid criticism, but I think the way it was portrayed this week was sensitive, thoughtful and accurate. Also, I'm going to start a petition to get NBC to give Toby his own show. I don't care what it's about. I just want more Toby. This Is Us airs weekly on NBC and past episodes can be seen on Hulu.
That's all for this week. As always, if there's anything you'd like me to check out that we haven't covered, let me know in the comments or in the Facebook group. Next week, we're going to spend the bulk of our time talking about the Arrowverse crossover event and I'll probably have a thing or two to say about the season premiere of the new season of Agents of SHIELD as well.
---
Jeremy Calcara is a contributing member of the Feelin' Film team. In addition watching as many movies as he can and writing reviews for Feelin' Film, Jeremy consumes an unhealthy amount of television and writes about it weekly in his Feelin' TV column.   Follow him on Facebook and Twitter  to be notified when new content is posted.