Welcome to You Should Be Watching, my weekly opportunity to introduce you to a variety of great films, gems of the past and present, available for you to stream from Netflix, Amazon Prime, FilmStruck, and anywhere else streams are found. I highlight films that come with my personal recommendation as well as provide a list of notable titles that are coming and going so you're sure not to miss out on the good stuff.
---
STREAMING PICKS OF THE WEEK
---
Modern Times
Year: 1936
Director: Charles Chaplin
Genre: Comedy, Drama
Cast: Charlie Chaplin, Paulette Goddard, Henry Bergman, Tiny Sandford, Chester Conklin, Hank Mann, Stanley Blystone, Al Ernest Garcia, Richard Alexander, Cecil Reynolds, Mira McKinney, Murdock MacQuarrie, Wilfred Lucas, Edward LeSaint, Fred Malatesta, Sammy Stein, Juana Sutton, Ted Oliver, Gloria DeHaven, Norman Ainsley, Bobby Barber, Chuck Hamilton, Jack Low, Harry Wilson, Heinie Conklin, Bruce Mitchell, Lloyd Ingraham, Walter James, Buddy Messinger
Last week, I highlighted the legendary icon of silent film Charles Chaplin through the biopic about his life simply called Chaplin, which stars a young Robert Downey Jr. Consequently, this week, I'm taking you back a half century further to recommend Charlie himself in a mid-career film that will have the whole family cracking up at Chaplin's antics (yes, you should share this and other silent movies with your kids). But there's a reason Chaplin titled this film Modern Times, and he has much more to offer than mere slapstick. Chaplin, playing the part of A Factory Worker amidst The Great Depression, applies a humorous twist on key issues of the day, not unlike modern day socioeconomic concerns, through a series of loosely connected set pieces. Regardless whether he's exploring the relentless, dehumanizing nature of industrialism via the machines of the assembly line, taking on the problem of political witch hunts, or celebrating romantic love among the destitute, he makes your laughter mean something. You may even feel your heartstrings plucked, and speaking of the love relationship, Paulette Goddard holds her own against Chaplin and lights up the screen every time she appears.
---
Temple Grandin
Year: 2010
Director: Mick Jackson
Genre: Biography, Drama
Cast: Claire Danes, Catherine O'Hara, Julia Ormond, David Strathairn, Melissa Farman, Barry Tubb, Cherami Leigh, Tamara Jolaine, Charles Baker, Blair Bomar, David Born, Chloë Evans, Jordan Strassner, Michael D. Conway, Xochitl Romero, Joe Nemmers, Richard Dillard, David Blackwell, Toby Metcalf, Brady Coleman, Silver Renee, Chad McMinn, Nicole Holt, Jake Messinger, Cynthia Huerta, Jessica Wilson, Cassandra L. Small, Kurt Cole, William Akey
While I've certainly enjoyed seeing Claire Danes in many of her other roles, nothing could have prepared me for seeing her inhabit the role of Temple Grandin, who was among the first people with autism to publicly share their personal experience of living with it. If this were the only role I'd seen Danes play, I'd assume she herself had some form of autism. As it is, she's practically unrecognizable, not only in her appearance, but in her very attempts at speaking and expressing herself. Her Golden Globe for Best Actress was well deserved.
Temple's story is remarkable and represents and is among the most fascinating, well-made, and inspiring biopics I've seen. She is a brilliant, motivated woman of outstanding character. But early in her life, because of her condition, she refused to speak and threw frequent temper tantrums, leaving her tragically misunderstood and mistreated by her parents and ultimately misdiagnosed as was common at the time. Thankfully, that was only the beginning of her story, and through the journey, you'll see the amazing things she has accomplished and hopefully gain empathy and a much greater understanding and appreciation for a group of people who are so easily dismissed.
NOTE: The last day to stream Temple Grandin on Amazon Prime is May 21.
---
Changeling
Year: 2008
Director: Clint Eastwood
Genre: Crime, Mystery, Drama
Cast: Angelina Jolie, Jeffrey Donovan, John Malkovich, Geoff Pierson, Amy Ryan, Gattlin Griffith, Michelle Gunn, Frank Wood, Colm Feore, Michael Kelly, Denis O'Hare, Jeffrey Hutchinson, Devon Conti, Peter Breitmayer, Antonia Bennett, Erica Grant, Jan Devereaux, Kerri Randles, Morgan Eastwood, Ric Sarabia, Debra Christofferson, Russell Edge, Mary Stein, Gregg Binkley, E.J. Callahan, Reed Birney, Colby French, Kelly Lynn Warren, Richard King
For a Clint Eastwood-directed film that's only 10 years old, Changeling is curiously absent from the cultural consciousness and is criminally underrated. This gripping, stylish Twilight Zone-esque mystery dramatizes the stranger-than-fiction events surrounding Christine Collins (played by Angelina Jolie) and the disappearance of her son Walter. The screenwriter himself, J. Michael Straczynski, in researching the details of the true events found the story so bizarre he thought it couldn't be real. Being set in 1920s L.A. gives Eastwood a veritable playground of ideas to explore, from the city's attempts to present a glamorous facade to brutality and corruption within the police force. But through his expert direction and some great casting including Jeffrey Donovan as the police captain, John Malkovich playing against type as Reverend Briegleb and especially with Jolie's passionate Oscar-nominated performance, the most important quality that's on display is the unbreakable bond between a missing son and a mother who will go through hell just for the possibility of getting him back.
---
Breakdown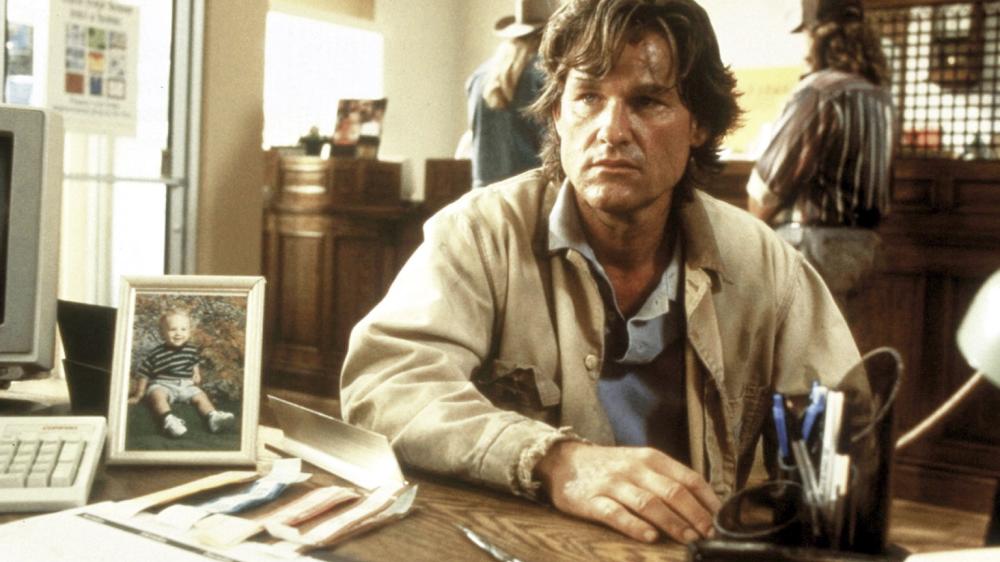 Year: 1997
Director: Jonathan Mostow
Genre: Action, Drama, Thriller
Cast: Kurt Russell, J.T. Walsh, Kathleen Quinlan, M.C. Gainey, Jack Noseworthy, Rex Linn, Ritch Brinkley, Moira Harris, Kim Robillard, Thomas Kopache, Jack McGee, Vincent Berry, Helen Duffy, Ancel Cook, Gene Hartline
To finish, let's go back to 90s thriller territory with Jonathan Mostow's standout suspense ride Breakdown, which is another Twilight Zone-type story about a disappearance that contains more than faint echoes of Alfred Hitchcock's The Lady Vanishes and Steven Spielberg's Duel. Kurt Russell is in prime form here as yuppie Jeff Taylor, husband to Amy (Kathleen Quinlan) and opposite Russell, J.T. Walsh is wonderfully unnerving. The movie starts out simple enough with the couple driving across the country in their brand new Jeep, but before long they have car trouble in the desert, they get separated while Amy gets a ride to go call for help at the only place around for miles, and then nothing. She has vanished without a sign, and an increasingly desperate and panicked husband can't find anyone to believe his story. Mostow's direction is focused and tight, always propelling the mystery, paranoia, and action forward. So once the tension starts, it doesn't let up, leaving you with a thoroughly pulse-pounding experience.
---
COMING AND GOING
---
LAST CHANCE
(last date to watch)
NETFLIX
May 11
Fruitvale Station (2013)
Talladega Nights: The Ballad of Ricky Bobby (2006)
May 15
Metropolis [Restored] (1927)
May 29
The Jungle Book (2016)
AMAZON PRIME
May 17
Red Dawn (1984)
May 18
Creed (2015)
May 21
Behind the Candelabra (2013)
Conspiracy (2001)
The Sunset Limited (2011)
Temple Grandin (2010)
FILMSTRUCK
May 11
Forbidden Planet (1956)

Aguirre: The Wrath of God (1972)
Fitzcarraldo (1982)
Nosferatu the Vampyre (1979)
May 16
Glengarry Glen Ross (1992)
May 18
Luchino Visconti:
La Terra Trema (1948)
The Leopard (1963)
Rocco and His Brothers (1960)
May 25
Carol Reed:
The Fallen Idol (1948)
The Third Man (1949)
May 31
High Noon (1952)
June 1
House of Flying Daggers (2004)
A Night At The Opera (1935)
---
JUST ARRIVED
NETFLIX
Faces Places (2017)
AMAZON PRIME
Warrior (2011)
Last Flag Flying — Amazon Original (2017)
Stories We Tell (2012)
FILMSTRUCK
The Bridge on the River Kwai (1957)
Doctor Zhivago (1965)
Lawrence of Arabia (1962)
Alphaville (1965)
Army of Shadows (1969)
Bob le Flambeur (1956)
Le Trou (1960)
Je T'aime, Je T'aime (1968)

HULU
Warrior (2011)
---
COMING THIS WEEK
NETFLIX
May 16
89 (2017)
The 40 Year Old Virgin (2005)
The Phantom of the Opera (2004)
AMAZON PRIME
May 12
Still Mine (2013)
HULU
May 12
Jane (2017)
Still Mine (2013)
---
Jacob Neff is a film enthusiast living east of Sacramento. In addition to his contributions as an admin of the Feelin' Film Facebook group and website, he is an active participant in the Letterboxd community, where his film reviews can be found. Follow him on Facebook and Twitter to keep up with his latest thoughts and shared content.