It's hard to believe we're halfway through 2017.
Traditionally, the first half of the year is a mixed bag. We must endure the dumping grounds known as January and February, hoping maybe something of note will slip through the cracks.  Summer seems to begin earlier and earlier each year, as some big budget players try to get a jump on the blockbuster season with notable releases in March and April.  And then the popcorn season officially begins in earnest on that first week of May, and the cineplexes fill up with loud explosions, CGI, and cute animated critters.
When looking back on films you've enjoyed from January to July, it's always interesting to think about how many of them will actually land high on your top ten list come year's end.  Let's face it, for many of us, some of the best films roll out after October first, either as Oscar bait or holiday blockbusters.  The back half of 2017 is loaded with some serious heavyweights in both regards, so it'll be fun to see how it all shakes out.
That said, the staff at Feelin' Film has compiled our individual top three films of the first half of the year, presented for your reading enjoyment below.  We'd love to hear your thoughts on our picks, and invite you to leave your thoughts and own lists in the comments section or on the Facebook page.  Or, if you just want to mock Aaron for his pretentiousness, that's okay too.
Without further ado….
#3  Steve – Beauty & the Beast
I admit I'm a bit bias here, with having been a slave to the Mouse House for nine years of my existence.  I met my better half at Disney and our first date was actually seeing the animated version in theaters.  Personally, I think this is one of Disney's best tales, and the live action film was everything I hoped it would be.  Haters gonna hate, but I think Emma Watson was a perfect choice for the role of Belle, and the production value is a high point.
#3  Don – Lucky
In a rare and perfect leading role for his stature, Harry Dean Stanton play the titular nicknamed war veteran, diner regular, and barfly slowly coming to grips with his own quickly approaching mortality.  In "…if it hasn't killed me yet" fashion, the rough edges of this straight shooter melt away to a warm heart at the core as he looks into himself and his small town connections.  Lucky washes its salty kick with a soft finish, without a wasted spec of storytelling patience.
#3  Patrick – Spider-Man: Homecoming
My man Peter Parker comes swinging onto the big screen once again, but this time I think the filmmakers found the perfect balance of what makes your friendly neighborhood Spider-Man work.  Tom Holland is a great long-term investment, and the deal between Sony and Marvel Studios is a win-win for EVERYONE.  I'm looking forward to seeing how creative both companies will get with this latest and hopefully final iteration of the web-slinger.
#3  Jeremy – Spider-Man: Homecoming
I didn't think it would be possible for me to enjoy a comic book film more than I enjoyed Wonder Woman, but Spider-Man proved me wrong.  It's a perfect combination of cast and story; comedy and drama; thrills and fun.
#3  Aaron – Get Out
This place on my list is extremely competitive.  Personal Shopper, The Beguiled, and The Lego Batman Movie all deserve recognition here.  But the most impactful film of this group was my experience seeing Get Out among a packed, diverse crowd.  Jordan Peele has taken his trademark humor, social commentary, horror, and thriller aspects and reassembled them into one of the most creative, intense, crazy genre-benders I've ever seen.  It's one of those rare films that feels "important" while also being incredibly entertaining, and it's one film I suggest everyone see.
---
#2  Patrick – Wonder Woman
In the muck and mire that is the DC criticism, and the reality that is superhero fatigue, I walked out of this movie feeling incredibly encouraged and refreshed about the future of the genre.  Having never been a huge fan of Diana Prince, being able to keep me engaged and wanting more installments of the Amazon goddess says something about director Patty Jenkins, star Gal Gadot, and company.  I'm looking forward to Justice League even more after seeing this one.
#2  Don – The Big Sick
The Big Sick nimbly moves with a constant levity, even when the potential for heavy drama invades.  That jocular wit makes you appreciate any of the lows that sneak up on you because they arrive bearing tissues for your smiling eyes.  It is one of the best romantic comedies of this short century and one of the best films of 2017, period.
#2  Jeremy – Baby Driver
While it's probably my least favorite Edgar Wright film, Baby Driver is still thrilling enough to be my second favorite film of the year so far.  Heck, if all I got was a blank screen with the soundtrack blasting, it would probably still land as my number three.
#2  Steve – Baby Driver
Edgar Wright continues to expand his unique visual style in this revved up, supercharged action thriller.  The story of a misguided kid getting in too deep with big time criminals might not seem unfamiliar, but with fantastic performances and the soundtrack of the year keeping tempo with the on screen mayhem, Baby Driver is a white knuckle ride of pure adrenaline.
#2  Aaron – A Ghost Story
A Ghost Story is a simple, unique, and poetic film about the fragility of life and passing of time.  Its pacing requires complete dedication and patience from an audience, something that will certainly not appeal to all, and may cause frustration.  However, for those who commit, this is a masterpiece filmmaking effort by the superbly talented David Lowery that will haunt their emotions and thoughts.
---
#1 Don – War for the Planet of the Apes
So far this year, I've only given four five-star reviews, and no film has impressed me more completely from top to bottom that this trilogy capper.  From Michael Giacchino's score and all of the weighty nuances brimming inside this epic, to the masterful and special performance by Andy Serkis, War for the Planet of the Apes carries the highest and best emotionality that actually felt like it mattered.
#1  Aaron – Your Name
This is a story about dreams (and desperately trying not to forget them), time travel, body swaps, natural disaster, coming of age, romance, and deep longing that is emotionally riveting from beginning to end.  Comedic at all the right times, soul-crushingly painful, and yet tender and hopeful.  Your name is an animated masterpiece that goes far beyond its dazzling visuals, and is the film that has most deeply affected me in 2017 so far.  (Note:  This film initially released in Japan in 2016 but did not receive an American release until 2017)
#1  Steve – Wonder Woman
Consider me the chief skeptic when it comes to the DC cinematic universe, but Wonder Woman far surpassed my middling expectations.  It took studios long enough to throw bank at a female fronted superhero film, but man, the wait was worth it.  Director Patty Jenkins handled every nuance with such great care, Gal Gadot owned the role of the princess , Diana, and the importance of what this film manages to accomplish for women everywhere cannot be understated.  Is this not the best cinematic moment of any superhero film ever?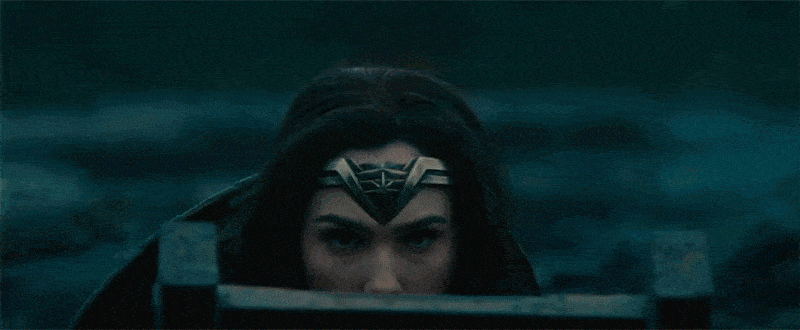 #1  Jeremy – Get Out
Jordan Peele's directorial debut is both the most important and most thought provoking film I've seen this year.  It's gotten funnier and more intense every time I've watched it, even though I'm fully aware of what's coming.  I'd be shocked if it's much lower on my list come January.
#1  Patrick – The Lego Batman Movie
I don't know that I've laughed this loud and so many times in a theater in a long time.  Everything about this film made my theater experience incredible.  The story felt original, the callbacks to the past franchises were on point, and the jokes felt perfectly placed.  Walking out, I knew I wanted to own it immediately.
There you have it.  Disagree?  Let us have it.  Share your top films with us.  Hopefully, we've added something to your cinematic radar and you'll all soon be feelin' these films as well.