PHANTOM THREAD (2017)

GOING IN
Paul Thomas Anderson and Daniel Day-Lewis together again. In 2007, this pair of genius artists gifted the world with There Will Be Blood, one of the finest films of the 21st century, which resulted in Day-Lewis' second Academy Award for Best Actor. Now, after a career of unrivaled success, Day-Lewis gives his final performance as a renowned dressmaker in 1950's London who finds his muse, bringing love, creativity, and disruption to his methodical life. Paul Thomas Anderson serves as the film's writer, director, and cinematographer – a rare feat that is no doubt within his ability. The film will almost certainly look and sound incredible, and in an Anderson script there are sure to be surprises along the way. With Anderson and Day-Lewis' track record of excellence, it is impossible not to be giddy with excitement to discover the secrets Phantom Thread hides.
2 Hours and 10 Minutes Later.

COMING OUT
Reynolds Woodcock. The name of Daniel Day-Lewis' distinguished dressmaker should have tipped us off. It is a fine, strong name that sounds prestigious enough, but also one that provokes a little private chuckle on the side. And that is exactly what Phantom Thread turns out to be – part period romance melodrama, and part dark personal comedy. At times it felt almost wrong to be letting out an audible laugh when the characters are taking things oh so seriously. Come to find out, though, that is precisely what makes these wonderful moments so funny.
Phantom Thread turns out to be quite unpredictable. In addition to the humor, there is a psychosexual nature to the story that is both fascinating and uncomfortable. Alma (Vicky Krieps) and Reynolds' relationship quickly becomes something unexpected. Woodcock puts dressmaking first, and Alma soon realizes that her existence is only noticed and appreciated within the routine he allows it to be. What he isn't prepared for, though, is her push back and willingness to engage and challenge his status quo. Also vying for Reynolds' attention (though in a much different manner) is Cyril (Lesley Manville), Reynolds' sister, manager, and closest confidante. This triangle of relationships is always a little uneasy and how they ultimately resolve is the crux of the film.
Anderson's work as the film's uncredited cinematographer is incredible. His camera often focuses close-in on the actors' faces, and much is said in a lingering stare or the slight turn of an upper lip. Though the dialogue is brilliant, so much is conveyed via body language. It speaks to the acting prowess of the entire cast, but also to PTA's eye for knowing how to capture it perfectly in the frame. The atmosphere and set design of the film is mesmerizing, as well, combining with a beautiful violin and piano based score from Jonny Greenwood to cast a spell on viewers and immerse them in another time and place.
Day-Lewis' portrayal of the obsessive, controlling Woodcock is pitch perfect. As expected, the method actor whose preparation is the stuff of legend, put in plenty of work to become the sought after dressmaker. For Phantom Thread, Day-Lewis actually learned how to sew, going so far as to hand-stitch a Balenciaga dress from scratch, while his wife (director Rebecca Miller) served as a model. Oh, and he also apprenticed for a year under costume director Marc Happel of the New York City Ballet, sewing 100 buttonholes as he learned the intricacies of the craft. All of this incredible effort leads to a performance that feels perfectly natural. Day-Lewis' history is so fantastic that it might be easy to compare and call his work in Phantom Thread merely "very good", but when measured against the rest of the acting field it really is one of the finest performances of the year.
However, it's not even Day-Lewis that gives the best performance of the film. That honor must go to newcomer Vicky Krieps who is not just his equal, but is able to even outshine him at times. Her patient demeanor is both delicate and fiery, always giving the impression that at any moment she might crumble under Reynolds' force or powerfully take control of a moment herself. Her acting is exquisite and the ability to emote so much without words makes her performance such a force. Not to be outdone is Lesley Manville, who also holds her own in every scene opposite Day-Lewis as the ever-steady rock of their strange sibling union. Combined these three stars are as good as any other ensemble cast you will see all year. They make every line sing and create characters you won't easily forget.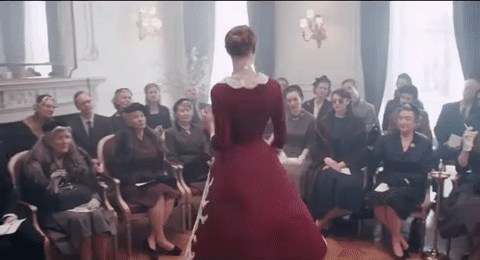 VERDICT
Though PTA's films had never commanded much of my attention before, Phantom Thread captivated me from the opening scene to the end credits and bewitched me unlike any other film experience in 2017. Thematically, it's exploration of an unconventional romance between the obsessive man and his delicate muse goes in directions you never expect, and never ceases to hold your attention throughout. Cinematically, it is one of the most well-crafted, stunningly beautiful, perfectly scored, impeccably acted dramas I've seen in years. PTA's meticulous attention to detail marries so well with Daniel Day-Lewis' devotion to character immersion, and newcomer Vicky Krieps owns the screen in every scene. Like the notes left by Reynolds inside the seam of his dresses, Phantom Thread will embed itself in your memory and linger in your thoughts for long after your initial date is over.
Rating:
---
Aaron White is a Seattle-based film critic and co-creator/co-host of the Feelin' Film Podcast. He is also a member of the Seattle Film Critics Society. He writes reviews with a focus on how his expectations influenced his experience. Follow him on Facebook and Twitter to be notified when new content is posted.