LESSON #1: ONE MORE TIME, FOR THOSE IN THE BACK, TRY NEW MOVIES— If you heat anyone pouting that there's nothing new to consume, tell them they're not looking hard enough. Don't watch the same comfort food you've seen 30 times. Dig deeper. Challenge yourself. Check out Hoopla, Kanopy, and more. On Kanopy alone, there are 107 of Roger Ebert's "Great Movies." That's second to the Criterion Channel and f'n free with a library card. If deep isn't your speed and mainstream is still your drug of choice, check out HBO's new free streaming offerings for some excellent options, new Netflix additions for April, and Pixar's Onward just hit Disney+ on April 3rd. Finally, keep the patience coming. Disney's Artemis Fowl joins Trolls World Tour and The Lovebirds as the first theatrical movies to announce a straight-to-on-demand release instead of postponement (more on that later).
LESSON #2: SHORT FILMS ARE WORTH YOUR TIME TOO— When it comes to broadening your palette beyond vanilla, I'll also recommend casting a line for some excellent world of short films. Many that were going to screen at the cancelled SXSW Film Festival are being made available on Amazon Prime. There's also a massive collection of 66 Oscar-nominated and award-winning shorts being made available thanks to the National Board of Canada. Thanks, neighbors!
LESSON #3: HOMESCHOOLING CAN INCLUDE MOVIES— Raise your hand if, not only are you stuck at home right now, you are being called upon to be a school teacher as a parent for whatever e-learning initiative is thrust upon your children. As a school teacher myself, I'm one of those educational bartenders pouring those stiff drinks, and I feel you. Take this column and lesson as permission from a legitimate professional. There's no reason you can't include movies in your lessons (after all, look at my website name). Remember when we were kids and this popular meme was true:
Well, it's your turn to bring that joy to children. Home is the classroom now and you (or at least you better) control the TV. It's time to shine. Best Movies Right Now has put together a perfect 50-film Netflix homeschooling playlist that encompasses science, social studies, literature, and more. This gets my highest teacher's stamp of approval: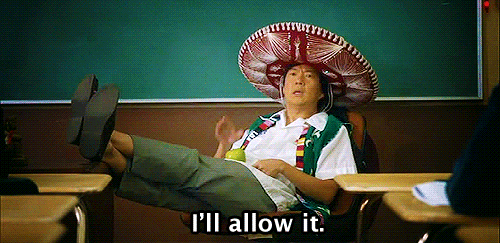 LESSON #4: LET THE ADVANCE POSTURING BEGIN— Someday hopefully the blockbusters will emerge from forced hibernation.  Disney took out its bundle of flags and, like an Oklahoma Land Rush, laid claim to new release dates for the next two years and change for the Marvel Cinematic Universe and more. Take a peek:
Just as when there isn't a stoppage such as this, when Disney lands, they land with bullying authority. That's a whole bunch of superheroes that will test the fatigue some (crazy) people feel. Their presence will either add competition to what was already there or make everyone else move. More often it's the latter.
---
DON SHANAHAN is a Chicago-based and Rotten Tomatoes-approved film critic writing on his website Every Movie Has a Lesson. His movie review work is also published on 25YL (25 Years Later) and also on Medium.com for the MovieTime Guru publication.  As an educator by day, Don writes his movie reviews with life lessons in mind, from the serious to the farcical. He is a proud director and one of the founders of the Chicago Independent Film Critics Circle and a member of the nationally-recognized Online Film Critics Society.  As a contributor here on Feelin' Film now for over two years, he's going to expand those lessons to current movie news and trends while chipping in with guest spots and co-hosting duties, including the previous "Connecting with Classics" podcasts.  Find "Every Movie Has a Lesson" on Facebook, Twitter, and Medium to follow his work.  (#128)