The 2nd season episode, "The Injury," is a favorite of many fans of NBC's The Office. The laughs produced as Jim and Michael accompany Dwight to the hospital to be checked and eventually treated for a concussion are some of the show's best. Among the memorable moments crammed into the episode's 22 minutes are Michael wrapping his foot in bubble wrap after burning it on a George Foreman Grill, one of the all-time most awkward conference room meetings as Michael invites the handicapped building manager to speak when he feels he isn't getting enough sympathy for his injury, Jim using a spray-bottle to keep Michael and Dwight under control in Meredith's mini-van, Michael getting angry as Dwight gets off one of the show's best "that's what she said" jokes and the closing seconds when Michael trying to sneak his foot into Dwight's CT scan. It's a tight episode with a lot of laughs and character moments.
But none of those are the moments that stand out most to me. There's a small conversation between Toby and Ryan after the former witnesses the latter biting his string cheese that I think about quite often. "Wow, you just dive right in!" says Toby. Ryan replies, "You know, around age 12 I just started going for it." It's the kind of moment that isn't at all funny or interesting, but I think it's what endears the show to a certain segment of its fan base. It captures the kind of meaningless chatter that someone who works in a cube experiences every single day. Person one says something because they can't handle silence. Person two responds with the most benign and mildly amusing comment they can muster because it would be rude not to respond. Both persons laugh to be polite. I may not think scenes like this are funny and at times, they even get on my nerves, but it's where I live. We may visit The Office for Michael Scott's incompetence and the high jinks of Jim, Pam and Dwight, but it's these little interactions that make us feel like we already work there. The Office is currently streaming in its entirety on Netflix.
Something that tends to surprise people who know my viewing habits is that my wife doesn't really like to watch TV. There aren't any TV dramas or sit-coms that I've been able to find that interest her. The one exception to this rule has been that we both enjoy the Food Network and we both absolutely love Food Network Star. Chef Bobby Flay (my #1 celebrity crush) and Giada De Laurentis host this show where 13 finalists compete to get their own Food Network show.  Bobby and Giada eliminate one contestant every week until one winner is crowned. It's a perfect summer show. It's fun, interesting, and ultimately as mindless as a beach novel. My favorite thing about the show are the guest judges that show up every week. As a connoisseur of Food Network shows, it warms my heart to no end to see folks like Robert Irvine, Anne Burrell, Alex Guarnaschelli (my #6 celebrity crush), Ted Allen, etc., have a seat at the judges table from week to week to critique the competitors who vary in their skill levels from TV ready to grossly incompetent. There are still 9 competitors left this season, so it's not too late to jump in. Food Network Star airs on Sunday nights on Food Network. Prior episodes can be streamed on the Food Network app with cable subscription info.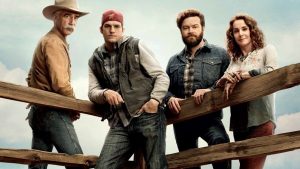 Season 3 of Netflix's The Ranch dropped last week, and like the other two seasons, it's a lot of fun. Former That 70's Show cast-mates Ashton Kutcher and Danny Masterson, as Colt and Rooster Bennett, anchor this sitcom about brothers living and working on the family ranch that delivers on the laughs you'd expect while also showing a surprising amount of heart. Elisha Cuthbert is delightful as Abby, Colt's on again, off again love interest. Every episode is stolen by Sam Elliott who plays the patriarch of the Bennett family. His deep voice and old school cowboy personality is comic gold when paired with Kutcher's goofiness and Masterson's sarcasm. Debra Winger rounds off the cast as Maggie Bennett, the matriarch of the clan who resides in an Airstream outside of the bar she owns in town. She's the only part of the show I'm not a big fan of. There's a lack of comedic timing and chemistry with the rest of the cast that makes her stick out a bit, but it's a minor quibble. It's well worth the watch. The Ranch is currently streaming on Netflix.
Last week upon a recommendation from Patrick Hicks (if the guy that runs the site you write for recommends something, is it really a recommendation?), I worked my way through three seasons of AMC's Halt and Catch Fire. The series takes a look at the advent and boom of the home computer through the eyes of fictional characters Joe McMillan (Lee Pace), Gordon Clark (Scoot McNairy), Gordon's wife Donna (Kerry Bishe) and Cameron Howe (Mackenzie Davis). The first season has its pacing issues, but it's never less than interesting as the dialogue and chemistry among the cast is always on point. It really hits its stride in second and third seasons as our characters go their different ways and occasionally find their way back to each other again. The genius of the show is the use of fictional characters put in a real-world setting. We get to feel the urgency put upon entrepreneurs to innovate without the revisionist history that would most likely come with the territory of using historical figures. That's not to say that there aren't any similarities between our characters and historical people. I'll let you figure out who those people are. The fourth and final season hits AMC in August, so there's plenty of time left to get caught up. The first three seasons of Halt and Catch Fire is currently streaming on Netflix.
That's all for this week! But remember if you have a show you'd like to have covered that we haven't, let us know in the Facebook group or in the comments. Next week we'll talk about the season finales to both Fargo and Better Call Saul!