Welcome to You Should Be Watching, my weekly opportunity to introduce you to a variety of great films, gems of the past and present, available for you to stream from Netflix, Amazon Prime, FilmStruck, and anywhere else streams are found.
---
STREAMING PICKS OF THE WEEK
---
The VVitch
  — Moving from Prime to Netflix on Sep. 17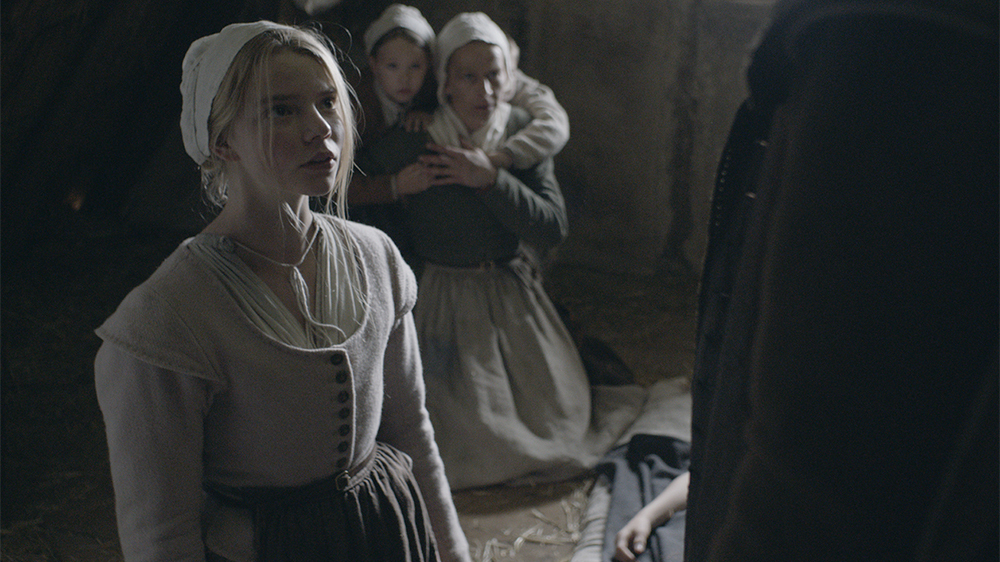 Year: 2015
Director: Robert Eggers
Genre: Mystery, Horror
Cast: Anya Taylor-Joy, Ralph Ineson, Kate Dickie, Harvey Scrimshaw, Ellie Grainger, Lucas Dawson, Bathsheba Garnett, Sarah Stephens, Julian Richings, Wahab Chaudhry, Axtun Henry Dube, Athan Conrad Dube, Vivien Moore, Karen Kaeja, Brandy Leary, R. Hope Terry, Carrie Eklund, Madlen Sopadzhiyan
No doubt about it, The Witch is very, very dark, as many classic fairy tales are, but those willing to enter in will find a challenging tale providing much worthy of grappling with. Between the design, dialogue taken straight from period sources, and natural lighting of this debut feature film from writer and director Robert Eggers, this film feels intensely, oppressively of its time, like being taken back into the 1600s and being thrust inside a Puritan's nightmare, the type of nightmare that led to the paranoia of the Salem witch trials. That's not to say the Puritan lifestyle was inherently oppressive. But any fear, left unchecked can spin out of control.
The family in this story, headed up by the father William (Ralph Ineson) and mother Katherine (Kate Dickie) have left the leadership and community of their former church body, each claiming the other is false in their faith. Now isolated and with each member of the family struggling with their secret sins, they are especially vulnerable to evil oppression. It's not that they aren't putting up a fight. They pray. They discuss Scripture. Outwardly, they try to glorify God. But its unclear where each of their hearts lie.
As eldest daughter Thomasin and the one largely responsible for the younger children, Anya Taylor-Joy owns the film from the first frame to the last. She is who we as the audience focus on. We see her parents' struggles through her eyes. We see the actions of the younger children through her eyes. She is convincing no matter whether she's trying to express truth or spinning a lie until it's unclear if her obvious lies are lies at all. One thing is certain. With her parents often being distracted and the family living in isolation, there's little to keep her grounded.
---
The Queen
  — Coming Sep. 15
Year: 2006
Director: Stephen Frears
Genre: Biography, Drama, History
Cast: Helen Mirren, Michael Sheen, James Cromwell, Helen McCrory, Alex Jennings, Roger Allam, Sylvia Syms, Paul Barrett, Tim McMullan, Douglas Reith, Mark Bazeley, Robin Soans, Lola Peploe, Joyce Henderson, Pat Laffan, Amanda Hadingue, John McGlynn, Gray O'Brien, Dolina MacLennan, Julian Firth
It's hard to believe now with the public obsession over the weddings of Prince William and Prince Harry and the massive popularity of television series such as The Crown as well as British television in general, but the British royal family used to be of little interest to those outside of Great Britain itself. Regardless of the monarchy's role in government, the lack of attention enabled them to live mostly insulated lives, free to make decisions apart from public pressure. What changed all that? Princess Diana. By marrying into the royal family, her celebrity spread far and wide, bringing deep focus onto the monarchy and the family as a whole. What complicated it further? Diana's divorce and subsequent death a year later.
With strong, believable performances across the board including Helen Mirren winning a Best Actress Oscar for her inhabiting the very look and essence of Queen Elizabeth II, Stephen Frear's The Queen dives deep into the conflict immediately following Diana's death, which speaks even to today's society where the public routinely makes demands of the private lives of others, especially those with power. In this case, new Prime Minister Tony Blair–played by Michael Sheen–as the public's spokesperson is pushing for the royal family to honor Diana with a show of mourning only a royal would receive. The queen and especially her husband Prince Philip are outraged that such a demand would be made of them, especially since it was their son from whom Diana divorced. James Cromwell as Philip exudes deep frustration. He is emphatic about protecting his wife the queen and their status as royals and all the heritage that comes with it, but he lacks control to do anything about the changes that feel increasingly inevitable.
---
White Heat
Year: 1949
Director: Raoul Walsh
Genre: Action, Crime, Drama, Thriller
Cast: James Cagney, Virginia Mayo, Edmond O'Brien, Margaret Wycherly, Steve Cochran, John Archer, Wally Cassell, Fred Clark, Paul Guilfoyle, Ford Rainey, Robert Foulk, Ian MacDonald, Robert Osterloh, Sherry Hall, Joel Allen, Claudia Barrett, Ray Bennett, Marshall Bradford, Chet Brandenburg, Robert Carson 
Cream of the crop when it comes to classic gangster movies. The script is full of colorful dialogue and creative plotting. James Cagney is at the top of his game as the gang leader Cody Jarrett. Despite his diminutive stature, he's tough as nails–no hesitation in killing a man, even taking out one of his own who's become an inconvenience or a risk. But he's also a mama's boy, though Ma (Margaret Wycherly) is just as ruthless as he is, albeit tender to him. And he's vulnerable due to his penchant to trust those he is close to as well as due to recurring sudden, raging, debilitating headaches and a propensity towards insanity.
Virginia Mayo, plays Cody's multi-faceted wife Verna. Her uncouth, free-spirited personality shines through along with her fear and duplicity. Finally, Edmond O'Brien is the undercover agent Hank Fallon whose job it is to quickly ingratiate himself with Jarrett so he can draw out an even bigger fish. There are great moments of suspense as any hint of the truth could get him killed in a flash. But the tension doesn't only serve Hank. Others lives are in danger at one point or another also.
That other side of this film that makes it fascinating is the police work. Unlike the criminals, not much is revealed about the character and personal lives of the investigators. Instead, there's a heavy focus on procedure, including detailed steps they take to track their suspects and tighten the noose, making for a unique time capsule and a lesson on the origins of today's surveillance technology. It's particularly surprising to see cell phones and vehicle bugs used for tracking show up in a film from the mid-twentieth century.
---
COMING AND GOING
---
LAST CHANCE
(last date to watch)
NETFLIX
September 13
Pete's Dragon (2016)
September 14
Before the Devil Knows You're Dead (2007)
Half Nelson (2006)
September 15
Moonrise Kingdom (2012)
September 27
The Imitation Game (2014)
AMAZON PRIME
September 15
Everybody Wants Some!! (2016)
September 17
The Witch (2016)
September 23
Shutter Island (2010)
FILMSTRUCK
September 14
Advise & Consent (1962)
Easy Rider (1969)
Five Easy Pieces (1970)
Fruit of Paradise (1970)
The Last Picture Show (1971)
The Night of the Iguana (1964)
A Patch of Blue (1965)
Queen Christina (1933)
Seven Days in May (1964)
Splendor in the Grass (1961)
The Thief of Bagdad (1924)
September 21
Alice Doesn't Live Here Anymore (1974)
The Death of Mr. Lazarescu (2005)
Mean Streets (1973)
Night Moves (1975)
September 28
Accattone (1961)
Being There (1979)
Ben-Hur: A Tale of the Christ (1925)
Ben-Hur (1959)
The Breaking Point (1950)
A Clockwork Orange (1971)
East of Eden (1955)
The Gospel According to Matthew (1964)
JFK (1991)
Kes (1969)
Local Hero (1983)
The Man Who Would Be King (1975)
The Pianist (2002)
Rain Man (1988)
The Right Stuff (1983)
The Roaring Twenties (1939)
Teorema (1968)
Winter Soldier (1972)
HULU
September 30
American Psycho (2000)
Angel Heart (1987)
Babel (2006)
Bill & Ted's Excellent Adventure (1989)
Bound (1996)
The Brothers Bloom (2008)
Drugstore Cowboy (1989)
Field of Dreams (1989)
Hoosiers (1986)
The Ladies Man (1961)
Miami Blues (1990)
Rabbit Hole (2010)
The Rock (1996)
Sleepers (1996)
Spaceballs (1987)
This Is Spinal Tap (1984)
Witness (1985)
---
JUST ARRIVED
NETFLIX
Next Gen–NETFLIX FILM (2018)
On My Skin–NETFLIX FILM (2018)
AMAZON PRIME
Beyond the Lights (2014)
Lars and the Real Girl (2007)
The Manchurian Candidate (1962)
Pumpkinhead (1988)
The Return of the Living Dead (1985)
Stronger (2017)
FILMSTRUCK
Billy Liar (1963)
Cluny Brown (1946)
The Doll (1919)
Hamlet (1996)
McCabe & Mrs. Miller (1971)
The Shop Around the Corner (1940)
Stroszek (1977)
The Student Prince in Old Heidelberg (1927)
HULU
Happy-Go-Lucky (2008)
Stronger (2017)
---
COMING THIS WEEK
NETFLIX
September 14
Bleach–NETFLIX FILM (2018)
The Angel–NETFLIX FILM (2018)
The Land of Steady Habits–NETFLIX FILM (2018)
September 16
Role Models (2008)
Scott Pilgrim vs. the World (2010)
September 17
The Witch (2015)
HULU
September 15
The Queen (2006)
September 16
Moonrise Kingdom (2012)
---
Jacob Neff is a film enthusiast living east of Sacramento. In addition to his contributions as an admin of the Feelin' Film Facebook group and website, he is an active participant in the Letterboxd community, where his film reviews can be found. Follow him on Facebook and Twitter to keep up with his latest thoughts and shared content.