Game of Thrones has often been a bleak affair. Westeros has proven to be a place where good is trampled under the foot of evil and virtue is the mark of the naïve. This idea was hammered home in the first season with the death of Ned Stark. People like myself, someone who had never read George R.R. Martin's five volume (and counting?) epic Song of Ice and Fire, watched the first season assuming that the story of Game of Thrones was the story of Ned Stark. It's what made the most sense to those of us who are experienced sci-fi/fantasy viewers. When things are the bleakest, the hero, a man with strong character and conviction, throws himself into the melee to expel the forces of darkness with their unyielding light. It's the story that Star Wars, Lord of the Rings, The Chronicles of Narnia and others have been telling, with varying degrees of nuance, for decades. When he was arrested and sentenced to die, my money was still on Ned Stark making it through. I watched him be dragged to the executioner's block wondering how it was that he was going to get out of this pickle. It never occurred to me that Ned Stark might die until the blade had done its work, separating his head from his body. And Ned was just the beginning. If there's one thing that has been consistently true in the struggle for the Iron Throne, it's that you can count on the plans of good men being thwarted.
Over the course of season seven, though, I've seen a change in that tone. As winter moves south, hope has started to bloom, and it's because of the seeds planted by Ned Stark. To the world around him, Ned's character may have been the weakness that cost him his life. While his time in Kings Landing was marked on the outside by its futility, it solidified something so much more important than political power, his legacy. In many ways, Ned was one of the main players in the season finale. His name was on the lips of Cersei, who knew that she could trust the word of Jon Snow because she knew his father. He was on the minds of Sansa and Arya as they brought the man who tore their family apart to justice (finally!). And his words were in the heart of Jon as he stood to tell the truth in spite of everyone else wanting him to keep it to himself. "When enough people make false promises, words stop meaning anything, there's no answers, only better and better lies," said Jon, echoing Stark. Furthermore, Jon's moral compass, instilled in him by the man he knew to be his father, gave him the inclination to forgive the duplicitous Theon Greyjoy, inspiring him to grow a pair (sorry) and go save his sister. That's the power of legacy. For all we know, it's entirely possible that season 8 ends with Jon Snow and Daenerys Targaryen being buried in a shallow grave while Cersei Lannister ascends the stairs to the Iron Throne. But for now, hope grows as the cold moves in, and it appears that Ned Stark will still have a say on the world that emerges when the winter is over. Game of Thrones is available to stream on the HBO GO and HBO NOW apps.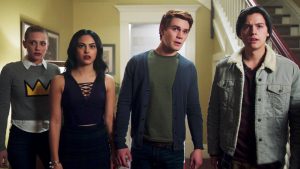 Sometimes Netflix recommends some dumb things that I wouldn't ever think about watching. Sometimes I watch one anyway because I'm bored and Netflix blows my mind. The latter happened to me this week when for no good reason at all, I decided to take Netflix's advice and watch CW's Riverdale. Riverdale is a reimagining of the classic Archie comic. It feels like Archie, Jughead, Betty and Veronica thrown in to the world of Veronica Mars. That's not an insult. Veronica Mars is one of my favorite shows of all time. The show subverts its source material's wholesome vibe by digging into the underbelly of a town run by powerful families hiding terrible secrets. It's funny, sexy, intense and intriguing. It makes the most of its 13-episode first season order by telling a well-paced story that ends with enough threads dangling to keep viewers on the hook for its second season. If you're looking for a short little series to hold you over until the fall season launches in late September, you could do a lot worse than Riverdale. Riverdale is currently streaming on Netflix. Season 2 airs on The CW beginning October 11. 
Another quick series that I'd highly recommend is Amazon's The Tick that dropped on Friday. It's an easy watch, 6 twenty-minute episodes, and it's a lot of fun. I've been a fan of The Tick since I started watching the cartoon when I was in high school. Peter Serafinowcz plays the titular character, a large, naïve, seemingly indestructible bloviating blue man who may or may not be wearing a costume. He's great. He's long been a reliable comedic character actor in films like Guardians of the Galaxy, The Spy and Shawn of the Dead, and he slides into the lead role very easily. Griffin Newman plays Arthur, Tick's reluctant sidekick, who has done tireless work trying to prove the continued presence of the presumed dead villain, The Terror, played with a knowing wink and nod by an unrecognizable Jackie Earle Haley. It's a delightfully funny send up of all things super hero with a lot of room to grow. The first season sets a great foundation for more. The only disappointment was the absence of classic Tick characters like American Maid and Batmanuel. Hopefully we'll get to see them when the second season comes around. The Tick is currently streaming on Amazon Prime.
That's all for this week! Fall TV is just around the corner. What new shows do you want us to cover? Leave your comments below!