Christmas-time, a season of joy. A time when many take a much needed break to relax, enjoy family, and celebrate religious traditions. Oh, and there's also that fun little part of gift giving. Well, Christmas is also the time when film critics are finalizing their year-end lists, a gift given to the world (but without that whole relaxation part). So, after much debate and internal stress, I'm ready to discuss my Top 10 favorite films of the year. There are many lists out there, but I expect you won't find another one that matches up perfectly with mine.
2017 was a banner year for me as both a film critic and podcaster. Some of the biggest highlights:
Feelin' Film's inaugural listener-nominated and listener-voted 2017 Feeler's Choice Awards
The addition of contributors Don Shanahan, Steve Clifton, and Jeremy Calcara to the Feelin' Film staff team
Gaining press credentials to screen films early for review purposes and covering the Seattle International Film Festival
Becoming a member, and then Communications Director, for the newly re-formed Seattle Film Critics Society
Feelin Film's two incredibly fun themed months: Christopher Nolan Month (January) & Book-to-Movie Month (September)
Voting in the 2017 Seattle Film Critics Society Awards
Witnessing the amazing growth of our Facebook Discussion Group that offers daily film conversations and relationship building among our listeners
155 films seen that were released in 2017, by far a new "career high"
Now about those movies. 2017 was a fantastic year at the cinema. Offering numerous superb indie hits, documentaries, and some big, unique blockbusters as well, the wealth of exceptional and diverse content was both a blessing and a curse. Experiencing all of these wonderful films was great, but trying to rank them, not so much. So my disclaimer is that while 10 have been highlighted, with 10 more selected for recognition as just missing the cut, even these films don't scratch the surface of what 2017 provided in terms of quality.
---
10. STAR WARS: THE LAST JEDI – This spot on a Top 10 list is always a brutal decision. No less than five other films got serious consideration here, and I could make an equal case for any of them. Ultimately, I had to go with a film that blew me away my expectations and reinvigorated my childhood love of a franchise. STAR WARS: THE LAST JEDI is not without faults, but it is a wonderful next step in this new trilogy and one of most epic cinematic space operas since THE EMPIRE STRIKES BACK. Its unexpected plot choices had me gasping in surprise, and several emotional moments brought me to tears. Its impossible not to respect director Rian Johnson's talent, ambition, and passion, especially as the film's momentum builds and races home to its incredible climax. I LOVE the direction this film takes the series and can't wait to see where it goes next.
9. THE GREATEST SHOWMAN – Hugh Jackman has said that "A bad musical stinks to high heaven, but when a musical works, there's nothing like it. It's everyone coming together and opening their heart." THE GREATEST SHOWMAN worked for me and opened my heart, too. Its reverence for musicals of old shines through every frame and its impressive soundtrack has been played on repeat endlessly since my first viewing of the film. It may not be a perfectly accurate historical representation of P.T. Barnum, but as entertainment it is a fun and emotionally provocative family-friendly film complete with several inspirational messages. It's the kind of film that deserves being seen with an audience, a real crowd pleaser.
8. DARKEST HOUR – Winston Churchill is a fascinating figure. Historian and politician, but also extraordinary leader. His actions within that first month as British Prime Minister changed the course of world history. Had he sued for peace, who knows if Hitler would have been stopped from overtaking Europe (and beyond). DARKEST HOUR is a high-energy thriller as much as a period piece drama, with Wright combining the two styles to form an incredible, visceral, inspiring film experience that is anchored by Gary Oldman's award-worthy transformation and performance.
7. THE FLORIDA PROJECT – THE FLORIDA PROJECT wowed me in a way that few films did this year. I resonated deeply with its primary theme of empathy. As a parent myself, watching it was sometimes difficult but always worthwhile. My hope is that many will see this poignant film and begin to look a little more closely (and with more compassion) at those outside the margins as they go about their everyday lives, and perhaps even be called to action. Sean Baker continues to be one of our best young directors and he has created a film that is unforgettable down to the final shot.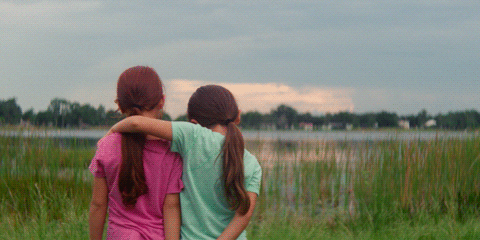 6. SONG TO SONG – For those willing to meet director Terrence Malick halfway and open themselves to engaging with the film, SONG TO SONG offers a moving emotional experience. Its dialogue is lyrical poetry that works perfectly in concert with Emmanuel Lubezki's stunning cinematography, an expertly balanced soundtrack, and wonderful acting performances all around. This may be some of the least abstract and aimless work Malick has ever produced, but it is also among his best, and quite possibly my favorite. SONG TO SONG is a film that needs to be more than just seen, it demands to be felt.
5. DUNKIRK – Christopher Nolan's vision of this important but little known battle is a hold your breath affair, set to an almost never ceasing Hans Zimmer score that is pounding with atmospheric dread. Fear, after all, is at the heart of this portrayal of the civilian rescue of nearly 330,00 allied troops pinned down by Germany on the beaches of Dunkirk. It is a wholly unique war film, gorgeously shot and focusing on the authenticity of its characters' feeling, displayed much more in act than exposition. A truly remarkable achievement that left me shaking in amazement and raw emotion.
4. PHANTOM THREAD – In what has been proclaimed to be his final performance, Daniel Day-Lewis once again collaborates with director Paul Thomas Anderson for a story about an obsessive man, this time with an unconventional view of romance set around the industry of high fashion. Though PTA's films have never spoken to me before, PHANTOM THREAD is captivating from the opening scene to the end credits and casts a spell unlike any other film experience in 2017. Thematically, it's exploration of submissive/dominant relationships makes it feel like the arthouse version of MOTHER! combined with FIFTY SHADES OF GREY. Cinematically, it is one of the most well-crafted, stunningly beautiful, perfectly scored, impeccably acted dramas I've seen in years. PTA's meticulous attention to detail marries so well with Daniel Day-Lewis' devotion to character immersion, and on top of that newcomer Vicky Krieps is every bit DDL's equal, flat out owning the screen in every scene. This film left me unable to shake it for a month and dying to talk to others about it. If this is really Day-Lewis' last hoorah, he goes out with a bang, and PTA has a new fan.
3. WAR FOR THE PLANET OF THE APES – Matt Reeves' WAR FOR THE PLANET OF THE APES is the rare third film to end a trilogy on the highest of notes. It is a spectacular marvel of technical achievements, acting, and thematic blockbuster storytelling that uses Biblical, historical, and cinematic references to craft a compelling epic. It has surprisingly limited action and the film lives in bleakness, but out of that comes a celebration of the human spirit – embodied by apes. Caesar's journey is gripping from beginning to end, filled with emotional depth and moral complexity. His place among the greats is now secure, and the trilogy stands as one of the finest the 21st century has seen. APES. TOGETHER. STRONG.
---
The films above are all exceptional works of art which I expect to remember many years from now. These last two films, though, are special to me, and choosing between them was an impossible task. Both of these films are guaranteed inclusion in my next Top 100 Movies update, and as much as I just want to make them 1a and 1b, I made the hard choice. So for today, this is where they fall.
2. YOUR NAME (KIMI NO NA WA) – Like many Americans, my only exposure to anime films prior to this were the works of the great Hayao Miyazki. But when I heard that this film had broken box office records to become the highest worldwide grossing anime film in history, I took notice. Directed by Makoto Shinkai, YOUR NAME is the story of a star-crossed boy and girl, perhaps destined to forever yearn for a meeting that will never come, connected across space and time by an unexplained magic and framed against the backdrop of an impending supernatural disaster. It is a story of dreams (and desperately trying to not forget them), time travel, body swaps, natural disaster, coming of age, and romance that is emotionally riveting from beginning to end. Comedic at all the right times, soul-crushingly painful, and yet tender and hopeful. This is an animated masterpiece that goes far beyond its dazzling visuals and one of the very best films I've seen this decade.
1. BLADE RUNNER 2049 – It took more than one viewing to get there, but after seeing my most anticipated film of the year three times, Denis Villeneuve's sequel to the 1982 classic BLADE RUNNER is more than worthy of its name. Staggeringly incredible cinematography by the masterful Roger Deakins is matched by a thought-provoking, multi-layered script. Not a single word of dialogue is wasted. So much emotion is conveyed through expression and silence. Performances are brilliant and memorable. The film strikes an ideal balance between cerebral and action-packed while remaining so mysterious that even more is revealed with every subsequent viewing. Despite being over two and a half hours long, it is so immersive that I would have gladly lived in this world for two and a half more. Inconceivably, an improvement in every way over than its hallowed source material. Cinematic perfection – the best film of 2017.
---
And now for the rest. In many cases, multiple viewings and rewatchability were major factors in determining how to order these.
11. LADY BIRD
12. THE LOST CITY OF Z
13. THE POST
14. A GHOST STORY
15. FACES PLACES
16. LA 92
17. GET OUT
18. THE LEGO BATMAN MOVIE
19. COLUMBUS
20. MOTHER!
Keep in mind that just because a film isn't listed doesn't mean it wasn't incredible. I could list another 20 "great" films from this year that deserve attention. 2017 was truly an excellent year. Here's hoping that 2018 is even better, but if it's not, we'll always have these gems.
---
Aaron White is a Seattle-based film critic and co-creator/co-host of the Feelin' Film Podcast. He is also a member of the Seattle Film Critics Society. He writes reviews with a focus on how his expectations influenced his experience. Follow him on Facebook and Twitter to be notified when new content is posted.