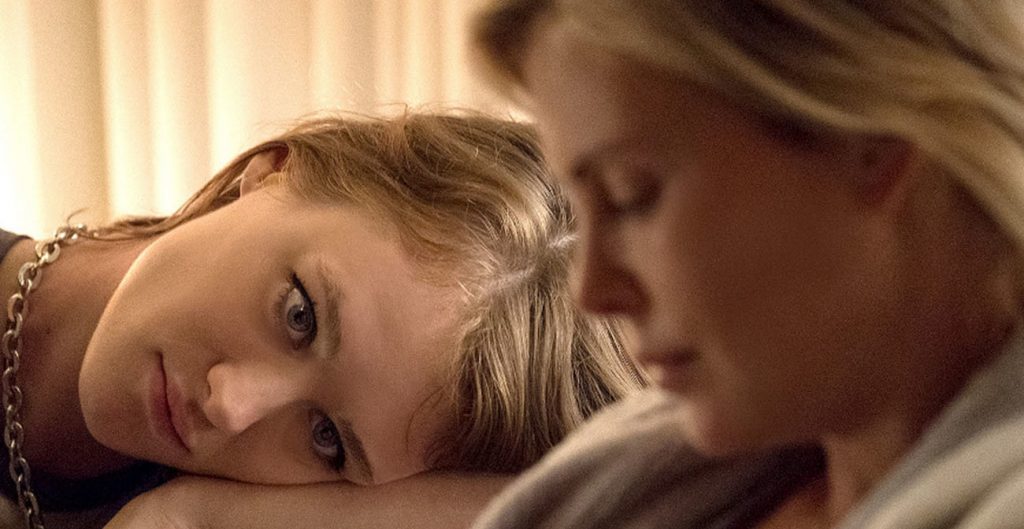 Welcome to Now Available, where we'll give you a quick review of a film we didn't cover when it was released in theaters that's releasing for home viewing this week, along with a list of everything else and where you can see our coverage on it. 
When Marlo (Charlize Theron) is given the gift of a night nanny by her brother Craig (Mark Duplass), the mother of three, including a newborn and a special needs child, is reluctant to accept the help. Through Craig's prodding, she relents and hires Tully (Mackenzie Davis) to take care of her infant daughter through the night so that she can receive some much needed rest. Tully's influence soon bleeds out into the whole family as her youthful spirit and zest for life energizes Marlo and rubs off on her husband and kids.
Boasting stand-out performances by Theron and Mackenzie, Jason Reitman's Tully is a return to form for the director, who's feature filmography had stalled out a bit after 2013's lukewarm melodrama Labor Day and 2014's god-awful Men, Women and Children. Here he's teamed up with writer Diablo Cody, with whom he's made two of his best films in Juno and Young Adult, which also starred Theron. I have five kids, so I've been through this time of life several times and I can say that Reitman and Cody absolutely nail the tone here in all facets of the story. There comes a point when you bring a newborn home from the hospital where life is just rough and it's hard to see past the messy house, the cranky kids who feel neglected and the baby who needs constant care to a day where life can be normal again. Tully lets its audience sit in that moment like new parents have to and it's really quite impressive. We see from the opening shots, a tender scene where she lovingly runs a soft brush over the skin of her son to help calm him before bed, that Marlo is a good and caring mother, but she's utterly exhausted and the deep post-partum depression she's experiencing isn't helping matters either. Her husband Drew (Ron Washington) means well, but he doesn't know how to give his wife the relief that she needs. It's a scenario that's highly relatable to a vast majority of married couples and that Reitman is able to make it feel real rather than manufactured is a testament to his talent as a filmmaker. In Marlo, Theron gives one of the best performances of her career. Showing an unrivaled commitment to the role, she gained 50 lbs for the part, she completely disappears into the struggling mother, treading water and gasping for air while holding very little hope for a lifeline. Mackenzie Davis is wide-eyed and full of life as Tully. Her wisdom would sound so naive, but she delivers it with such sincerity and love. It's really quite a good film and it's one of my favorites of the year.
With a solid script by Diablo Cody and stand-out performances by Charlize Theron and Mackenzie Davis, Jason Reitman's Tully is a must see. It deserves to be mentioned with his best and hopefully signals a return to form for the director.
Buy It, Rent It, Wait for Netflix or Skip It?
Rent It!
Also available this week:
Overboard- If you like the original Kurt Russell/Goldie Hawn comedy, I recommend that you watch that one again. This remake that sees the roles reversed when Anna Faris tricks amnesiac Eugenio Derbez into believing he's her husband is a totally laugh-less 105 minutes that would've been better spent doing literally anything else.
Other New Releases:The Miracle Season, Final Portrait, Dark Crimes, Kings
---
Jeremy Calcara is a contributing member of the Feelin' Film team. Follow him on Facebook and Twitter to be notified when new content is posted.