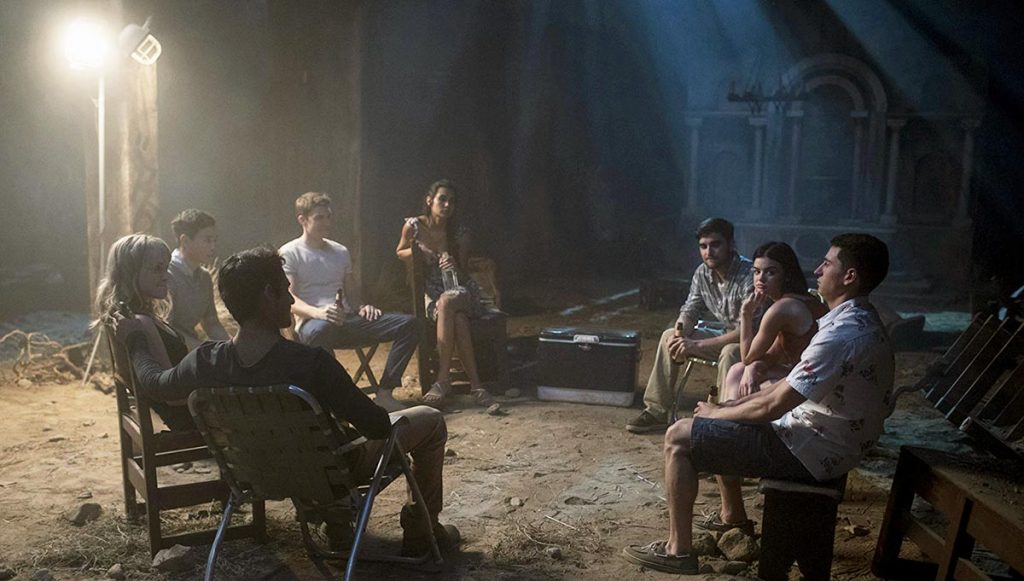 Welcome to Now Available, where we'll give you a quick review of a film we didn't cover when it was released in theaters that's releasing for home viewing this week, along with a list of everything else and where you can see our coverage on it. 
While on a spring break trip to Mexico, Olivia (Lucy Hale) and her friends join a mysterious stranger for a game of truth or dare. As is prone to happen when you play a game of truth or dare with a stranger in a creepy abandoned mansion with a stranger, things get a little weird. When they get back, Olivia and her friends begin to realize that the game isn't over. One by one, the participants must choose to tell uncomfortable truths or to participate in increasingly deadly dares. The only rule in Jeff Wadlow's Truth or Dare? Participate or die.
There has been a lot of good and unexpected horror that has come out over the past few years. Truth or Dare exists to remind us that the mediocre teen horror genre is still going strong. There's not an original thought in the film, borrowing liberally from several superior films (the most obvious well from which they draw is 2000's Final Destination). There's no underlying sense of dread at all, just a handful of poorly executed jump scares. The filmmakers make an odd choice to have people under control of the game take on the look of what the film calls a "demonic Snap Chat filter" that has the effect of making otherwise tense situations just look pretty silly.
Thankfully, the cast doesn't realize that they're in an uninspired, run of the mill movie. Lucy Hale is really good as Olivia. Her relationship with Markie (Violett Beane) is the anchor of the film. Both actresses give their friendship a strong sense of history. Hayden Szeto is great as Brad, a young closeted gay man who on the surface has the most to lose by being forced to tell the truth. The ending of the film, which I won't spoil here, is another strong point. It goes somewhere that's quite unexpected and follows through on some of the ideas that the film tries (often clumsily) to examine.
Truth or Dare is a rote teen horror film with little to nothing new to offer the genre. Despite solid performances and a surprisingly satisfying ending, I'd suggest watching one of the many films it's copying.
Also available this week:
Isle of Dogs- Our own Aaron White gave Wes Anderson's second foray into stop-motion animation 4.5 stars here. If you're an Anderson fan, and why wouldn't you be, it's a must-see.
Rampage- Aaron enjoyed this early summer popcorn flick starring The Rock and a CGI gorilla.  Read his review here.
You Were Never Really Here- This dark but artful examination of suffering isn't easy to watch, but worth it says Aaron, here.
Disobedience- Don says: Sebastián Lelio's followup to the Oscar winning foreign film Fantastic Women is worth a watch for it's challenging religious themes and its underlying message about marriage.
I Feel Pretty- Jeremy says:This mostly laugh-less comedy that tries half-heartedly to have a positive message about self-image might appeal to those who haven't yet tired of Amy Schumer.
Super Troopers 2- Jeremy says: If you're a fan of the original, you'd probably better check this one out right meow. If you're not, the second installment isn't likely to win you over.
---
Jeremy Calcara is a contributing member of the Feelin' Film team. Follow him on Facebook and Twitter to be notified when new content is posted.