Marshall (2017)

Chadwick Boseman as Thurgood Marshall, the first African-American Supreme Court Justice. Honestly, this film didn't need more than that to get me interested and it should have your attention, too. Boseman's star is rising and he is no stranger to playing heroes, having already embodied sports great Jackie Robinson and Marvel superhero Black Panther.
Marshall follows an ambitious young Thurgood Marshall in the early stages of his career as a hotshot attorney representing the National Association for the Advancement of Colored People (NAACP). Not knowing the history behind his rise to becoming a judge in the highest court in the land, I was hoping to get a history lesson along with some cinematic enjoyment, and to some extend I did. This story focuses on a single case in 1941, the rape of a wealthy white woman (Kate Hudson) by her black chauffeur Joseph Spell (Sterling K. Brown from This is Us). Marshall is brought in to assist the local counsel, Sam Friedman (Josh Gad), but is denied the ability to speak in court by the judge and therefore must rely on Sam more than he intended. At the heart of Marshall is a strong reminder that fighting for civil rights has never been easy and that as a country we haven't come as far as some might believe. It's also a reminder that this is a fight the oppressed side cannot win on its own, but one in which it needs allies. It's also not just Marshall and Spell that experience discrimination, but as he becomes further involved, Sam (a Jewish immigrant) too becomes the target of hate. Throughout the film Marshall is strong, intelligent, and respectful, even in his defiance. His unwavering fight for justice becomes something easy to root for, and his ability to lead and teach Sam bring about a change of character that is a real strength of the film. Perhaps it is somewhat a matter of my own perspective, but by the time the credits rolled, I was as invested in Friedman as I was Marshall and was inspired to take his words to heart myself
With regards to the Spell case, I am a bit concerned at the unfortunate timing of Marshall's release. Currently Hollywood is in a tailspin as sexual assault and abuse cases come bubbling to the surface. At a time when we should all be standing with women and acknowledging our trust in accusations they make, the case depicted here presumes the possibility of a woman who has lied about being raped. That being said, defending African-American men accused of rape was an enormous part of Thurgood Marshall's career and was a huge problem for much of the 1900's. Of the 455 men executed for rape between 1930 and 1972, 405 were African American, so it's no surprise that Marshall would have had his hands full fighting for fair trials in this area.
The performances in Marshall are excellent across the board. Josh Gad stands out the most, bringing more than just his usual comedic tones to a role that requires nuance and has emotional weight. I came away incredibly impressed. Dan Stevens plays the prosecuting attorney perfectly, his smarmy and smug demeanor both captivating and enraging. And Chadwick Boseman is Chadwick Boseman. Folks, this man is going to be a superstar.
What I don't understand is the film's tone, or should I say tones. Director Reginald Hudlin seems to be all over the place. At time this does feel like a superhero origin story. There are brief moments of film noir and comedy, and then the sections where it appears to be a hard-boiled courtroom drama. The unevenness was distracting for me and it all can be summed up by an oddly included scene where Marshall is having lunch with Langston Hughes and they are joined by Zora Neal Hurston. For a moment I thought that I was watching Midnight in Paris. It's a scene meant to show Marshall's connection to other visionaries of his time, but in truth it just felt out of place and awkward. Perhaps expecting a true dramatic turn from a director best known for House Party, Boomerang, and The Ladies Man was unfair. Regardless, it was a major disappointment and I would have preferred a more documentary-like telling of Marshall's accomplishments. Instead Marshall feels like something you could just as easily have watched on cable television and not a story that needed a theatrical telling.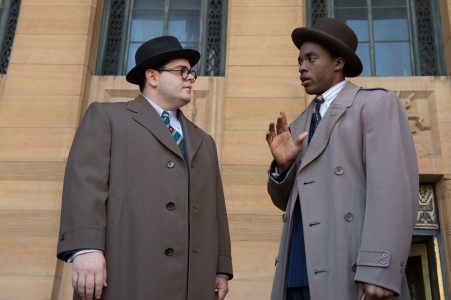 Verdict
Marshall feels incredibly relevant right now and in some ways it better evokes a conversation around race relations and civil rights than Kathryn Bigelow's Detroit did earlier this year. Strong performances from the lead cast and highlighting the importance of Sam Friedman were strengths of the film, while its tonal inconsistency and almost mythic framing of Thurgood Marshall were distracting at times. Marshall ended up not being the film that I wanted it to be, but it did serve as a solid introduction into the life of Thurgood Marshall and inspired me to learn more. For that alone, it is worth recommending and has to be considered a success.
Rating:
---
Aaron White is a Seattle-based film critic and co-creator/co-host of the Feelin' Film Podcast. He is also a member of the Seattle Film Critics Society. He writes reviews with a focus on how his expectations influenced his experience. Follow him on Facebook and Twitter to be notified when new content is posted.