The American criminal justice system was envisioned to be built on the ideas of fairness, justice, and due process for its citizens, a system that has a responsibility to give those citizens a fair trial, a court-appointed lawyer, and that operates under the adage "Innocent Until Proven Guilty". Throughout history, this has been the opposite for those who have the distinction of being African American and of lower than privileged socioeconomic means. The United States has a bad track record of people wrongfully shackled under the thumb of the correctional system based on flimsy evidence and a lack of procedural aptitude; the same shortcomings have lead to innocent individuals losing their lives at the hands of a retributive government practice known as the death penalty. "Just Mercy" tells the story of one man's fight to escape the clutches of a broken system with the help of a heroic lawyer willing to do the impossible.
Not enough praise can be showered on the plethora of terrific acting performances that can be found throughout this film. Michael B. Jordan and Jamie Foxx play off each other with deep conviction and dedication to their respective roles; Jordan is electric as the headstrong lawyer who is putting everything on the line to help inmates get off death row, while Foxx turns in one of his more compelling performances as a victim of injustice and racism. Character actor extraordinaire Tim Blake Nelson impresses me highly in the few moments he had to share, physically and mentally turning himself into a traumatized empty shell who is a victim of coercion. If there is one actor who carves their own mark away from the rest, it is Rob Morgan. Morgan is phenomenal, the equivalent of a sixth man in the NBA  who comes off the bench and drops 40 points to the surprise of everyone. His personal moments as a man on the brink of execution touch the soul with great heartbreak and tragedy, giving us the most emotionally charged moments that will bring any viewer to an uncontrollable amount of tears. Brie Larson, in my opinion, stands as one of the few actresses in Hollywood who is must-see but sadly does not fit the distinction in this forgettable role. She is not in control of a story that doesn't give her much activity when it comes to more powerful moments and she lacks presence compared to the other actors, while her attempt at a Southern dialectic o is missing the juice needed to feel convincing.
Destin Daniel Cretton ("Short Term 12″) displays an inherent trait of allowing the characters on screen to show off a strong sense of humanity and imperfection. The whole film is a testament to thematic drama in its purest form. Cretton gathers plenty of kudos for his use of emotionally telling close-ups and Steadicam shots that put you in the center of the environment, rife with equal parts hope and fear. It would have been very easy for this to be another assembly line cliche-filled melodrama complete with a lineup of white saviors but this is filled with genuine attention and care to the topic at hand. The ugliness of African Americans being wrapped up as victims of a system characterized by racism and oppression will not be lost on anyone, and the fact that we still are plagued by these problems is a hard pill to swallow. If "Just Mercy" teaches us anything, the lesson is that we each have an obligation to fight and stand for the ones who cannot, the ones who are voiceless and invisible based on their bank account or their ethnic roots.
A powerful and profoundly deep drama, "Just Mercy" is a film that deserves to be seen by anyone who shares the same passion in doing right by the people who deserve it the most.  This biopic is a true story that should be treated in the glow of the American Hero narrative. It is an indictment on a criminal justice system that needs to be torn down and rebuilt with a sense of fairness for all.
---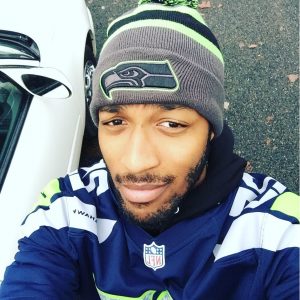 Caless Davis is a Seattle-based film critic and contributor to the Feelin' Film Podcast. He loves any discussion of film and meeting new people to engage in film discussions on any subject. You can follow him on Twitter and Instagram.