INCREDIBLES 2 (2018)
1 Hour and 58 Minutes (PG)
Four years before the Marvel Cinematic Universe kicked off with Iron Man, and one year before Christopher Nolan began his beloved Dark Knight Trilogy with Batman Begins, Pixar entered the genre with a bang, pow, and pop in 2004 by releasing an animated superhero team-up the likes of which audiences had never really seen before. Brad Bird's family superhero film, The Incredibles, went on to win the Academy Award for Best Animated Feature and remains to this day the best cinematic version of Marvel's Fantastic Four (despite not actually being a direct representation of those characters).
Now, fourteen years later, Bird is returning to the world of animation for the first time since 2007 with Incredibles 2, an animated sequel that fans have long desired. Unlike the movie landscape when Bird released his original, though, superhero films have become a powerful box office presence, with many years seeing the release of five or more. The challenge for Incredibles 2 is even bigger as it comes right on the heels of the two highest grossing superhero films of all-time: Avengers: Infinity War and Black Panther. The question of whether audiences will embrace yet another superhero film so quickly is a fair one, but I'm ecstatic to say that odds are good because Bird and Pixar have provided us with a sequel that lives up to its title and was worth the 14-year wait.
Incredibles 2 doesn't skip a beat, picking up immediately after the ending of The Incredibles, with a brand new villain having just emerged from beneath the city and our newly bonded family of heroes poised to take on the threat. But a desire to help sometimes manifests itself in bad decisions, and the Parr's leave the city in quite a mess while constantly trying to pass off babysitting of Jack-Jack to each other during the ensuing fight. The destruction reminds the world just how dangerous superpowers can be. Aiming to reverse this perception, Winston and Evelyn Deaver (Bod Odenkirk and Catherine Keener) approach the family and Frozone (Samuel L. Jackson) with a proposal, to make Elastigirl (Holly Hunter) the face of superhero crime fighting and use a combination of their technology and media coverage to help show the world the benefit Supers can bring. As the story goes on (at an incredibly frantic pace), it explores Mr. Incredible's (Craig T. Nelson) jealousy of Elastigirl's new role, introduces a new villain who enslaves through the use of video screens, and excites with flurries of extremely well-animated action.
A major side plot of the film revolves around Mr. Incredible's attempt to become a stay-at-home father for the first time and deal with the challenges of parenthood. Two of his more difficult tasks are trying to connect with his teenage daughter Violet (Sarah Vowell) and discovering the various superhero abilities of his infant son. It's a big change for Mr. Incredible and many viewers will relate to his experiences. As the film goes on, the familial struggles continue to be front and center, but Bird also has a lot to say about the world around us. His hilarious script is also smart and not only uses our culture's addiction to video screens as a plot point but makes strong statements about the importance of equality and representation. Some viewers may find it a bit on the nose, but mostly these topics are all handled very subtly and never feel out of place in the narrative.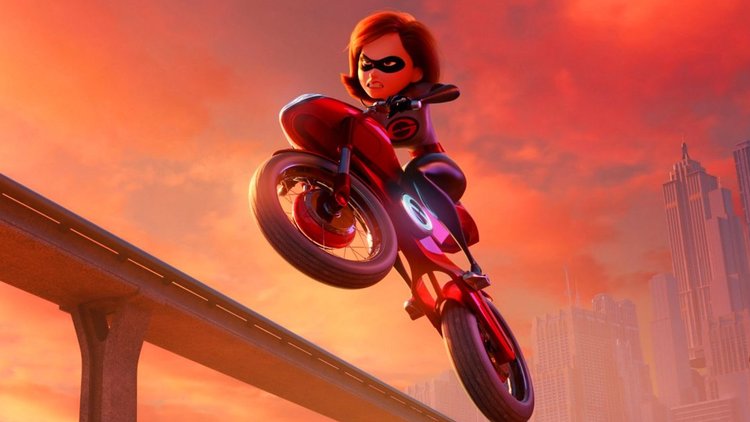 VERDICT
Reuniting with the Parr family in Incredibles 2 is a technically dazzling, joyful experience for kids and adults alike. Brad Bird's story is culturally relevant and a lot of fun, but shines brightest when it stays grounded in the ongoing struggle of the Parr's to find their place in the world and within their family. The Incredibles provide us with a family of heroes who we don't just root for, but relate to, and even with the wealth of comic books films gracing movie screens in 2018, that is something special. Though it doesn't quite reach the sharp perfection and emotional depth of its original, Incredibles 2 is the must-see animated film of the year.
Rating:
---
Aaron White is a Seattle-based film critic and co-creator/co-host of the Feelin' Film Podcast. He is also a member of the Seattle Film Critics Society. He writes reviews with a focus on the emotional experience he has with a film. Follow him on Facebook and Twitter to be notified when new content is posted.