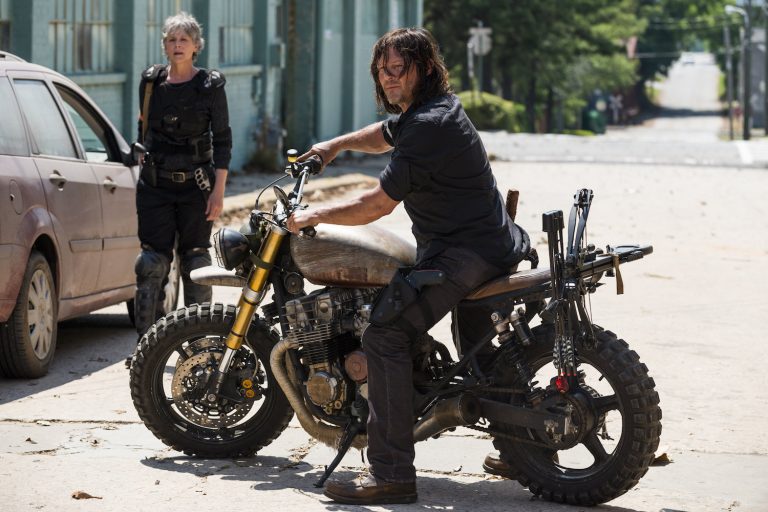 I want to start off this week's Feelin' TV with a confession. I don't really like The Walking Dead anymore. I watch it because I've been watching it this long so I might as well finish it. I watch it because people around me watch it and I don't want to be out of the loop at the water cooler (at my office, it's an ice machine). I watch it because I hope it will get better, but as I sat down to watch the season eight premiere, I was finding it hard to be optimistic. I say all of this because I want to let you in on my head space when it comes to TWD. It's currently a show that has to win me back.  And it's going to take more than one episode to do so. But after watching the premiere, I think it's on the right track.
The best thing that this week's episode did was that it jumped right into action. One of TWD's biggest issues has been pacing and taking a ridiculously long time to work up to inevitable conflict. There have been times, like in season two, where I've thought the writers were trying to make the audience feel as miserable as the characters with its plodding pace. So I took the promise of all out war this season with a grain of salt. From the opening minutes though, we see the preparations for war, as Maggie and Ezekiel, leaders of the Hilltop and the Kingdom, respectively, join Rick in giving a (only slightly expository and on the nose) speech before heading off to war against Neegan and his Saviors. Before the episode ends, we see them pull off a well-planned and methodically executed plan to do so. It stands in stark opposition to Rick's typical reactionary nature. It was something different, and for a show that tends to get stuck in the same rut, anything different is good. It was also fun to see everyone working together again. There was so much segmentation last season that we rarely got to see the shows best characters interact with each other.  But seeing Carol, Daryl and Morgan working together was great, and I hope that can be something that continues over the next few months.
I didn't love everything about it. Carl still exists. He hasn't gotten a haircut. Michonne is left back at home and not a part of the action taking down the Saviors. Maybe there's a plan for her, but I fear that she will continue to be criminally under-utilized as she was in season seven. Much of the dialogue are lines that look way better on paper than they sound spoken out loud. But there's enough about it to like that I'm cautiously optimistic for the future. If you're a fan of The Walking Dead and want to dig deeper into its themes from week to week, I'd suggest following Gene Gosewehr's weekly recaps here at Reel World Theology (He's also quite a bit more positive about the show than I am. He still likes Carl). Seasons 1-7 of The Walking Dead are currently streaming  on Netflix, and episodes from season 8 can be viewed on the AMC app.
Channel Surfing:
Arrow dropped a bombshell this week when Oliver invited John Diggle to take the mantle of the Green Arrow. I'm quite interested to see if they're able to pull that trigger or whether Oliver will find a way to balance his family, public and nocturnal lives in a way that satisfies his conscience as a father and remain the Green Arrow after all. If he indeed does pass the hood to Dig, I'll be quite impressed with the show-runners, as having your main character make a change of that magnitude is rare. The first hurdle will be the effects of Diggle's nerve damage and if he'll be able to physically pull off the transition. But Ollie doesn't even know about that yet, so we'll see. The current season of Arrow can be streamed on The CW app.
I had heard enough good things about NBC's Great News that I decided to give it a watch this week. Created by Tracy Wigfield and produced by Tina Fey and Robert Carlock, all of 30 Rock fame (among other things), it definitely has the DNA and frenetic 100-jokes-a-minute pace of 30 Rock. It would be easy to label it as 30 Rock in a newsroom, but I think that's a bit too dismissive. It stars Briga Heelan as Katie Wendelson, a young producer for a struggling news cast called The Breakdown. Her mother, played perfectly by Andrea Martin, is hired as an intern for the same newscast after being inspired to go back to school to follow her dreams, and as they say, hijinks ensue. John Michael Higgins plays self-absorbed co-anchor Chuck Pierce with all of the flare that you expect from the reliable comedy actor. If you love him as the a capella podcaster extraordinaire in the Pitch Perfect films, and of course you do, you'll love him here. The biggest surprise to me has been Nicole Richie as Higgins' co-anchor, Portia Scott-Griffith. Her comedic instincts and timing are nearly perfect as the young, hip (at one point she shares that she spent her weekend seeing The Weeknd at a new club called Weekend) and oblivious yin to Higgins' old-school, stodgy and oblivious yang. The show takes aim at the ridiculous world of cable news and hits a lot more than it misses. The second season has been especially sharp as Tina Fey joined the cast as the network CEO who takes our main character under her wing as a mentee (ok, maybe it's an awful lot like 30 Rock). If you're a 30 Rock fan, I can't imagine you wouldn't also very much enjoy this show as well. The first season was only 10 episodes long and the second has only aired 4 so far, so you're not too far behind if you haven't started yet. All of Great News can be streamed on Hulu.
And we'll close with your weekly reminder that you should be watching The Good Place. This past week was probably the funniest and sharpest that the show has been as they tackled the classic thought exercise, the trolley problem, with hilarious results. Everyone aspect of this show is currently firing on all cylinders. Get on board now before you're too far behind. The current season of The Good Place can be streamed on Hulu.

That's all for this week. Next week we get to talk about Stranger Things 2

! It's all happening! As always, if there's anything you'd like me to check out that we haven't covered, let me know in the comments or in the Facebook group. Happy viewing!
---
Jeremy Calcara is a contributing member of the Feelin' Film team. In addition watching as many movies as he can and writing reviews for Feelin' Film, Jeremy consumes an unhealthy amount of television and writes about it weekly in his Feelin' TV column.   Follow him on Facebook and Twitter  to be notified when new content is posted.