BREEZY (1973)
"Breezy, there's no us. There never could be. Did you really think we could happen into something?" – Frank Harmon
"I thought we already had happened." – Breezy
Eastwood's third directorial effort is one of the most atypical for anything in his filmography yet. It was so utterly unlike anything his fans had ever seen from him as to be almost alienating. And while it isn't perfect, it's a sensitive and often lovely romance.
Frank Harmon (played by William Holden) is a lonely man staring down the autumn of his life following a bitter divorce. He isolates himself in his work and in the occasional one-night stand. But when a 19-year-old free spirit named "Breezy" (played by Kay Lenz) stumbles into his world, he finds himself opening up to possibilities he'd believed were long behind him. The transitions are not wholly smooth, and his own internal barriers are firmly entrenched, but the pair of them begin a romance flavored with spontaneity, laughter, and the melancholy that can only come with love's inevitable uncertainty.
Eastwood was approached with the script for Breezy (written by Jo Heims, who wrote Play Misty for Me) with an idea that he might portray Frank Harmon. While he considered himself too young for the role, he felt that he understood and related enough to the story to be able to do justice by it as director. At first glance, the story and tone of the film appears completely unusual given Eastwood's collection of action thrillers and westerns on which his fame had been built. But when considering the types of characters that he had portrayed already, things begin to appear much more synchronous.
The characters that most frequently populate Eastwood's filmography (at least through the 60s and early 70s) are primarily lonely and isolated men. The "man with no name", "Dirty" Harry Callahan, and even the wanderers of High Plains Drifter and Two Mules for Sister Sara are all men who prefer solitude and play by a set of rules which naturally alienate them to the larger community of the world in which they reside. While occasionally these characters have found love or even peace (in Paint Your Wagon or Play Misty for Me) they're never truly free of the melancholic loneliness which hangs over them like a storm cloud (and indeed Breezy's nickname for Harmon in the film is "Black Cloud").
It isn't difficult to recognize a pattern between those individuals and the character of Frank Harmon. William Holden, synonymous with romances stretching back to the 40s, delivers a nuanced and complex performance. Eastwood's instincts were likely on point to recognize that he was not yet in a position to portray Harmon because even in his strongest performances, he has yet to tap into the deep and abiding sadness that Holden brings to the role, which is an essential element to making the romance in Breezy believable. Kay Lenz is appropriately naïve and sweet, not to mention lovely, to convincingly enchant both the audience and Frank Harmon. She balances fragility and strength almost effortlessly, showing the early sparks of what would fuel an Emmy-winning career.
While the age difference between the two of them (Harmon is in his 50s while romancing a 19-year-old) is alarming and at times slightly uncomfortable, it is never unbelievable, thanks in large part to the sensitive tone and the strong performances. The film skirts right up to the edge of wearing out its welcome, but always redirects and reconnects the audience just in time with a well-written or powerfully performed scene.
Without the deeply rooted melancholy Holden brings to his performance, the stakes for the romance between he and Lenz might have felt innocuous, even boring. But the romance, as it is instead, is achingly sad and ultimately rather touching. We can feel the longing lying dormant in Harmon to rekindle what he feels he's left behind him. You can see that he's tried before with others and has never had the courage to pursue it to fruition, nor has he met someone as tenacious as the free-spirited Breezy. The film even ends on a note indicating that maybe he's still not quite ready, but perhaps he's willing to try.
This was Eastwood's first attempt to helm a straight-forward story in which there are no gimmicks or surprises, just pure character and drama. The film has little to offer the casual Eastwood fan, as there is literally no suspense or action, but to the fan of bittersweet, melancholic romance, Breezy is well worth a look.
---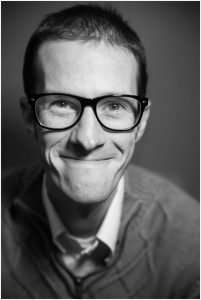 Reed Lackey is based in Los Angeles, where he writes and podcasts about film and faith. His primary work is featured on the More Than One Lesson website and podcast, as well as his primary podcast, The Fear of God (which examines the intersection between Christianity and the horror genre). Follow him on Twitter or on Facebook to receive updates on his reviews and editorials.