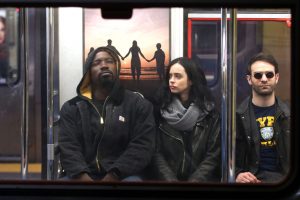 In the current entertainment landscape, super heroes rule the world. Quietly, as the critical world lamented the comic book film's overtaking of the box office, Marvel and DC were busy taking over the small screen as well. There are over a dozen programs based on comic books or graphic novels currently airing today. There are no fewer than nine new properties that will debut during the 2017-2018 television season. Netflix's Defenders, which dropped this past Friday, arrives on this landscape having the advantage of a solid foundation of two years and five seasons of television worth of developed characters and a fully realized setting. For the most part, it serves that foundation well.
Defenders follows Daredevil, Jessica Jones, Luke Cage and Iron Fist as they team up to fight a mysterious group known as The Hand. The Hand existed quietly behind the scenes in the first season of Daredevil, took a step forward in season two, and was the primary antagonist of Iron Fist. It's an ancient organization that exists to keep existing, or something. When their continued existence is threatened, their leader, a chilling Sigourney Weaver, enlists the help of the Black Sky to ensure their survival. For some reason that was never entirely clear to me, the plan involves levelling New York, which our heroes cannot abide.
The best parts of Defenders coincide with the strongest parts of its established universe. Matt Murdock and Jessica Jones are a match made in heaven. Charlie Cox and Krysten Ritter play off of each other well and seem to be having a lot of fun with their roles. Mike Coulter as Luke Cage is good as well, providing the moral center of the team. Danny Rand is as annoying as he was in Iron Fist earlier this year, but I think that's a writing problem, and not necessarily Finn Jones' problem. It takes a while for the crew to get together, but I think that's a strength. Matt Murdock and Finn Jones' story lines already intersect heavily with The Hand, but Jessica Jones and Luke Cage's narratives need time to connect to that universe. I wouldn't change a thing about how they find each other, but my main complaint is that the rest of the story feels rushed. The main quibble that people have had with Netflix's shows in the past is that they tend to be 2-3 episodes too long. All of the previous seasons in this universe have been 13 episodes, but each could've been pared down to 10 without sacrificing story. Defenders has the opposite problem. The season is only 8 episodes long, but would probably be better served with at least 2 more. I guess if I was a producer, I wouldn't be too upset if people's main complaint is that they wanted to spend more time in your story, so I'm still pretty excited about the franchise. Next up is the Daredevil spin-off The Punisher, which drops in November. Defenders can be streamed on Netflix.
Game of Thrones delivered another action packed episode with a lot of forward momentum on Sunday, but there are some issues with the pacing that are getting much too big to ignore. Listen, I'm not a scientist. I don't know how fast ravens fly. I don't know how fast dragons fly. But the turnaround from being hopelessly stranded north of the wall to being rescued by dragons was pretty unbelievable, even for a show with zombies and Three-Eyed Ravens. It started out as a nitpick, but it has become a serious storytelling issue. I should be talking about ice dragons and warring sisters and the return of Benjen Stark, but instead I only remember Gendry running several 4 minute miles in sub-zero temperatures and birds that apparently fly with the speed of modern day jets. I'm trying to ignore that and just enjoy the ride, but that's getting a little harder every week. Game of Thrones can be streamed on the HBO NOW and HBO GO platforms.
Briefly, I wanted to mention that AMC's stellar but criminally underwatched Halt and Catch Fire returned this week for its fourth and final season. It's the fictional story of four tech pioneers set among the backdrop of the 80's and early 90's technology boom. If you're looking for a show to watch while you wait for the 2017-2018 seasons to debut in mid to late September, I'd suggest catching up with it on Netflix. Seasons 1-3 of Halt and Catch Fire on Netflix and the premiere of season 4 is available to watch at AMC.com and on the AMC app.
That's all for now. If there's anything you'd like to see covered, as always, let me know. Happy Thrones Finale Week!