I'm not sure what I was expecting when I started watching Better Call Saul. As a fan of Breaking Bad who very much enjoyed Bob Odenkirk's portrayal of the slimy lawyer Saul Goodman, I was all in no matter what. I guess I was expecting something resembling a modern lawyer show, only funnier because the main character doesn't care about the rules or decorum or justice or, you know, the law. What I didn't necessarily expect, though, was a more deliberate, thoughtful and, dare I say, better version of Breaking Bad.
In 1988, Alan Moore and Brian Bolland published the famous Joker origin story, Batman: The Killing Joke. The story of the birth of the Joker was told in flashbacks as the Clown Prince of Crime put Jim Gordon through the ringer in the present day. The Joker's hypothesis was that, much like his experience, even the best of men could be rendered insane through just one bad day. That's the nature of the story of Walter White. Sure, through five seasons of the show we saw White go deeper and deeper into the darkness, but the truth is that Walt broke bad after one really bad day. By the end of Breaking Bad's pilot episode, Walt has purchased an RV for the purpose of manufacturing crystal meth and he and Jesse already have two dead bodies to deal with. It was a quick trip to moral bankruptcy for Walt. This is not a complaint about Breaking Bad. I love Breaking Bad. I think it's brilliant. But with few exceptions it was loud and bombastic and in your face storytelling. Better Call Saul is completely different. If Breaking Bad was the story of how someone can go dark because of one really bad day, Better Call Saul is the story of how the every-man, disillusioned by the often-bitter reward of attempting to do the right thing, slowly learns to embrace compromise as the fruit of those decisions yield more desirable immediate results. Over the past two and a half seasons, Vince Gilligan and his team have succeeded in turning the Breaking Bad's comic relief into a tragic figure. We're slowly watching the young man who put himself through law school to earn his brother's respect become the lawyer/con-man fans of the character already hated to love. There are two episodes left in this season that has been equal parts fun and devastating. If you're not watching, I'd recommend you start. For my money, Better Call Saul is the best show on television. Breaking Bad and the first two seasons of Better Call Saul are currently streaming on Netflix.
Since we're talking about shows that may or may not be the best shows on TV, it's only fair that we bring Fargo into the conversation. The Coen Brothers are my favorite filmmakers. And Fargo is my favorite Coen Brothers movie. The setting, the juxtaposition between the brutal ineptitude of the
hit-men vs the polite hyper-competence of Chief Gunderson and Jerry Lundegaard's slow descent into madness all mixed together perfectly to create one of the best films in my lifetime. FX's take on Fargo has been able to expertly take a lot of these ingredients and mix them together to form their own unique stories that definitely feel flavored by the Coen's unique sensibilities. This past week's episode was a Coen lover's dream. We got beautifully brutal shots that looked like they could have come straight from its namesake film, a Serious Man style Jewish folktale, a call back to season 1 of the show and, for good measure, half of the episode takes place in a bowling alley where characters receive advice from a mysterious stranger with a velvety smooth voice a la The Big Lebowski. It was a standout episode in what has been a very solid season of television. Each individual episode has stood apart well on its own as well as slowly building a great story. On top of that, it's themes about the way we perceive what is true and what is false being largely based on who it is that is telling the story are supremely relevant in the age of "alternative facts" and "fake news." Seasons one and two of Fargo can be viewed on Hulu Plus.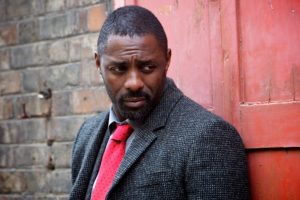 Finally, we have a little bit of good news to end our column. This week it was announced that a 5th season of BBC's Luther will begin filming next year. Long-time fans of the show have been waiting since December of 2015 for new episodes. I recently caught the first four seasons on Netflix upon the recommendation of a reader (Thanks Phillip!). So, I've only been waiting for new episodes since last Thursday. But that already feels like it's taking too long. Luther is unlike any detective show I've ever watched. It's so much more about Idris Elba's John Luther than it is about any of his cases. He's a detective who occasionally plays a little fast and loose with the law, but always in the interest of justice and not to serve his own interests. There's something to be liked for people who like the whodunit style detective show as well as those who would rather know who the bad guy is and figure out how the detective is going to nab him. And it should go without saying, but Elba is great. All four seasons (or series, sorry BBC) are currently on Netflix.
As always, if there's something we're not covering that you'd like to see covered, let me know in the comments, on Twitter or in the Facebook group.